When Bryan Henry walks into a room of people, whether they are friends, acquaintances or strangers, he has a way of winning them over.
Bryan Henry on GMA
Bryan Henry is one of five Team USA athletes selected to appear on ABC's "Good Morning America" with Robin Roberts on March 14, between 7-9 a.m. ET. The program is aired locally on WTVD-TV.
abc11.com
"His attitude is infectious, and you cannot help but be happy around him, because he's just full of joy," said Chris Underwood, Henry's coach and friend for the past dozen years.
Henry, 26, of Apex, also has a way of winning in the swimming pool.
In July, Henry, an avid Carolina Hurricanes hockey fan, recorded a unique hat trick of his own by winning three gold medals and adding a bronze at the Special Olympics USA Games in Seattle.
The performance earned Henry a spot on the U.S. team that will compete in the Special Olympics World Summer Games in Abu Dhabi set for March 14-21. Of the nearly 40,000 athletes who compete at the Special Olympics North Carolina level, Henry is one of four who will represent the United States.
"It's a great honor," he said of the opportunity. "I'm nervous, but I'm ready. I'm ready to meet new people and make new friends from around the world who I will be swimming against."
While Underwood believes Henry will acquit himself well in Abu Dhabi, he is also certain that Henry will leave a mark on the other athletes.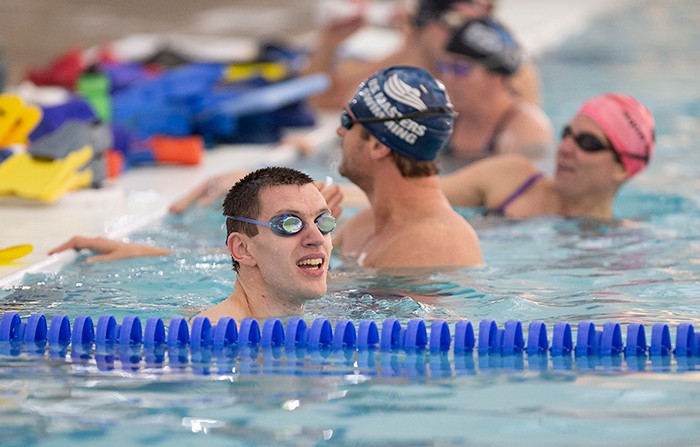 "His work ethic is tremendous," said Underwood. "He takes in the instruction you give him and works hard on what you ask him to do. But on top of that, his sportsmanship makes him the role model of the team. Win or lose, he's always very gracious to the athletes he competes against."
Henry's breakout USA Games performance, coupled with his easy-going and upbeat demeanor, made him an ideal candidate to become a Special Olympics North Carolina Global Messenger when he returned from Seattle. In that role, Henry goes around the state speaking to various clubs and groups on behalf of SONC.
"The thing about Bryan is that he is so genuine," said Rachel McQuiston, vice president of communications, Special Olympics North Carolina. "He enjoys sharing his experiences — and does it very well — but he's also very interested in what you have to say. He just has the best attitude and is excited about life. He truly embodies the courage and joy of the Special Olympic athletes."
The events of the past year or so have had other benefits.
"These experiences have pushed Bryan beyond his comfort zone and opened so many new doors for him," said his mother, Melissa Henry. "He's grown in his confidence."
Beyond Henry's contagious personality, though, flows an intense competitive streak that comes naturally. "It runs in the family," joked Melissa Henry.
The second of four children, Henry has also competed in basketball, soccer and track and field at the Special Olympics North Carolina level over the years. He's also tried his hand at hockey.
But swimming, which he started at around age 5 but did not take seriously until a few years later, captured and kept his fascination. One day Henry made the life-altering proclamation: "I think I'm going to try swimming in the Special Olympics," Melissa Henry recalled.
With the help of his younger sister Sarah's Raleigh Swimming Association coach, Henry learned the mandatory two strokes that allowed him to swim for the Raleigh Racers, the area's Special Olympics team, and meet Underwood. He later swam competitively for RSA and made the Apex High School team his final two years, earning the team's Coach's Award in 2011-12.
Once he aged out of the Raleigh Swimming Association, Henry began swimming for Raleigh Area Masters, a team that features a number of ex-collegiate swimmers.
"He has the body, the build to be a swimmer," said Underwood of the 6-foot-2-inch Henry, who works part-time as a bagger and clerk at Harris Teeter in Holly Springs and recently earned his driver's license. "He's tall, has long arms, so naturally just built for swimming. You take that with the way he trains, and his work ethic has a lot to do with how good he is. He puts the time in the pool."
Henry's road to the World Games began in 2017, when he won gold in the 100-yard Butterfly and Breaststroke, and the 50-yard Freestyle at the Special Olympics North Carolina Summer Games. Afterward, Henry was selected to represent North Carolina in Seattle. He and Underwood also went to work on making sure Henry's 100-meter Freestyle time met the minimum criteria to swim in the high-performance division, which showcases the nation's fastest swimmers.
The required time was 1:02.27, but in the weeks leading up to the USA Games, Henry posted a meter-equivalent time of 1:00.55 time at the 2018 SONC Summer Games.
"I think that was great for his overall mindset and confidence heading into the USA Games," Underwood said.
In Seattle, after overcoming the fear of flying on a plane for the first time, Henry blossomed. He won his respective divisions in the 200-meter Individual Medley and the 100-meter Butterfly, and also the 100-meter Freestyle High Performance, which earned him an automatic berth on the U.S. national team. He also won a bronze as part of the 4×25 Freestyle Relay.
"I was nervous at first, but now I love to fly," said Henry, who is looking forward to the flight to Abu Dhabi and has learned a bit of Arabic. "I'm OK. There will be plenty of time to sleep on the plane."
Once in Abu Dhabi, Henry will swim the same schedule as he did at the USA Games. He's confident and he's ready.
"I'll be bringing it home," he said of swimming the freestyle relay's final leg.
Henry also understands the deeper meaning. He hopes to bring home more gold.
"Yes. That would be fun."