Perhaps you've heard the news: Peruvian-style food is trending upward. While it may not be as popular as sushi or as prevalent as food trucks, this healthy and delectable Latin American cuisine is gaining attention in and around Cary.
Known for its tender rotisserie chicken, savory spices and rich palette of ingredients, Peru's gastronomy draws from cosmopolitan influences like Spain, Italy, Africa, Japan and China.
We visited three locally owned, counter-service restaurants dedicated to dishing up fresh flavors all while winning a loyal following to the dining scene's latest darling. Read on to discover what all the fuss is about.
Marco Pollo Peruvian Rotisserie Chicken
The owners of Marco Pollo don't take themselves too seriously. Consider the life-size chicken suit you'll sometimes find an employee wearing to drum up business. Never mind the clever play on words with the restaurant's moniker ("pollo" means "chicken" in Spanish).
When it comes to the food, however, the area's newest Peruvian eatery serves up earnestly good rotisserie chicken and side items. The menu is simple and straightforward, much like the modest dining area with a smattering of tables and booths.
Whether you choose white or dark meat, it arrives juicy and roasted to perfection.
"The chicken is prepared using a combination of time and temperature," said co-owner André Chabaneix, a veteran restaurateur and native of Peru. "It's made with cumin, garlic, salt and achiote, a spice popular in Latin America."
The chicken comes with various dipping sauces, the tastiest of which is a zesty huacatay, a Peruvian herb related to tarragon. Among the standout sides are lightly fried plantains, yucca fries and creamy coleslaw.
A variety of sandwiches are worth noting, like barbecue chicken piled high on ciabatta bread and chicken salad stuffed into a croissant.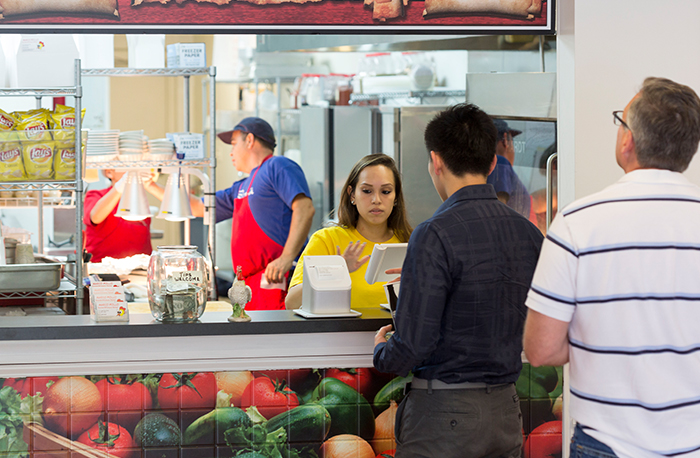 Don't be surprised if the owners offer you a complimentary espresso after your meal.
"We want to make our guests feel welcome and comfortable here," Chabaneix said. He operates the restaurant along with business partner, Jorge Garcia-Morgan.
Tucked away in an unassuming strip mall between a Mexican restaurant and a medical office, Marco Pollo is open six days a week for lunch and dinner. It is closed on Sundays.
1871 Lake Pine Drive, Cary
(919) 694-5524
marcopollocary.com
Alpaca Peruvian  Charcoal Chicken
It's always a good sign when a line forms in front of a restaurant before it opens. This is an everyday reality at Alpaca, which has locations in Morrisville, Raleigh, Durham and Sanford.
Alpaca specializes in charcoal-roasted rotisserie chicken, which is available in quarter, half and whole sizes, in white or dark meat.
"The marinade is a special house seasoning that's a family recipe of the owners," said director of operations T.J. Cordero.
Chicken and other dishes are cooked in plain view of guests. Alpaca's dining room is spacious and airy.
Regular side items include white rice, black beans, coleslaw, chicken soup, yellow corn and house salad. Premium sides feature more adventurous offerings such as fried plantains in savory (tostones) and sweet (maduros) variations, and steamed yucca.
Made-to-order dishes like lomo saltado and the veggie plate are also popular. Try the arroz chaufa, a mouthwatering stir-fried rice creation with chicken, sausage, egg and scallions.
"We always make sure the food is fresh and perfectly prepared," Cordero said. "We pay attention to each guest who comes in, so our customer service sets us apart."
Whatever you do, be sure to order a house-made chicha morada, an inimitable beverage prepared from purple corn, pineapple, fresh squeezed lime juice, cinnamon and cloves.
"We cook it for two hours and then let it simmer and cool," Cordero said. "It's very refreshing and unlike anything else you've ever tasted."
Open daily for lunch and dinner, Alpaca serves weekday specials like tacos on Tuesday and jerk chicken on Friday.
9575 Chapel Hill Road
Park Place Shopping Center, Morrisville
(919) 378-9259
alpacachicken.com
Lucky Chicken Peruvian Cuisine
What began as a humble chicken joint in Clayton has expanded to three locations, including spots in Cary and Durham.
"We wanted to create a catchy name that people would understand and remember, so we came up with Lucky Chicken," explained Lima-born founder and proprietor Betty Ortiz.
Ortiz brought in a special rotisserie oven made in Peru, and she even imports charcoal from her home country.
"The charcoal does make a big difference in the flavor of the meat, which takes about 90 minutes to cook," she said.
But the gustatory delights at Lucky Chicken extend well beyond poultry.
Ponder the papas a la huancaina appetizer involving sliced potatoes immersed in yellow Inca pepper sauce. Tamalitos, banana leaf-wrapped tamales stuffed with pork or chicken, also deserve a place at the table.
Ceviches, which primarily encompass raw fish and other seafood marinated in lime juice, make for a satisfying sharable dish.
"People rave about the grouper ceviche, but we have half a dozen varieties," said Ortiz.
Diverse seafood options include arroz con camarones (saffron rice with shrimp); fried red snapper; and sudado chalaco, a fish stew with shrimp, squid, scallops and clams.
Popular staple lomo saltado comprises strips of beef sautéed in a wok and served with tomatoes and onions, rice and french fries. Wash it down with a delightful, pineapple-esque Inca Kola soda.
Don't leave without trying the Peruvian fruit lucuma ice cream or the cinnamon-tinged suspiro a lalimena custard.
Lucky Chicken's unpretentious dining room reveals vibrant-hued walls and charming pendant lights hanging from the ceiling. The restaurant is open daily for lunch and dinner.
1851 N. Harrison Ave.
Harrison Square Shopping Center, Cary
(919) 678-3153
luckychickennc.net