You'll wonder how you ever lived without whirligigs once you see them, rising into a blue sky, twisting and swirling and clanking in the breeze, as modern marvels of mechanical whimsy.
People from all 50 states and from other countries come to admire the wind-powered Wilson whirligigs, but we have the advantage: We live just an hour away.
"It's so rewarding to see them bright and vibrant, spinning freely again," said Susan Kellum, downtown marketing and communications coordinator for the Wilson Downtown Development Corporation. "It's amazing that one man dreamed of, designed and constructed these."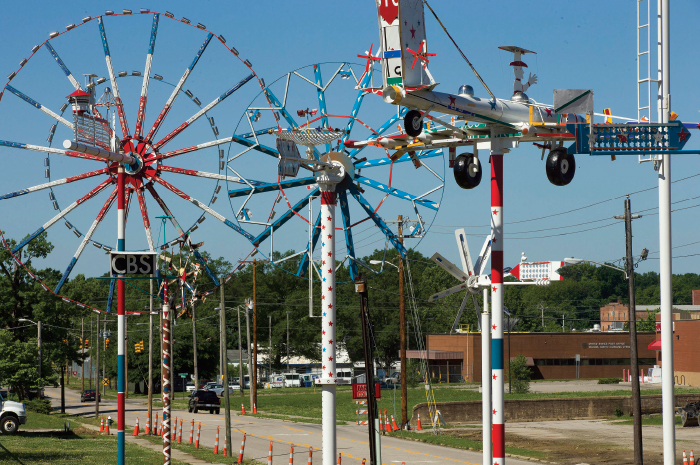 That visionary was the late Vollis Simpson, a farmer and house mover who at age 65 began building the whirligigs from scrap wood and metal, and reflective bits of old road signs to catch light at night.
In 2010, the community launched a massive public-private partnership effort to preserve his whirligigs, and to create The Vollis Simpson Whirligig Park & Museum.
The park will open Nov. 2 at 301 Goldsboro St. South, during Wilson's annual Whirligig Festival. It will be home to 30 of Simpson's works, some standing 50 feet tall.
The restoration and park projects have drawn grant support from ArtPlace America, the Kresge Foundation and the National Endowment for the Arts.
Also happening is Wilson's largest redevelopment project, the $12 million Whirligig Station, converting a historic tobacco warehouse into mixed-use space including apartments, retail, and the Whirligig Museum & Gift Shop. A brewery, 217 Brew Works, has already opened nearby.
"This is an arts-driven economic development engine, and Vollis' art is a big part of it," said Kellum, who applied for her position at WDDC as a result of its partnership with the park project. "We started this project in 2008; look at what we've done even in the midst of an economic downturn. It speaks to the faith that Kresge and the NEA have in us."
Simpson's whirligigs were declared North Carolina's official state folk art in 2013, just weeks after his death at age 94. His works also stand at museums in Baltimore and Manhattan, and at the site of the 1996 Olympic Games in Atlanta.
Don't wait
Now is the time to visit Wilson, while you can still tour the downtown warehouse known as Conservation Headquarters, and watch the hands-on work to restore the last of Simpson's whirligigs, before they're installed in the park.
The painstaking efforts are funded by the Kohler Foundation, and have led to the development of pioneering protocols for the conservation of outdoor folk art, utilizing the expertise of national partners such as the Smithsonian Institution and the National Parks Service.
Artist and conservation project manager Juan Logan and a team of 22 workers, many of them volunteers, are restoring each intricate piece of the whirligigs, a fascinating inventory of ball bearings, textile mill rollers, HVAC fans and milkshake mixers, to archival standards.
"It's amazing, what Vollis came up with — his mechanical skills, his understanding of physics," said volunteer Tom Lendra of Raleigh. "He had an incredible mind, and his creativity is unbelievable."
The two-acre finished park, designed by Durham firm Surface678, will feature a covered pavilion and sidewalk grids that mimic rows of tobacco laid out at auction. It will host the downtown farmers' market, educational programs and outdoor concerts. A water feature is also planned.
Kellum says the park is coming together even better than she imagined.
"I've seen the evolution, and I can't wait to see it finished. It will be beautiful," she said. "The most rewarding part is seeing Wilson's citizens come to understand the vision. We want to honor our past, but move into the future."
Find more information at wilsonwhirligigpark.org and historicdowntownwilson.com.
Fun fact: Two of Simpson's whirligigs are on display in Cary, at Jack Smith Park!
While you're there:
Celebrate photography, burkuzzle.com and eyesonmainstreetwilson.com
Check out the studio of famed Woodstock photographer Burk Uzzle, the youngest photographer ever hired by LIFE magazine. And through July 16, stroll Eyes on Main Street, a six-block festival of photos taken by photographers from 30 countries.
Oliver Nestus Freeman Roundhouse Museum, theroundhousemuseum.com
The son of a former slave, Freeman helped build houses for soldiers returning from World War II. He constructed the round building housing this museum from materials like bottles, tree saplings and string.
FICTION ON FOOT – GREENSBORO
The author known as O. Henry may have adopted that pen name in honor of his girlfriend's cat — or to hide the fact that he wrote some of his short stories from prison.
Either way, you know the witty, often ironic tales of William Sydney Porter, aka O. Henry, including his most famous, "The Gift of the Magi."
Take an inside look at the life of O. Henry at his birthplace of Greensboro, just an hour from Cary, in one of several free literary tours created by North Carolina Literary Map.
"People in North Carolina are serious about literature and history, and many are fans of certain authors," said Keith Gorman, assistant dean for Special Collections and University Archives at the University of North Carolina at Greensboro. "The tours can be a pilgrimage, and give them the chance to experience places they've read about."
In Greensboro stops include Porter Drug Store, where O. Henry worked for his uncle, a grouping of bronze sculptures depicting the author and his works, and the hotel named for him, where you can enjoy the local teatime tradition.
"You can access his biography and photos through the website, and there's even an audio recording of O. Henry actually talking about writing, that you can listen to while you walk the tour," said Kathelene McCarty Smith, instruction and outreach archivist at UNCG. "He's fascinating. He resonated with people in the community then, and is still appreciated here."
Additional literary tours are in place in Asheville and Charlotte, with another coming to Chapel Hill. All tours are self-guided using easy mapping technology on phones or tablets, and the order of tour stops is flexible.
"And because people inevitably ask about it, a Nicholas Sparks tour is in progress," Gorman added. "We're looking at the coast, and plan to revisit the Triangle. All 100 North Carolina counties have writing communities."
For more information on literary tours, see library.uncg.edu/dp/nclitmap.
While you're there:
ACC Hall of Champions, acchallofchampions.net
See the 4-foot, 360-degree video globe of ACC highlights, and call a game in the interactive broadcasting booth. The conference was founded here in 1953.
Guilford Courthouse National Military Park, nps.gov/guco
Walk the grounds defended by Maj. Gen. Nathanael Greene and his militia in 1781, in the most heated battle of the Revolutionary War's Southern Campaign.
The International Civil Rights Center & Museum, sitinmovement.org
Stand at the Woolworth's lunch counter where the Greensboro Four launched a civil rights protest in 1960 that became part of the nationwide movement.
PLAY WITH CLAY – SEAGROVE
Try your hand at the pottery wheel, watch the dramatic raku firing technique, and see professional potters demonstrate wheel throwing, carving techniques and more, during July's Stepping Into the Craft: Saturdays in Seagrove.
Known as the Pottery Capital of the U.S., Seagrove is home to more than 100 ceramic artists, and is located about 90 minutes from Cary.
A trip to Seagrove offers multiple destinations — while a handful of shops are located downtown, access to other studios requires short country drives.
"People are inquisitive about pottery making, and Seagrove is an out of the ordinary experience," said Bobbie Thomas of Thomas Pottery, volunteer marketing chair for the Seagrove Potters Association.
"It's an excursion to see the workshops and meet the artists, and even their cat," she said. "Within a 20-mile radius there are nearly a hundred shops. This is the North Carolina Pottery Trail, and you'll experience the life of these artists."
Seagrove is also home to the North Carolina Pottery Center and its collections, where you can learn about pottery history and preservation.
Get more details at discoverseagrove.com/saturdays-in-seagrove and facebook.com/SeagrovePotters.