Once upon a time is the best way to share a timeless tale and this one, starring a pre-Revolutionary War gristmill at the center of centuries-old drama, definitely qualifies.
In its early days, Yates Mill served as a gathering place for rural farm families to share news, meals and swimming as they awaited the milling of their corn and wheat into meal and flour.
But the water-powered mill shut down in 1953 and was on the verge of collapse by 1989 when a judge and a professor founded a nonprofit, Yates Mill Associates, and marshaled volunteers to save it.
Professional woodworker William Robbins jumped at the chance to join the restoration effort.
"I come by milling and millworks honestly. My grandfather was a miller," said Robbins, "and I've spent my career in the woodworking business."
He served as a resource for the Vermont timber framers who came to stabilize the mill building, work that may have saved the entire structure when Hurricane Fran blew through in 1996, breaching the mill's 250-year-old stone dam.
It was a setback, but fate boosted the work of YMA's volunteers.
Serendipitous find
"These are blueprints done in 1958 by two N.C. State School of Design students," said Robbins, unrolling the yellowed pages found in the trash pile of a retiring professor. "They show cross sections of the mill and label its equipment; these guided our reconstruction of the mill shed after Fran."
Volunteers from New Hampshire rebuilt the mill's Hurst frame, the heavy timbers beneath the mill that hold up the machinery. They fed pieces of the frame through a window then reassembled it inside, around the mill's original French buhr millstone, while the huge mill waterwheel laid motionless in the yard.
The work was slow, with pay-as-you-go fundraising by YMA and volunteer labor subject to sporadic schedules. Robbins grew frustrated and put his thriving career on hold to restore or reproduce all of the mill's original equipment, alongside fellow architectural woodworker Donnie Evans. The first thing he built was the flume, or forebay, which channels water from Yates Mill Pond to the mill's waterwheel.
It took almost five more years to finish the project, but the result is the last water-powered gristmill in Wake County, complete with the Oliver Evans automatic mill, patented in 1790.
Evans' system uses elevators, conveyors and belts, automating the milling process so that just two men can produce flour and meal.
"It's unique," Robbins said. "We had no working example of it, yet we had most of it here, intact."
The work was completed in 2005, and Yates Mill became the centerpiece of Historic Yates Mill County Park, which opened the following year, a 174-acre wildlife refuge and environmental research center also used by N.C. State.
Its A.E. Finley Center for Education and Research serves as a visitors' center, and details the history of the mill through artifacts and photos.
In a three-way partnership, N.C. State owns the property, Wake County Parks & Recreation manages the park land, and YMA is in charge of the mill building and equipment.
"I take great pride in having been part of the mill's restoration," Robbins said. "I really care about this place."
Gift to the future  
To help finance ongoing mill maintenance, YMA charges a small fee for its public tours, held each weekend from March through November. On the third weekend of those months, costumed interpreters guide the tours, and volunteers grind cornmeal.
Several times each year, YMA offers a special tour of the entire mill and its restored machinery. Group and school tours may also be scheduled for weekdays.
"The mill keeps running, thanks to a hard-core group of supporters," said YMA President Margaret Lillard, "but membership in Yates Mill Associates is open to all. People can contribute in different ways, on fundraising and outreach, writing for our newsletter, doing graphic design for our brochures, or sharing ideas for events."
Lillard notes that the cornmeal ground at Yates Mill is inspected by the N.C. Department of Agriculture, and sold to visitors and area businesses. Trophy Brewing Company and Big Boss Brewing in Raleigh brew with the meal, and LaFarm Bakery owner Lionel Vatinet features YMA cornmeal in his cookbook, "A Passion for Bread."
"We're looking to partner with more local businesses," Lillard said, "and offer corporate sponsorships for our corn grinding weekends."
On YMA's wish list is a self-sustaining "country store" on park property, to use for merchandise sales and much-needed storage space.
"It's never just about the novelty of the building and how great the cornmeal is," Lillard said. "It's about the people. It takes a community to make a place as special as this. We got this gift from the past, and it's our job to make it a gift to the future, to the next group of people who will love it."
1756: Gristmill built by Samuel Pearson; survey paper-work delayed by start of Revolutionary War.
1819: Pearson's son, Simon, forced to sell land including mill, to settle debts.
1819 – 1853: William Boylan buys mill property for $3,031, makes major renovations and adds sawmill.
1853 – 1863: Mill bought by John Primrose, Briggs Hardware founder Thomas Briggs, and James Penny.
1863: Phares Yates buys mill when Penny accused in murder of Union sympathizer; Penny later acquitted.
1898: John Daniel Lea becomes miller, operates mill until 1953.
1902: N.C. State College professor Robert E. Lee Yates inherits mill from Phares Yates.
1947: Widow Minnie John Yates sells operational mill to A.E. Finley Associates.
1953: Mill closes due to lack of business.
1963: N.C. State University obtains mill and pond as part of 1,000-acre tract purchase for use by its field labs.
1974: Yates Mill named to National Register of Historic Places.
1989: Nonprofit Yates Mill Associates founded by volunteers; its first president was Dr. John Vandenbergh, NCSU zoology professor emeritus, and first board chair was Robert Rader, chief district court judge; restoration begins.
1996: Hurricane Fran breaches Yates Mill dam and collapses mill shed.
2005: Yates Mill and its grinding machinery are fully restored and operational.
2006: Historic Yates Mill County Park opens to public.
Today: See the mill in action! Tour info at yatesmill.org.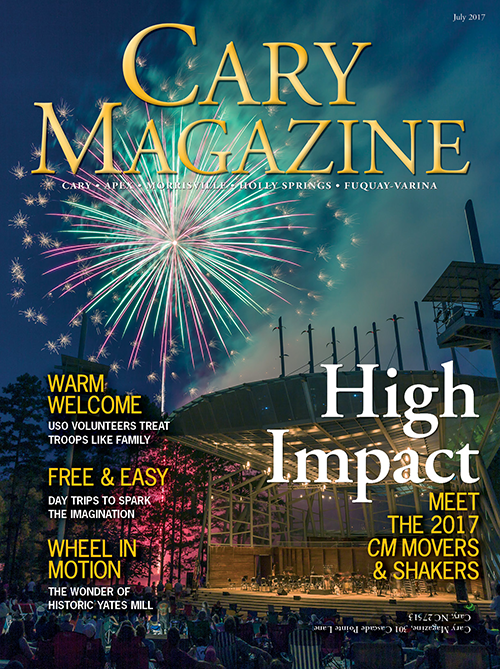 Wheel in Motion: Yates Mill Associates