National Ice Cream Day

One of the most satisfying things to do on a hot summer day is kick back and enjoy some ice cream.
Apparently former President Ronald Reagan thought the same when he deemed July National Ice Cream Month and the third Sunday as National Ice Cream Day. This year it falls on July 16.
In honor of this delicious holiday, look for some cold comfort at Fresh Local Ice Cream's Cary location, which opened in April.
The store uses hormone-free and grass-fed cow's milk from Jackson Dairy Farm in Dunn to make its ice cream fresh at each location. Their most popular flavor is Madagascar Vanilla, which owner Brett Hillman says sells three to one over other flavors.
Mama Bird's Cookies + Cream in Holly Springs opened May 5, just in time for summer. Owner Lesley Richmond takes cookies and cream to a new level with her homemade ice cream sandwiches, which are fit for kids and those still young at heart.
mamabirdsicecream.com
freshlocalicecream.com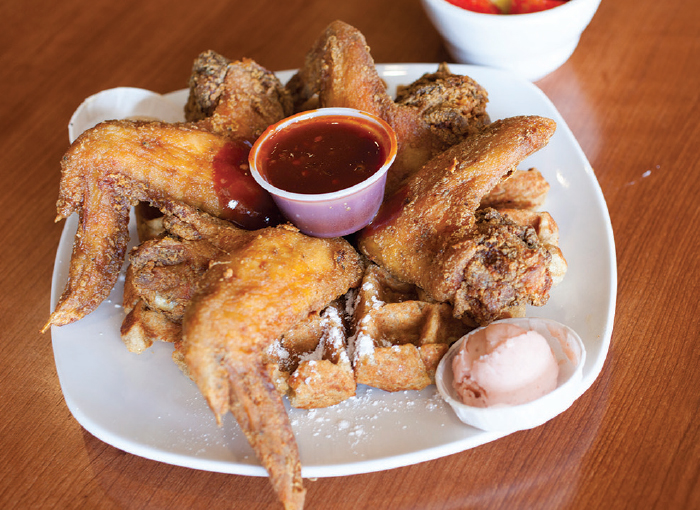 National Fried Chicken Day
Fried chicken is something we take very seriously in the South. We like it made fresh, and we like it made right. And, we sure know how to spend National Fried Chicken Day, July 6!
Durham's popular Dame's Chicken and Waffles opened in Cary off of Harrison Avenue in November. Owners Damion (Dame) and Randy have kept the Harlem Renaissance tradition of chicken and waffles alive with their own sweet and savory twist. Their most popular dish is the Buff Brahmas, below, which includes four wings or two chicken cutlets, a waffle, peach and apricot shmear and a whiskey crème sauce.
International Day of Friendship
Summer is best spent relaxing with family, catching up with those you haven't seen in a while and hanging out with friends. In 2011, the United Nations deemed July 30 the International Day of Friendship to bridge the gap between people from different communities.
To celebrate this day, why not spend it with friends? Take a stroll with a pal in Cary's Bond Park, invite folks over for a potluck or meet someone from another place — maybe even volunteer to help someone in need.
If you are new to the area, or if you've lived here for years and want to get involved with others around town, check out the Cary Newcomers Club, which currently serves 215 families in the Triangle. The club holds events like Themed Cuisine and bowling trips to help connect people in the area. Both are great ways to celebrate friendship!
www.un.org/en/events/friendshipday/
carynewcomers.com
National Hot Dog Day
Hot dogs are an American favorite, just like baseball or apple pie. July is National Hot Dog Month and a great time to celebrate this all-American snack.
The National Hot Dog and Sausage Council estimates that Americans consume 20 billion hot dogs a year, which averages about 70 franks per person.
To help you reach that annual quota, try Charlie Graingers — a new, gourmet hot dog restaurant in Morrisville. The restaurant uses veggies from local vendors, markets and grocery stores, and the brisket and barbecue come from Brookwood Farms in Siler City.
Their most popular wiener is Ray's Way, topped with pimento cheese and chili.
Or how about a more traditional dog on July 19, National Hot Dog Day? At Ashworth Drugs in downtown Cary, you can enjoy a Southern classic — a coleslaw-smothered frank at the soda fountain.
charliegraingers.com
facebook.com/AshworthDrugs, ashworthdrugs.com