On hot August weekends, you'll find no shortage of beer festivals. From Wake County fields to grocery store parking lots, there is always beer to sample.
When pouring beer at a festival, the two most often asked questions are "What is your lightest beer?" and "What is your strongest beer?" For Raleigh Brewing Company, that answer is one and the same.
Hell Yes Ma'am, a Belgian golden strong ale, is yellow in color with effervescent carbonation. It's also clear, dry and incredibly easy to drink. Notes of bubblegum and pepper tickle the nose and tongue. They are brought into the mix by the yeast in Hell Yes Ma'am.
It's that distinctive yeast that gives Hell Yes Ma'am its name and connects it to Belgian golden strong ales.
The story of how Ma'am got her name has a couple of versions. My favorite is that owner Kristie Nystedt set her sights on this style of beer for Raleigh Brewing. She wanted to pick the right yeast, so a batch was made and fermented with several different strains — to see which one was the magic element. Upon trying the version that we know today, Nystedt exclaimed, "Hell, yes!"
The style comes from a desire to bring pale lager-like qualities to Belgian beer. When the first of what we now call Belgian golden strong was brewed, it was made with Pilsner malt and Saaz hops — the same used in Pilsner beer. But brewers in Brussels showed their interpretation and culture by adding sugar to the beer. This helped dry out the beer and increase its alcohol content while also keeping the color as light as possible.
Duvel, first brewed in 1923, is generally pointed to as the origin of the style. In a tale that echoes Nystedt's proclamation, a local shoemaker tried a test batch and called it "The Devil of a Beer!" The Flemish word for devil was then used to name the ale.
If you look at the internationally recognized exemplars of the style, you'll see the theme come up frequently — be it Alken-Maes Judas, Jeanne D'Arc Belzebuth, Russian River Damnation or even Aviator Devil's Tramping Ground.
Would a Belgian golden by any other name smell as sweet? Hell, yes.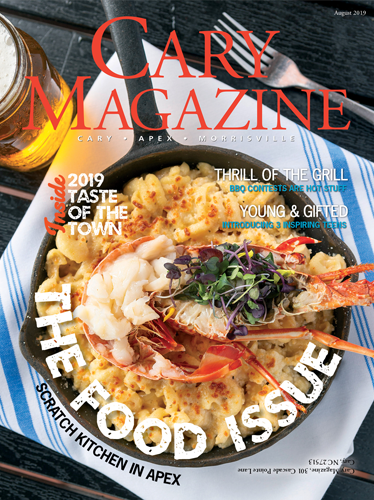 Hell Yes Ma'am Belgian Golden Ale from Raleigh Brewing Company