With more than 20 years of experience as a plant designer, John Higdon knows the lay of the land and what to plant on it.
He has worked as an installation supervisor at a large commercial landscape company, a garden center manager, a project manager at a high-end garden boutique and as a landscape designer. He and his wife, Paula, moved to Cary in 2006, and they opened City Garden Design a few years later.
The garden and gift boutique, in downtown Cary, is known for distinctive plants, pottery, candles and soaps. You can also sign up for DIY classes that are perfect for an evening out.
Higdon explains how the right location is vital for plants — and for growing a business.
Why did you want open your own business?
I started City Garden Design in 2009 as a landscape design and installation business, and now we have the garden shop as well. Having your own business gives you an opportunity that otherwise you may not have. It also can give you flexibility to keep up with other aspects of your life. You may be working every day for a while and for longer hours, but you are doing it for yourself.
What makes City Garden Design stand out?
We offer the tried-and-true houseplants, but we also carry plants that you may have never seen or heard of before. We do custom succulent, cacti and air plant arrangements — especially great for gifts. Customers can even bring in their own pot for us to create something unique for them.
Because we know the outdoor plants as well as the tropical plants, we can address your outdoor as well as indoor environment. We also plan displays on high-rise balconies, providing both the containers and plantings. As the local downtowns grow, we hope this will become a bigger part of our business.
Can you explain the continued popularity of succulents?
Having been out of retail for a number of years focusing on the landscaping, the succulent craze was actually a new thing for me. I knew that we needed to carry them, but I had no idea of their draw. After working with them more the last couple years, I totally understand their appeal. They are so fun to work with.
With all the different varieties, textures, shapes and colors, they present such an opportunity for that unique pot or that one place in your kitchen that needs that special something. They are super easy to care for, as long as you can refrain from over-caring. They are also inexpensive, which lends itself to a wide range of customers.
What's been the biggest challenge as entrepreneurs?
There are a few for sure. Finding a location and just knowing that it is perfect — and it wasn't. Do we try somewhere else? Can we make this work if it's somewhere else? I think we got lucky on the "Where to go next?" This location in Ashworth Village is proving to be way better.
One other big challenge is getting that customer base — getting them to come in the first time, presenting them with a great experience, and providing quality goods and services to keep them coming back.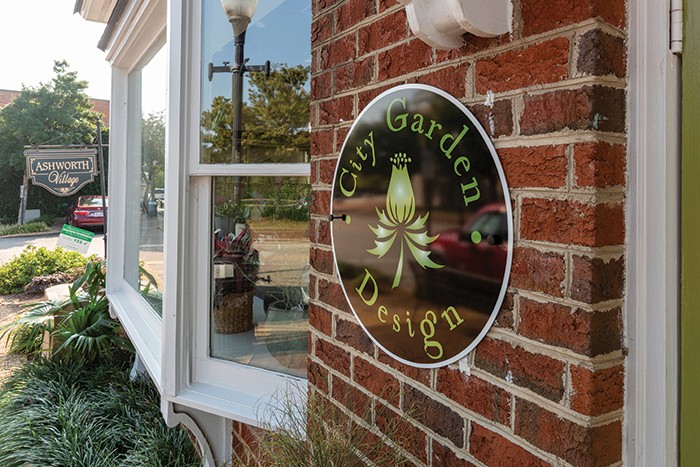 You relocated in February. What are the advantages of the new location?
By far the visibility has been huge. We are around other businesses that bring in people who, in turn, see us. The new location also provides great lighting for the store, so the houseplants can thrive while waiting for their new home. The windows also help to provide a showcase for what we provide.
What's been the best or most surprising aspect of owning a business?
The support we get means a lot — support from other business owners, neighbors, clients that want to support local vs. the big box. Having our business where our customers are also our neighbors, as well as meeting all the people coming in who are on trips, has also been great.
This is more specifically about our own business, but I have been pleasantly surprised in the wide range of customers we have — from young kids, teenagers, college students, young professionals and customers who knew Cary when Kildare Farm Road was a dirt road.
117 W. Chatham St., Cary
(919) 538-4247
citygardendesign.com