The small, single-column advertisement for Tart's Barber Shop, tucked in the bottom corner of a News & Observer Sunday edition newspaper page, boasts: "The Shop That's Full Of The Old Fashioned Hospitality."
Those words were printed in April 1971, but they still resonate for a small cadre of Cary barbershops nearly 50 years later. Call the shops old school or throwbacks, but they offer a service and an ethos that is timeless.
"It's like going to a doctor or dentist that you have confidence in. Unless something goes wrong, you're not going to change that relationship," said Steve Tart, whose father, Sherrill, started Tart's Barber Shop in 1962 and cut hair until retiring in March 2018.
Despite a few moves before settling off East Chatham Street, Tart's is the oldest existing barbershop in Cary. South Hills Barber Shop was opened by Gale Williams in 1968 and remains in its same plaza section of South Hills Mall on Buck Jones Road. The newcomer is Professional Barbers of Cary, which Jeff Lovell opened in 2006 and has become a fixture roughly a block north of East Chatham Street along Chapel Hill Road.
According to the National Association of Barber Boards of America, barbershops have grown annually by roughly 10 percent since 2013. That encouraging uptick follows a 23-percent decrease from 1992 to 2012. While differentiating types of barbershops is a subjective process, trending are the shops that offer a range of high-end amenities such as beer and billiards.
In an area with a few of the new-school shops along with plenty of unisex franchises, Cary's trio of male-oriented shops provide a no-frills approach and a sense of community.
"You cannot recreate a 50-year-old business like a barbershop," said Lyle Robinson, whose brother Lee purchased South Hills Barber Shop in 2005. Lyle assumed the shop's reins when his brother passed away three years ago and has since expanded the shop to five chairs. "You can open a brand new one, serve them beer and still be a barbershop, but you cannot recreate that bond with a person who has been coming in for 40 years and feels comfortable."
Those precious 15 to 20 minutes in a barber's chair are an escape from the daily rigors. Whether a customer comes in every week, once a month or returns after a lengthy absence, that time in the chair is an invitation to unwind, catch up on the latest goings on or perhaps grab a catnap.
"We keep it simple," said Lovell.
Professional Barbers of Cary, a spartan three-chair shop, has an outdoorsman feel with a few hunting decoys set about, a variety of men's magazines in the rack and two televisions that show a steady diet of old Westerns. "Not everyone is going to enjoy it, but they can tolerate it. It's not political; it's not a soap opera, no Dr. Phil or Oprah," said Lovell, whose shop policy includes no scheduled appointments and no credit cards.
The scarcity of distractions creates the opportunity to have conversations, however short or lengthy the customer chooses. Some customers will linger after a cut, creating an image reminiscent to the scenes played out in Floyd's Barbershop on "The Andy Griffith Show."
Unlike the franchise operations where turnover rates run high, these independent shops tend to have the same face behind each chair. Lovell hired Mike West nine years ago, and they've been the mainstays until West's 20-year-old son, Noah, recently took over the third chair. Robinson, at South Hills Barber Shop, estimates that each of his staff has about 20 years of barbering experience. And at Tart's, Sherill Tart employed his three sons for a period. They don't need to look at a computer screen to see what type of cut you had previously.
"Most of the customers want the same thing, just a little shorter," said Mike West, who was a truck driver for 22 years before entering the profession that has not only lured his son, but also his brother and uncle. Or as Lovell says, "Most new styles are a variation of an old style. There are only so many ways to cut hair."
To become a licensed barber in North Carolina, a person must complete more than 1,500 hours of training at an approved barber or trade school or community college. Then the person must apprentice for a year before passing a state board exam.
For all of the male bonding and camaraderie, barbering at its essence remains a service industry, and there is a level of expectation that must be met. Lovell adds that everyone who sits in the chair is boss for that 15 minutes.
"It's an attention to detail, an extreme amount of detail," said Mike West of his shop's high standards. "Anyone can do a haircut, and the person could walk out without having any detail work having been done. And it's not really finished until the details are done — the outline, the taper, the neck shave — all of those details are part of the haircut. It's not complete without that."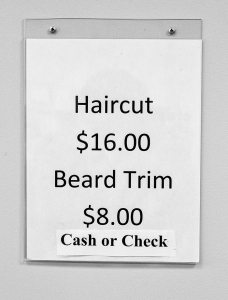 For being the new kid in his shop, Noah West speaks with a sense of wisdom on the profession.
"The attraction [to being a barber] is just being able to be creative, while giving somebody a service," he said. "Just the thought of having someone — who might not be having a great day — come in and then you give them what they want. You spin them around in that chair, and they see the cut you gave them, and they like it. They leave here feeling better."
So why have these small shops lasted for as long as they have?
"The shops I've worked in did the same thing," Mike West said. "There were no shampoo bowls, no added services. They were consistent, and I always thought that was the best business plan. Do something really well consistently."
Noah West drills down even further.
"To quote Bruce Lee, 'Simplicity is the key to brilliance.'"