Did you know that October is North Carolina Spirits Month?
Three years ago, the Distillers Association of North Carolina received the official designation from the governor. Since then, the number of permitted distilleries in the state has risen to 81. Craft distilling is a dynamic industry worldwide, and in this country, it is projected to grow as rapidly as craft beer.
During our weekend tours at Durham Distillery, we're often asked about craft spirits, why we started our business, and how to learn about (and taste!) more N.C. spirits. With those questions in mind, let's dig right in:
Why did you start Durham Distillery?
For most entrepreneurs, there is a moment when you are forced to jump. I was facing a layoff from a digital marketing executive role, and it was the right time to think about what was next. My husband Lee and I were avid gin hobbyists already. When we would go to different cities or states, we'd often try new gins and go to the liquor store to purchase, too. Paired with my experience and Lee's as a career chemist, we decided to make gin. Our backgrounds in the pharmaceutical industry would also turn into quite an asset as well, especially when submitting paperwork to the federal government.
What is the process for starting a distillery?
It's long. It's expensive. The regulations for making liquor (legally) in the United States are thorough. Any new distillery has gone through a significant vetting process, and it all starts with a Distilled Spirits Permit issued by the Federal Tax and Trade Bureau (TTB). In order to apply for this first permit, a distillery must have completed a lot of due diligence including, but not limited to: listed sources of funding, proof of lease or building ownership, outlining of the building usage (manufacturing, office, tasting room, etc.), all distilling equipment with their serial numbers, and every owner has to have a background check.
However, getting that DSP is really just the first step. There are product formula reviews and product labeling approvals from the TTB. Once all of that is in place, the process restarts in order to acquire the permits from North Carolina ABC. Typically, the startup phase for a distillery is a minimum of nine to 12 months. Depending on where you purchase your still, it could be as long as three years before you're producing.
All this to say, a distillery owner is required to have a lot of business acumen to even get their first product into the bottle. Starting a distillery is absolutely a passion project!
Where can I learn about North Carolina distilleries?
Two fantastic books, published in the last year, focus on distilling in the Southeast and in North Carolina specifically. Both authors took time and care to interview many distillers in the state, and the books are great guides to help you map out which distilleries to explore in person.
John Trump, managing editor at The Carolina Journal, published "Still & Barrel: Craft Spirits in the Old North State", (Blair Publishers) in 2017. Trump traces the history of manufacturing moonshine whiskey, gin, vodka and rum in North Carolina all the way to today. The information about the distillers and their products is "surrounded by history and compelling stories about people and their passion."
Kathleen Purvis, food editor at the Charlotte Observer, recently published "Distilling the South: A Guide to Southern Craft Liquors and the People Who Make Them" (UNC Press, 2018.) From the official description: "While the South has a long history as the center of American distilling, we're now experiencing a new explosion in the making of liquors. All over the region, alcohol artisans are crafting everything from gin to brandy to whiskey."
How can I support North Carolina distillers and try more of their spirits?
N.C. Spirits Month is a fantastic time to check out the delicious products produced here in the state.
Make Our Cover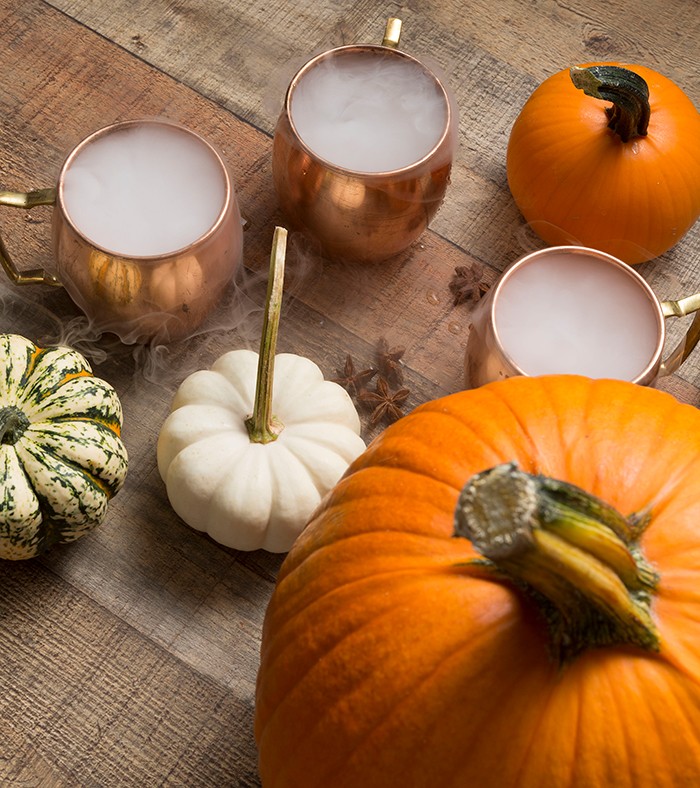 Fall Punch
1½ ounces apple cider
½ ounce Conniption American Dry Gin
¼ ounce dark rum
(Kill Devil Gold Rum from Outer Banks Distilling Company or another local rum is recommended)
½ ounce dry vermouth
Best served hot on cool fall nights!

First, take a tour of your local distilleries. Just like touring a winery or craft brewery, the distillery tours offer a behind-the-scenes look at how their spirits are made, the stories behind them, and at the end of the tour, there's a tasting. It's a fun way to spend an afternoon!
Second, check out your local ABC store and its N.C. section. It's often overlooked, but this section of the store is the best opportunity to see all the N.C. products carried by that specific ABC board, in one place. Sometimes local products are included in the main sections, but more likely, the N.C. section is where you'll find us.
Third, ask for N.C. spirits at your favorite bar or restaurant. Locally made spirits are rarely highlighted in local restaurants or bars. Often, it's not because owners don't know about N.C. spirits, but they don't think their customers care about them.
We'd like to change that!
When you go to your favorite restaurant, asking what N.C. spirits they carry is a great first step. If there is a cocktail on the menu that lists gin or whiskey, ask what they're using, and see if they'd consider using a local spirit.
For us, the support of bars and restaurants is invaluable. More than half of our distillery tour guests first learn and try Conniption gins in a cocktail at a local restaurant.
As distillery owners in the Triangle, we want to thank you for your support and for spreading the word about North Carolina spirits. We're all small business owners, and we're your neighbors. Cheers!