Beach season may be over, but the laid-back coastal vibe of Wilmington still makes for an enjoyable fall weekend getaway.
"Fall is a great season to visit. In fact, it's a favorite time for locals, too, because the weather is still mild, the beaches and restaurants are less crowded, and there are lots of outdoor festivals and events," said Connie Nelson, communications director, Wilmington and Beaches Convention and Visitors Bureau. "There's nothing like walking along the Riverwalk or one of our island beaches during the fall months."
Home to hundreds of historic structures, the Port City was selected as a Distinctive Destination by the National Trust for Historic Preservation. But respect for history hasn't stopped development, which has revitalized the riverfront with new hotels, restaurants and event venues.
It's easy to see why Trip Advisor named Wilmington one of the year's Destinations on the Rise, and it's only a few hours' drive from the Triangle.
The Riverwalk
Stretching nearly two miles along the Cape Fear River, the Riverwalk is a popular destination for dog-walkers, sightseers and pedestrians of all sorts. Since 1980, the city has spent nearly $33 million to revitalize the once dreary industrial zone. Now Wilmington's top tourist destination, the iconic raised timber boardwalk provides breathtaking views of the river and access to museums, shops and restaurants.
At the Riverfront Park, shop for fresh produce at the downtown farmers market from 8 a.m. to 1 p.m. on Saturdays through Nov. 17, or browse for unique gifts at the artisan market held Sundays through Oct. 30 from 10 a.m. to 3:30 p.m.
Several restaurants have built large outdoor seating areas along the Riverwalk, taking advantage of the marvelous scenery. Housed in a restored 19th-century house, the Pilot House Restaurant is the city's oldest continuously operating restaurant and has been a favorite spot since 1978. The menu of seafood and other regional fare is the perfect complement for relaxing on the large outside patio. Live music on Friday and Saturday nights and for Sunday brunch encourages diners to stay a while.
Battleship North Carolina
Across the river from downtown, the Battleship North Carolina invites visitors to picture themselves as part of the crew during World War II. The North Carolina took part in every major offensive in the Pacific theater and is the most decorated battleship of the war. Self-guided tours, lasting about two hours, wind through the ship's nine decks, including two 16-inch gun turrets and quarters for the nearly 2,300 sailors on board. Fascinating artifacts and exhibits make history come alive for visitors of all ages.
Wilmington Water Tours
Cruise up the Cape Fear River, and learn how its ecosystem has changed from fresh to salt water around Wilmington. Seasoned guides detail the region's history and point out new construction that is transforming downtown Wilmington. Keep your eyes peeled for egrets and other wildlife along the marshy banks!
The Children's Museum of Wilmington
For parents with children younger than 10, any visit to the Port City should include a play session at the Children's Museum.
The 17,000-square-foot space is comprised of three historic buildings connected by an atrium and courtyard. Roughly 60,000 annual visitors come for child-centric exhibits like the pirate ship, teddy bear hospital, dinosaur dentist, trains, costumes and even a virtual reality lab.
"It's a place where adults and kids can play together and learn together. Parents are always learning about their children, and kids are always learning period. It's a great way for them to do it together," said Kathleen King, director of guest services at the museum.
Conveniently located close to downtown attractions, the museum is popular with out-of-town visitors looking to entertain small children.
"There's not a ton of things downtown for younger kids to do, so that is a benefit for us. It's definitely something for kids to get involved in," said King. "There's plenty of things for the parents to do, so you can do both downtown."
This month, the museum hosts a Fall Festival from 9 a.m. to noon on Saturday, Oct. 20, with face-painting, a bounce house and seasonal arts and crafts.
Front Street Brewery
After a day of sightseeing downtown, Wilmington's oldest and best-known craft brewery offers a pleasant respite. Open since 1995, Front Street boasts a comfortable wood-paneled interior and an unusual light well that illuminates the first floor — reminders of the 1865 building's past. Five flagship and five seasonal brews are always on tap, and if you're not sure what to order, tours and free tastings are held every afternoon. A full kitchen serves upscale pub food until midnight, and there's a kid's menu.
Benny's Big Time Pizzeria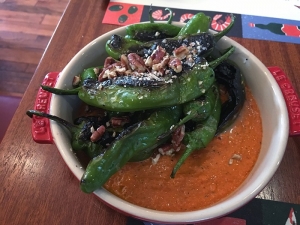 Celebrity chef Vivian Howard and her husband Ben Knight opened their pizzeria earlier this year in Wilmington's resurging South Front neighborhood with great fanfare.
Although billed as an Italian eatery, Benny's takes a distinct turn to the south. Some of the best hushpuppies you'll pop into your mouth come to the table topped with pecorino cheese and a side of honey butter. Locally sourced charred shishito peppers are served with an addictive romesco sauce and topped with pecans.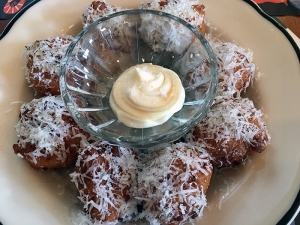 The restaurant, with exposed brick, dark wood furnishings and colorful murals, has a quirky, comfortable atmosphere. That attitude is also apparent when reading the names of the Neapolitan-style pies — from Jon Bon Anchovy to the Clamuel L. Jackson. One of the restaurant's most popular is the Talk'in Shiitake with provolone, oyster and shiitake mushrooms, fennel sausage and olives. The 14-inch pie, full of earthy goodness, is perfect to share.
Reservations are only taken for parties of six or more, so you may have to wait for a table on the weekends.
vivianhoward.com/bennysbigtime
Satellite Bar and Lounge
Across the street from Benny's Big Time, the Satellite has long been a favorite with locals. The rustic, dog-friendly indoor space has a distinctive lodge ambiance, and the outdoor patio is perfect for listening to live music on the weekends or playing cornhole.
Bitty and Beau's
Start your day with coffee and a smile at Bitty and Beau's. Founded in 2016 by Amy Wright and her husband Ben, the shop employs dozens of people with intellectual and developmental challenges. On any given morning a mix of commuters, businesspeople, parents with kids, and tourists fill the airy, 5,000-square-foot coffee shop and former Hummer dealership. Matt offers cheerful compliments to patrons as he takes their order, and the staff happily pauses to pose for photos in front of the huge logo on the wall. You'll leave with a warm feeling that will last longer than the cappuccino.
Airlie Gardens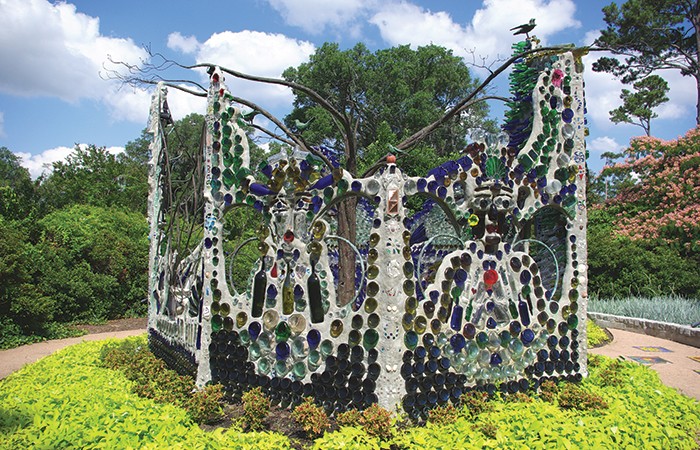 Get lost in this lush coastal garden featuring 67 acres of walking paths, formal gardens, seasonal blooms and tranquil hideaways. A nearly one-mile path winds past the huge Airlie Oak, which dates to 1545; a freshwater lake and pavilion; a butterfly house and other surprises. Adding interest to the garden are several outdoor sculptures including the Bottle Chapel (pictured) , featuring more than 2,800 glass bottles. Through the end of October, visitors can also track down 15 artist-designed garden gnomes. Finding the whimsical creations will entertain younger visitors.
Wrightsville Beach
The beach is only 20 minutes from downtown Wilmington, and worth the trip even if it's too chilly to get in the water. Stroll along the surf, or venture out onto one of the piers at Wrightsville Beach.
Stretching 475 feet into the Atlantic Ocean, the Crystal Pier has free beach access and space for active children to roam. It's also the location of Oceanic Restaurant, known for its coastal menu and its panoramic views of the surf. The seafood is sourced from the Crystal Coast when possible, and the freshness shows in standout dishes like the Carolina Crab Cake.
Johnnie Mercer's Pier is the only concrete fishing pier in North Carolina and extends more than 1,200 feet into the Atlantic. Lined with benches and lights, the pier is well-lit for night fishermen and after-hours strollers.
oceanicrestaurant.com, johnniemercersfishingpier.com
Other activities
Ghost Walk of Old Wilmington
Hear why Wilmington is known as one of the spookiest cities in the South. Through the end of October, tour guides will recount eerie tales as they take visitors on 90-minute adventures to haunted houses and burial grounds. Hauntedwilmington.com
Bellamy Mansion
History buffs will enjoy touring the restored antebellum mansion, gardens and rare urban slave quarters. Talented tour guides recount stories of the wealthy Dr. John D. Bellamy's family, their servants and other occupants, including federal troops during the Civil War. Don't miss the tobacco-stained mantelpiece where soldiers carelessly put out their cigars. bellamymansion.org
October festivals
Visitor resources
The main visitor information center is located in an authentic 1883 railroad freight warehouse in downtown Wilmington at 505 Nutt St., Unit A.
Official visitor information is also available at the riverfront kiosk located at the foot of Market and Water streets, open 9 a.m. to 4:30 p.m. daily.
For more information, visit wilmingtonandbeaches.com.