Rarely does a time of seemingly endless dust, disruption and impatience pair with boundless excitement, anticipation and joy, except during home renovations. The choice to renovate is a tough one, and the process can be challenging. But in Wake County's soaring housing market, it's a choice many are making.
Before you embark on your next home remodel, heed these lessons from Western Wake residents and professionals who have navigated the highway of renovation and arrived safely, victoriously on the other side.
Location, location, location
It's the refrain heard throughout the real estate world, and it applies to renovations too, says George Wilson with Raleigh Cary Realty. Where a home is located may be the tipping point between fixing up or moving out. Wilson lives and works in downtown Cary and has seen a dramatic rise in demand for this once overlooked area.
"People want to be able to walk to downtown Cary with their kids. The theater, Mayton Inn, Pharmacy (Bottle and Beverage), Bond Brothers (Beer Company) and restaurants, these have really changed downtown in the last two to three years," said Wilson.
Amenities like walking kids to school and strolling to dinner are rebounding against long-standing preferences for a community pool or a neighborhood golf course.
"Seeing familiar faces day after day — the nostalgia of walkability — is attractive to many right now," said Wilson.
Buying into neighborhoods like these is fiercely competitive, he says, citing one downtown Cary home that had 80 showings and 17 offers in a matter of days.
"Investors can pay more than a house is worth, then rent it in a strong rental market. Potential buyers are competing against other homebuyers and investors," said Wilson.
A homeowner could sell his or her house easily, but have difficulty finding an affordable replacement in the same area. That is strong motivation to stay put and renovate.
"People feel established in their neighborhoods and their communities. Having to pack up, relocate and start over, that's hard. Not completely displacing yourself and being able to modify your home for what you need is important in that decision-making process," said Kim Kruskamp, a designer with Kitchen and Bath Galleries.
Do your research
Whether you plan to renovate on your own or with a team of professionals, expect to be inundated with options in flooring, countertops, tile, fabrics and finishes. Look through magazines, inspiration websites and local showrooms to get an idea of what you like and how much it costs.
"Before I even had contractors come to my house, I went to cabinet, tile and stone warehouses to price things out that I liked," said Kristin Prince, owner of a recently renovated home in Lochmere. "If I had not done that, we would have been blindsided by the actual cost of things. Make sure that when you are getting estimates that contactors aren't low-balling you to get the job."
Assemble a team
"Having someone to help guide you through the process and ask questions that you didn't think of asking is really important and enlightening," said Kruskamp. "You want to make sure you have people by your side that will help you through if — and when — things don't go according to plan."
The full power of teamwork was realized in Jan and Ric Richards' recent renovation which pooled the efforts of Kruskamp and Vicky Serany and Elizabeth O'Neal with Southern Studio Interior Design.
"Everybody comes to the table with something different, and the timeline, the budget and the vision have to align for a successful project," said Serany, founder and principal designer at Southern Studio.
"(Remodeling is) a dance of all these parts and pieces, which is why it can become so overwhelming when you don't have a team to work on it."
Pick the right people
Before hiring anyone, it's vital to ask lots of questions and get lots of referrals, says Kruskamp.
"Reach out to multiple contractors. Ask for a referral list of past clients and if any would be willing to speak on (the contractor's) behalf. Find out how long they have been working with their subcontractors and vendors," she advised. "And reach out to people who have done it before, especially in your neighborhood."
Once you've got a team in place, communication is key, said Jan Richards, whose Preston home has a new kitchen, butler's pantry and family room after six months of renovations.
"Trust your team," she said. "It can be hard to visualize it, but they are really good about putting the whole package together. Some people have that impression that, 'Oh I can do it cheaper myself.' Unless you are really good at it, it's a lot harder to do than you think."
Emphasize function
It's tempting to get distracted by the bright, new features and finishes available, but focusing on function ensures a long-lasting and successful project.
"Our goal is to not only design a beautiful space, but to design a space that functions well for our clients," Serany said. "It's a matter of really listening to how that space is going to be used and design it to meet the needs of the family."
Prince more than doubled the size of her kitchen during her downstairs renovation, and she planned it by asking herself: "How am I going to use my kitchen?
"I'm a cook, so I started with the 36-inch range that I knew I wanted. I planned the rest based on how I was going to use it. There's not one drawer that I regret. It's perfect," she said.
Prepare for passion
Call on the Pros
Kim Kruskamp
Kitchen and Bath Galleries
Locations in Cary, Raleigh, Chapel Hill
(919) 861-0718
kandbgalleries.com
Vicky Serany & Elizabeth O'Neal
Southern Studio Interior Design
119 West Park St., Cary
(919) 362-5143
southernstudio.com
George Wilson
Raleigh Cary Realty
215 E Chatham St., Suite 110, Cary
(919) 439-0965
raleighcaryrealty.com
Kristin Prince Designs
(919) 889-6153
kprince430@yahoo.com

"We love our location. We have lived a lot of life here, and we have no intention of moving," said Prince. "It made sense to put the money into our house and make it work for us exactly how we want it to. We can't believe we've lived as long as we did without doing this.
"When they knock down walls you think, 'What are they going to find?' It's very emotional when they are working on your home. You've put a lot of love (and money) into it."
Serany agrees, "If you are remodeling and living in the house, emotionally it's hard to live when your life is disrupted like that."
Try a trend
Neutral palettes, like the classic white kitchen, tend to have the most staying power and are great for resale, but don't let that keep you from adding your own personality.
"I'm seeing a lot of people adding a fun, interesting countertop or a different backsplash to bring in color, something that can be swapped out easily or changed without spending a lot of money," said Kruskamp.
Prince did that with the backsplash in her kitchen beverage bar. "I felt like the wine bar needed a little pizazz. The backsplash here is a marble pattern that still ties in with the rest of the kitchen, but it's like a little piece of jewelry," she said.
Other trends to watch: brass and black fixtures and hardware, woven textures like wicker and rattan, and marble look-alikes for counters and tile. Prince used Skyline quartzite for a durable alternative to Carrara marble on her kitchen countertops.
Make it Yours
"With new construction, nine times out of 10 you are limited with the builder's offerings. Being able to remodel and doing it fully customized to your own wants, needs and style choices is a huge benefit. If you are going to spend the money it's important to be able to get what you want, whether it's affordable or the sky's the limit," said Kruskamp.
Richards has seen that many times as people have relocated to her Preston neighborhood.
"People move in, and then they make it theirs," she said. "They might tear out something that isn't that old, because they want the space to really be theirs."
Ric and Jan Richards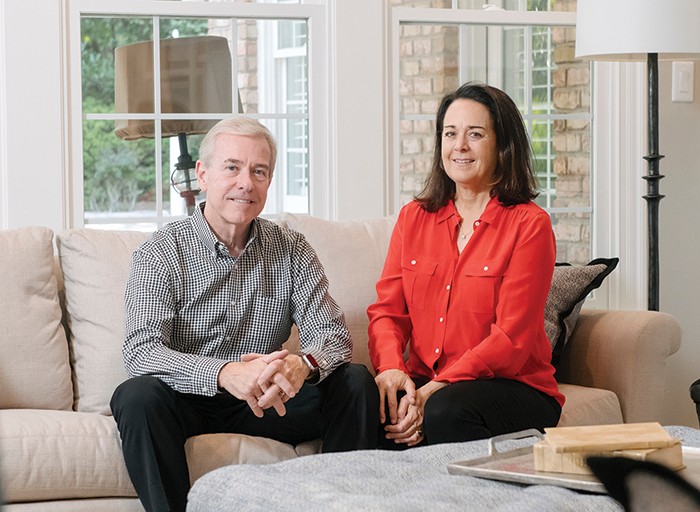 Kitchen
Jan and Ric Richards' home in Preston has a long list of desirable characteristics: large lot, great outdoor living area and multiple first-floor bedrooms, but they were lacking an open kitchen and comfortable entertaining space.
"We knew we wanted a wall to come down to get that open concept," said Jan Richards. "Kim (Kruskamp of Kitchen and Bath Galleries) suggested a butler's pantry and reworked the back hallway. We haven't changed any square footage, but it's so much more efficient."
With Kruskamp directing the kitchen changes and Elizabeth O'Neal of Southern Studio Interior Design managing the family room and dining room refresh, the team landed on a sophisticated comfort that would be inviting for entertaining guests and durable for welcoming grandchildren.
"I knew I wanted black and white, but I didn't want it to look sterile," Jan Richards said. Two-tone cabinets (the island is a stony gray) and a taupe glass backsplash added warmth. The matte black hardware offers a graphic punch.
Family Room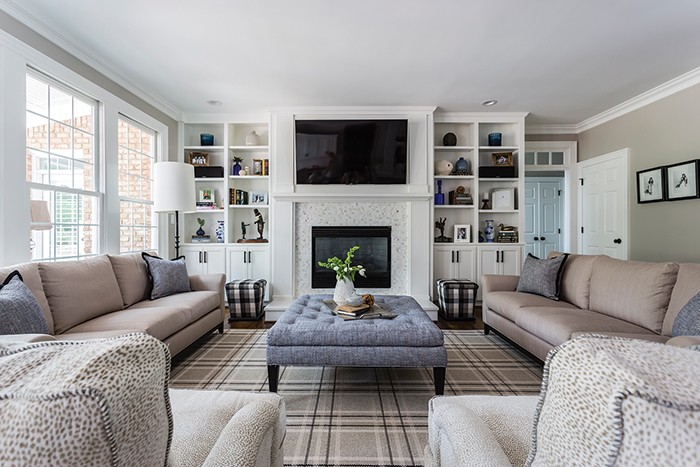 Dark wood built-ins around the fireplace were painted to match the kitchen cabinets. Light colored fabrics with lots of texture and trim details complete the comfortable vibe the Richards sought.
"We will stay in the house for 10 years. We can walk right out to our backyard; we can stay on the first level," she said. "We're thrilled we did it, because it's what we wanted. It's like living in a new space now."
Dining Room
Pops of black are carried through to the dining room as well, in the chandelier, lamps and mirror.
"Lighting is huge when you do start reconfiguring spaces," said O'Neal. "Making sure that it's appropriate and decorative, but doesn't compete with other elements."
Kristin Prince
Kitchen
With a teenaged daughter and two German shepherds, Kristin Prince and her husband, Joel, considered moving before opting to renovate their 1990s Lochmere home. "We've just lived a lot of life in this house. And we decided this was home, and we were going to make it work for us," she said.
Prince dreamed up and managed the entire renovation, which more than doubled the size of the kitchen, added a custom mudroom and repurposed their old sunroom and dining rooms. Despite the large scale of the project, she boasts "not one regret."
"I wanted my kitchen classic, but I wanted an updated classic," Prince said. "I wanted to mix styles, because I didn't want any part of the house to look dated. The big staples are classics, mixed in with more trendy accents."
Mudroom
An important part of the renovation included the family's four-legged members. "We perfectly sized the mudroom to fit (the dogs') kennels," she said. "The door is intentionally hinged to the left so the dogs can run right outside from their kennels. I purposefully got a gritty-feeling tile that isn't slippery when wet."
She reused materials and furniture when she could. "We repurposed the granite from the old kitchen island into a countertop over the dog kennels," Prince said. Her dining room features 30-year-old chairs, hand-me-downs from her parents, which were made new with a fresh coat of paint.
Prince's home renovation became a springboard to launch her design business, Kristin Prince Designs. "This is something I have always had a knack for and been interested in," she said.