Poonam Gupta, a founding member and treasurer of the Hum Sub Inc. recalls when she and her husband Gyan first moved to Cary in 1989. They were one of eight families that met informally and started talking about establishing a group to share their Indian culture with the larger community.
In 2001, Hum Sub was founded, and the nonprofit group partnered with Cary's Department of Parks, Recreation & Cultural Resources to launch the first Cary Diwali festival at the then Cary Community Center.
Cary Diwali 2019

Saturday, Oct. 12, at Koka Booth Amphitheatre
Gates open at 10 a.m., fireworks at 8:30 p.m.
Admission is free; parking is $5

"We had about 1,500 people show up," Gupta recalled. The crowds have grown over the years, with an estimated 15,000 community members coming from Winston-Salem and Greensboro, as well as the Triangle.
This year, Hum Sub's largest event kicks off at 10 a.m., Saturday, Oct. 12, at Koka Booth Amphitheatre with the lighting of an Indian lamp and chanting of prayers. The all-day Festival of Lights will feature more than 1,000 performers, with many acts including local children and Indian-American dancers and musicians.
The evening program will  be anchored by Mahalakshmi Iyer, singer of the 2008 Oscar-winning song "Jai Ho." Meanwhile, vendors from across the country sell clothing, personal and home accessories, crafts and wares, spices and South Asian cuisine from local restaurants at the Cary Diwali bazaar. The festival ends with fireworks.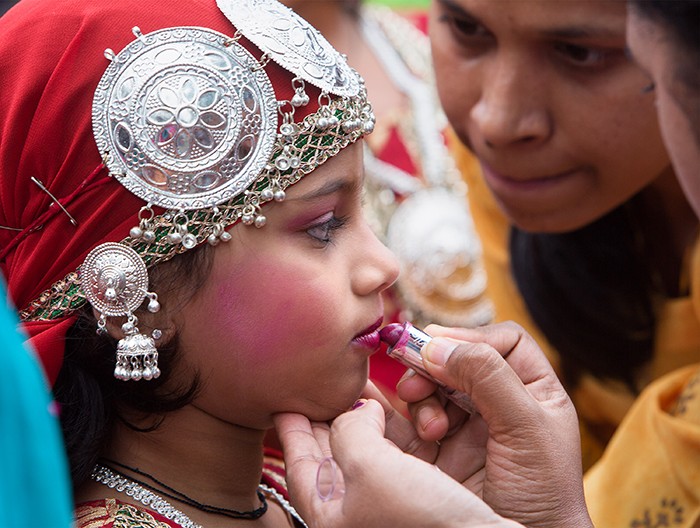 During Diwali, local residents are recognized for good works. Four youth achievement awards, with a prize of $500 each, will be presented to outstanding middle-school and high-school students. Winners should demonstrate leadership and volunteerism in their community; be involved in research and innovation that can change the world, or excel in the classroom and contribute to the community through activities such as the arts, music, dance and sports.
Hum Sub strives to promote greater awareness of the Indian traditions through annual celebrations of Diwali, Basant Bahar and other cultural events. Since its inception, Hum Sub's primary focus has been to promote, support and organize family-oriented cultural activities to help build a stronger foundation for the youth in our community. Hum Sub relies entirely on community support and local business sponsorships to make its programs and events possible.
Prakash Punj, president of Hum Sub Inc., says Western Wake has the largest Indian population in the Triangle. Many of them moved to the area as professionals in the information technology field to work in Research Triangle Park.
As many of them settled in Holly Springs, Morrisville and Cary, they decided they wanted to both celebrate and share their way of life and history. After all, "Hum Sub" means "We all." Punj says the full meaning of the phrase translates into "We treat the world as one big family."
The 15-member Hum Sub group meets year-round to plan big and small events to highlight their traditions and practices. Membership and participation are open to all people who are interested in promoting or appreciating Indian heritage and history.
In the spring, Hub Sum presents Basant Bahar — a classical music and dance program which draws about 1,000 attendees.
"India is a diverse culture," said Punj. "Everything changes every 50 miles. Every region has its own instruments, music and dance that are unique to the people of that region."
Every year, Hum Sub also hosts an Indian Culture Learning Series leading up to the Diwali festival. Beginning in September and continuing through early October, the series covers topics such as spices and cuisine, textiles, faith practices and art.
"The series is for non-Indians, people who don't know about Indian culture. We educate them about Indian culture. They can come and learn about what kind of vision we have through our music, textiles and faith," Punj explained.
For more information on Cary Diwali or Hum Sub, check out humsub.org.