Summer is perhaps the best time of year to enjoy fresh seafood. Maybe it's because many of us spend more time at the lake or the beach. Whatever the reason, we encourage you to savor more maritime fare this season.
To make it easier, we reeled in three of the freshest and tastiest seafood catches in the area. From a fast-casual joint to a food truck to a full-service restaurant, these choices will satisfy your hot-weather hankerings.
Cousins Maine Lobster
A food-truck franchise that benefited from an appearance on television's "Shark Tank," the Raleigh truck has gained a loyal following since rolling out in 2015.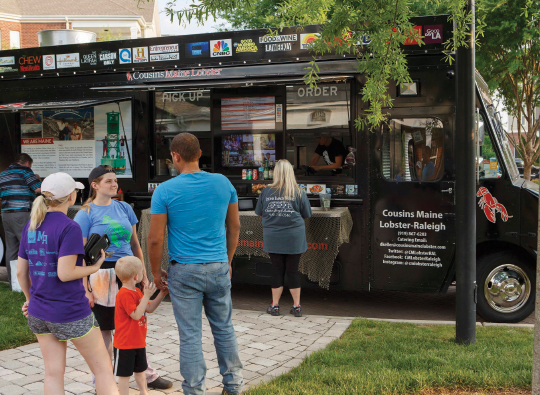 Cousins Maine Lobster food truck appears regularly around town. Check the website for the weekly schedule.
"I saw the show, and my husband said, 'That's what you need to do,'" said franchisee Deb Keller, a New Jersey native with a background in project management.
Keller now compares cousins and Cousins Maine Lobster founders Jim Tselikis and Sabin Lomac to the brothers she never had.
"They have been so genuinely warm and supportive," she said.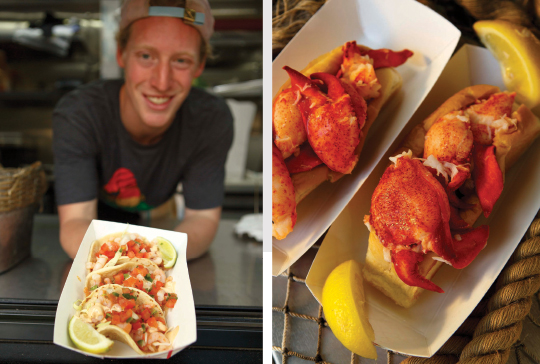 Left: Shrimp tacos are served on hand-fashioned flour tortillas with cabbage, pico de gallo and cilantro lime sauce.
Right: In the Connecticut, warm lobster is tossed in butter and lemon then piled onto a split-top bun.
Her lobster is sourced from Maine's middle coast, and shipments arrive at least twice a week.
"We have such a huge Northeastern following, and our cuisine is really unique to the Triangle area," said Keller.
Not surprisingly, the biggest selling menu items are lobster rolls containing chunks of tail, knuckle and claw meat. The classic Maine version is served cold and mixed with Hellmann's mayonnaise, while the Connecticut is tossed in butter and lemon then presented warm. The sweet, tender meat is piled onto a split-top Country Kitchen bun that's buttered and toasted.
Cousins Maine Lobster appears regularly at food truck rodeos, festivals, breweries and corporate properties. Check the website to follow the truck's weekly schedule.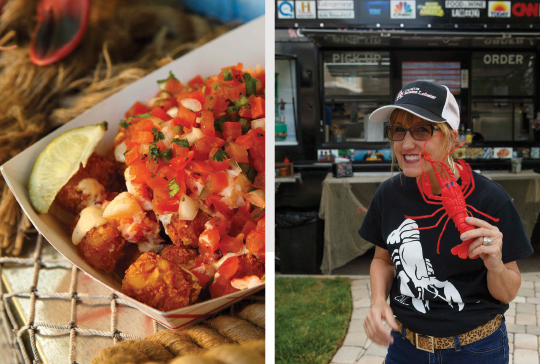 Left: Lobster tots include tater tots with warm lobster, pico de gallo and cilantro lime sauce.
Right: Deb Keller, the local franchisee for Cousins Maine Lobster, says the truck has a strong following.
Seasonal favorites: Shrimp tacos are flash-fried in canola oil and served on local hand-fashioned flour tortillas with cabbage, pico de gallo and cilantro lime sauce.
Recommended: Net some shareable lobster tots, which include tater tots crowned with warm Maine lobster, pico de gallo and cilantro lime sauce. Pair with an icy cold, bottled blueberry Maine Root soda and a whoopie pie for dessert.
Surprising fact: Despite the popularity of the Maine roll, folks here in North Carolina prefer the Connecticut roll — even during the sweltering days of summer.
"People here love the butter experience," Keller explained.
Prices: $10 for shrimp tacos to $14 for lobster rolls
Cousins Maine Lobster
(919) 867-6203
cousinsmainelobster.com/Raleigh
Skipper's Fish Fry
Locals have found safe harbor at this 95-seat counter-service eatery ever since proprietor A.J. Dalola opened the doors in 2005. Chef Stephen Ashby deftly helms the kitchen, serving up sumptuous fried cod sandwiches along with perfectly executed platters overflowing with fresh flounder, scallops, clam strips and more.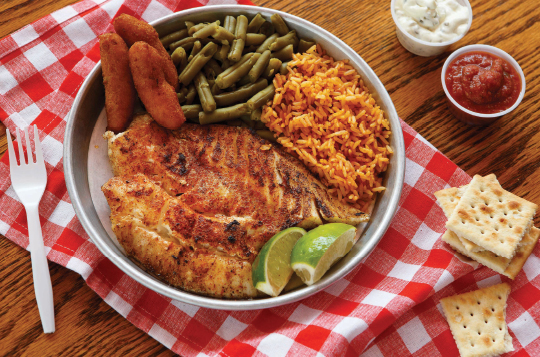 Skipper's blackened mahi-mahi is accompanied by sides of rice, green beans, hush puppies, and house-made tartar and cocktail sauces.
Skipper's sources seafood locally and regionally, and everything is cooked to order.
"There's nothing that's pre-made," said general manager Michael Gorham. "We can accommodate whatever our guests want, whether it's Calabash style, steamed, grilled or blackened."
Go early at lunchtime to avoid the crowd. Even if you have to stand in line to place your order, generous portions make the wait bearable.
Seasonal favorites: Steamed items like Old Bay-seasoned peel-and-eat shrimp, oysters and snow crab legs attract legions of fans.
Recommended: Dive into the blackened mahi-mahi tacos with lime and cilantro slaw, pico de gallo and Baja chipotle drizzle. "It's well worth the $1.50 upcharge for the mahi because of the flavor," Gorham said. Finish your meal with a bowl of peach cobbler.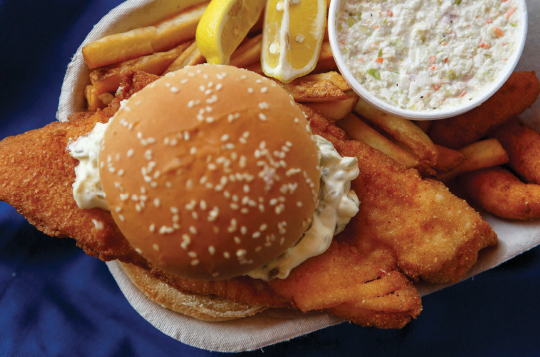 Fried cod sandwiches come with coleslaw and fries.
Surprising fact: Virtually every item is made from scratch, including the habit-forming tartar sauce, coleslaw and soups like lobster bisque and New England-style clam chowder. "We use our owner's tried-and-true recipes," said Gorham.
Prices: $6 for a fish sandwich to $18 for a house sampler platter
Skipper's Fish Fry
1001 E. Williams St., Apex
(919) 303-2400
Full Moon Oyster Bar and Seafood Kitchen
With five locations throughout the state, Full Moon's motto is, "Come as a stranger, leave as a friend." The Morrisville restaurant, operating since 2014, has become a convivial gathering spot.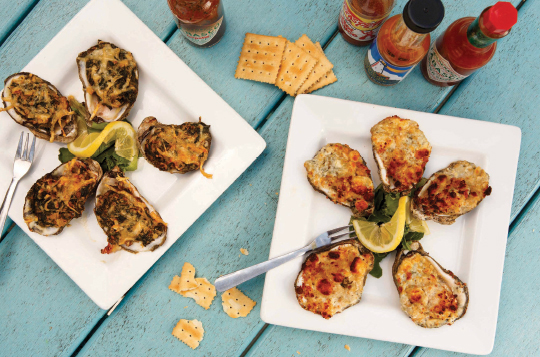 Moon rockers, left, are fresh oysters baked on the half shell under a spinach topping. Roasted blue cheese oysters, right, are topped with blue cheese crumbles, garlic, butter and bread crumbs.
Nautical-themed walls and suspended fishing nets provide a laid-back beach vibe. There are no tables inside, so guests sit on stools at an elongated bar that spans the dining space.
While eating, you might feel like you're getting a crash course in oyster shucking.
"We generally have seven to 10 varieties of oysters from up and down the East Coast," said Ty Carethers, who serves as executive chef for the entire Full Moon operation.
Whether you order oysters chargrilled, steamed or raw, you'll be gratified.
Don't prefer oysters? The shrimp and grits entrée vies for attention, never mind garlic-tinged scallops, crab cakes filled with lump blue crab meat, and blackened salmon.
Daily food and drink specials are available.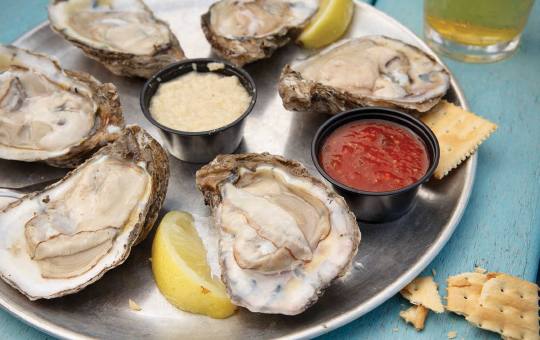 Raw oysters are popular in the summer.
Seasonal favorites: "There's nothing better in the summer than raw oysters and a cold beer," said Carethers. The just-caught fish of the day makes for another solid option.
Recommended: Moon rockers, Full Moon's interpretation of Oysters Rockefeller, which are baked on the half shell with spinach, cheese and bacon. Roasted blue cheese oysters arrive topped with blue cheese crumbles, garlic, butter and bread crumbs.
Surprising fact: "We offer the freshest seafood you will eat this far inland, but landlubbers will also find certified Angus steaks and excellent beef ribs," Carethers said.
Prices: $9 for a shrimp cocktail to $30 for a full combination platter
Full Moon Oyster Bar and Seafood Kitchen
1600 Village Market Place, Morrisville
(919) 378-9524
fullmoonoysterbar.com