Like children, they gathered around their instructor eagerly at LORD Corporation in Cary, applying pressure to metal to test the strength of rivets versus the company's structural adhesives.
The rivets pulled loose at 1,300 psi. They all jumped when the adhesive-held metal snapped loudly at 3,400 psi. Their next questions were how, and why?
But these aren't children. They're Wake County schoolteachers, inside local companies to help them bring real-world, project-based learning to their students through a program dubbed Summer STEM.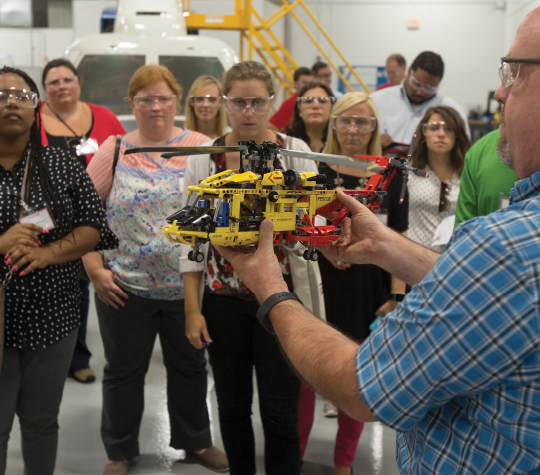 David Clark, software engineer at Lord Corporation in Cary, uses a Lego helicopter created by his colleague, system safety engineer Casey Irvin, to demonstrate concepts behind the company's Active Vibration Control System, used in commercial and military helicopters, and even cellphone technology,  to Wake County schoolteachers who are working to bring real-world STEM education into their classrooms.
"Teachers know education, but they don't know the problems faced in business," said Teresa Pierrie, director of programs at WakeEd, a nonprofit collaborating with Wake County Public Schools and local businesses in this second annual program.
"We knew if we could immerse them in the structure of business, they could build that new knowledge to deliver to students. It's authentic. It becomes a model for their students and for their fellow teachers."
STEM education — Science, Technology, Engineering and Mathematics — is not new in in our state; it dates to the 1950s and the development of Research Triangle Park.
More than just another acronym, STEM is key to the future of our state's economy, and to our country's global competitiveness.
Yet according to the 2016 STEM Index, created by U.S. News and World Report, STEM jobs are being created much faster than workforce-ready STEM graduates.
In the largest public school system in North Carolina, leaders are working to change that.
"STEM education has two goals," said Paul Domenico, director of Curriculum Enhancement Programs for Wake County Schools. "One, it answers the 'why' for students, as in why am I learning this.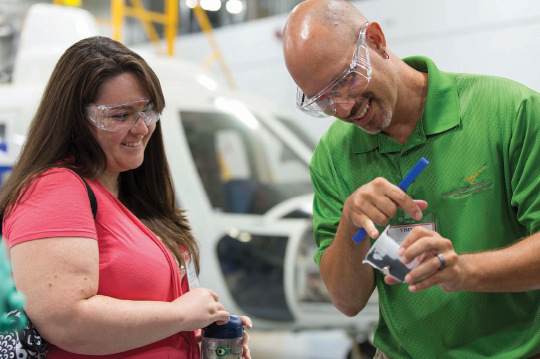 "This is so cool," says East Garner Magnet Middle School science teacher Brian Cole, right, of the magneto-rheological fluid developed by LORD chemists and used to control brakes, shocks and dampers in autos. The substance transforms from liquid to solid when magnetized. Cole's goal in attending Summer STEM, a program that immerses teachers in local STEM businesses, was to make learning more fun for his students.
Also pictured is Sarah Mallon of East Garner Middle School.
"Two, a lot of our industry is built on STEM, so it creates a pipeline, making specific connections with businesses and universities and community colleges."
Doug Lorenz, president of Automotive, Industrial and Electronic Assembly at LORD, says real-world corporate challenges are one reason LORD employees participate in mentoring, co-teaching, and externships for area teachers.
As markets change and the company works toward future relevance and success, "We need the right people to help us do that," he said. "That's why these partnerships are so powerful."
Examples of STEM jobs
Network systems analyst
Financial examiner
Medical scientist
Physician assistant
Skin care specialist
Biochemist
— Dr. Jenna Carpenter
Dean of the Campbell University
School of Engineering

More than science
Inside the helicopter lab at LORD, which develops systems to control motion and vibration, scientist Dan Barber demonstrated the concept behind the company's magneto-rheological fluids.
The teachers slid a powerful magnet over a proprietary iron powder-based liquid, and witnessed its quick-thickening results. The substance is used to control brakes, shocks and dampers, and even in construction of earthquake-vulnerable buildings.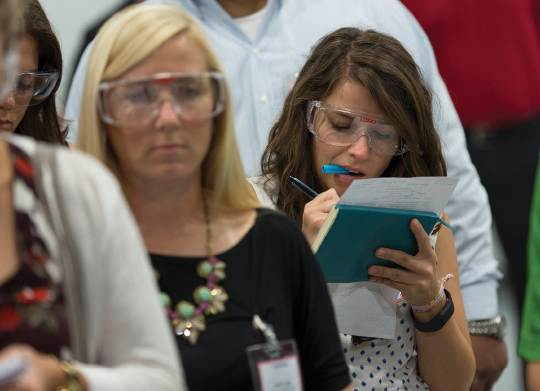 Dozens of teachers took part in this year's Summer STEM program, experiencing hands-on learning that will help them bring real-world, project-based learning to their students. Local companies taking part say the benefit is two-fold: As markets change and companies work toward future success, "We need the right people to help us do that," says Doug Lorenz, a LORD Corporation executive. ""That's why these partnerships are so powerful."
"This is so cool!" exclaimed science teacher Brian Cole of East Garner Magnet Middle School, whose Summer STEM goal was to make learning more fun for his students.
Science and English teachers Mary Grace Guthrie Kilder and Laura Dowd of Mills Park Middle in Cary, shared how they're collaborating on cross-curricular projects to show students the scope of STEM.
Alyson Davis, university relations specialist and STEM manager at LORD, says students often don't understand that broad career choices such as engineering offer multiple opportunities and career paths.
The U.S. Department of Labor cites 100 different STEM occupations in various fields, and 70 percent of the fastest-growing occupations overall are in STEM, from biomedical engineer and network systems analyst to economist and skin care specialist.
Beyond technical knowledge, STEM companies look for those able to work in cross-functional environments, solve problems creatively, and demonstrate strong communication skills, something Vernon Malone College & Career Academy Spanish teacher Clay Hergert promotes by requiring his students to prepare classroom presentations.
LORD employees Clark and Irvin explain the company's In-flight Propeller Balancing System, originally designed for concrete factory ventilation fans but now used in aircraft, which increases engine life and reduces operating costs for LORD customers. For teachers like Mary Grace Guthrie Kilder and Laura Dowd of Mills Park Middle School, near left, sharing such applications for STEM learning is a boost for students.
"You have to be able to articulate ideas, to influence customers in a way they can understand," said Lorenz. "Otherwise, it doesn't matter how smart you are."
Keeping it real
Steve Parrott, president of WakeEd, says as Wake County Public Schools continues to execute its Vision 2020 plan to prepare students to reach their full potential in a complex world, "The emphasis on engaged teaching and learning contributes to students' preparation in workplace skills, including the four C's (of) Collaborative, Creative, Effective Communicators, and Critical Thinkers, that are essential to today's work setting.
"There is a growing understanding of the need to engage with schools to guide teachers in creating relevant learning experiences that deepen STEM curricular understanding and expand student understanding of the many opportunities within STEM businesses and STEM professions," Parrott said.
Domenico, of WCPSS, notes that all Wake County secondary schools have alliances with local businesses to offer mentoring opportunities for students, and 28 Wake schools are part of the STEM Collaborative Network.
He points to a multitude of options for Wake students and STEM, such as Wake STEM Early College on the N.C. State campus, focused on engineering, and the Vernon Malone academy connected with Wake Tech, offering eight career pathways from nursing to game design.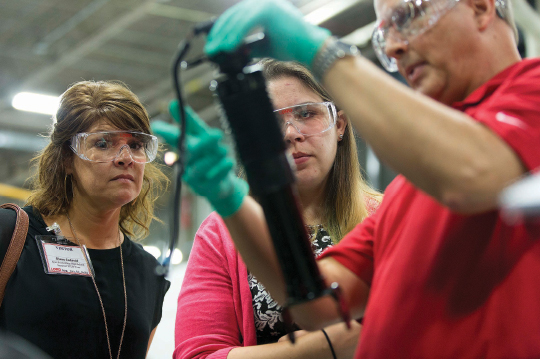 Teachers Diane Cadavid and Cassandra McClellan of Apex Friendship High learn from LORD scientist Dan Barber during Summer STEM, a program aimed at providing authentic experiences for educators tasked with educating the nation's future STEM workforce.
The Digital Media Academy at Middle Creek High in Apex equips students with communication technology skills to benefit them throughout college and career.
And Athens Drive High has two STEM academies, Health Science Academy and Energy and Sustainability Academy, offering context-specific study and the opportunity to work with industry to extend learning outside the classroom.
"There's a different look and feel at each STEM school," Domenico said, "and the concentrated approach filters into other classrooms. It's amazing what and how students learn; we have to stay out in front of that."
Girls & STEM
Paul Domenico says WCPSS academic data shows girls on par with, and sometimes outperforming, boys in STEM subjects — but a "disconnect" occurs when it comes to girls choosing STEM career fields.
Dr. Jenna Carpenter, founding dean of Campbell University's School of Engineering opening this fall, is a national figure in STEM education advocacy and passionate about bridging this STEM divide.
"STEM permeates every industry, due to the prevalence of technology," Carpenter says, yet 40 percent of female STEM grads choose non-STEM careers.
And while two-thirds of college graduates are women, they represent just 20 percent of engineering grads over the past 20 to 30 years.
So why aren't more women in STEM careers? Carpenter says self-doubt plays a role.
"Women think they must achieve at exceptional levels to be successful as STEM professionals," she said. "Then there's the double-bind of being competent versus being liked, which is common for women in traditional male roles. But research shows both are important for advancement."
Instead, she says, women should seek to understand the reasonable expectations and standards for their jobs, and view their performance in context of the group spectrum.
Carpenter encourages women to take advantage of opportunities to learn new STEM skills and enhance existing ones.
For students, she suggests parents and teachers set healthy expectations, encourage play and activities that children enjoy and are naturally good at, and that help them see the bigger picture.
"STEM careers make the world a better place," she said, "and there are lots of paths to success."
STEM Up!
Wake County
Public Schools
wcpss.net
Wake Ed
wakeed.org
NC STEM Center
ncstemcenter.org
North Carolina Science, Mathematics, and Technology Education Center
ncsmt.org
Tech Girlz
techgirlz.org
Girl Develop It
girldevelopit.com
US2020
us2020.org
The Forge Downtown
theforgedowntown.org