You and your team are locked in a room with one hour to escape — but there's a catch.
To unlock the door to freedom, you have to solve a series of themed puzzles and riddles, and they won't be quick or easy.
This is an escape room, and it makes opening locks and solving the mystery behind a room full of knickknacks fun.
"When we were younger we used to go outside and play games," said Mike Horan, co-owner of Cipher Escape in Morrisville. "And then we went through a cycle where everyone played games on their phones, on the console, that's all they did. Now, this is a different connection where you're actually coming live, and you get to mix the two — experiential entertainment."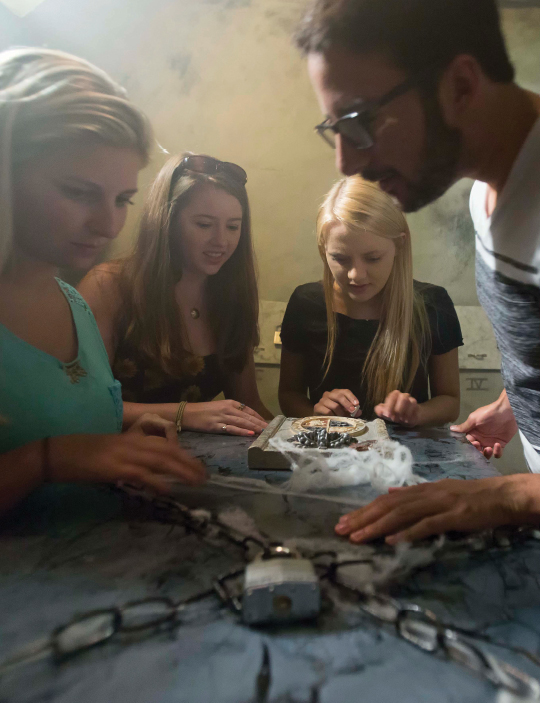 Anything can be a clue in an escape room, so participants from left, Camila Correia, Libby Boissy, Leah Keiter and Stephen DelGaudio study the mausoleum room's coffin.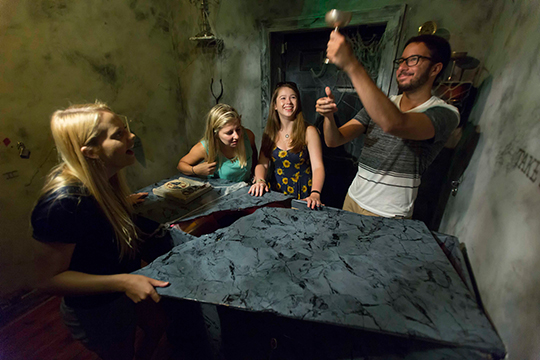 Escape rooms bring together bits of classic entertainment: "I Spy" photo riddles, hidden object puzzles, choose your own adventure books, and role playing video games.
How it works
Each room has a theme, ranging from brewery to haunted mausoleum to entertainment "green room." Rooms of various sizes can accommodate groups from two to 10, but the typical group is six people, says Mac Lawrence, part of the family ownership team of Tic Toc Escapes in Raleigh.
Once groups are locked inside and the clock starts counting down, a game master watches their progress via video cameras. Players are allowed three hints that they can request anytime during the allotted time period.
"What the industry calls an 'escape' is to get out before the time runs out with three hints or less," said Mark Lawrence, the Tic Toc patriarch.
For both Cipher Escape and Tic Toc, most of the rooms have a successful escape rate between 25 and 35 percent.
Escape depends on problem-solving and critical thinking. Both Cipher and Tic Toc feature wall-to-wall puzzles that require math, science, visual understanding, and sometimes small physical tasks. Often the puzzles build on one another; nothing in a room is coincidental.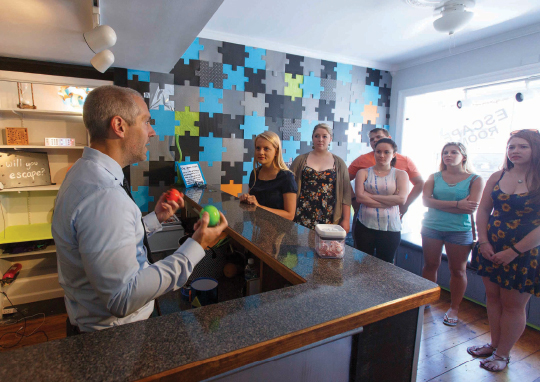 Tic Toc Escapes owner Mac Lawrence introduces our group to the concept of escape rooms, holding two balls to explain that everything is connected and part of a pattern.
While the ideas of escape and puzzle-solving are common in each room, don't think you'll see the same kind of puzzle again and again. Both teams are impressively creative, and show that you truly can make anything into a game.
Escape rooms are popular for corporate events, date nights and birthday parties. According to the Cassandra Report, a youth and millennial research outlet, 62 percent of 19- to 34-year-olds would rather pay for an experience than a product, which explains the popularity of escape rooms with young adults despite an average ticket price of $25 to $35.
Starting up
Horan and his wife, Lynn, started Cipher Escape accidentally on purpose. He had a long-standing love of puzzle games like Myst, so when the couple read about escape rooms they had to give it a try. After escaping their first room in Orlando, Fla., they looked at each other and thought the same thing: "We can do this."
They started looking for building space the next day.
"We didn't really think about doing it," said Mike. "We just did it." Cipher has grown from its family roots, bringing on additional staff beyond Mike and Lynn's six children. In the next year, the couple plans to expand into another part of their building and open two more rooms.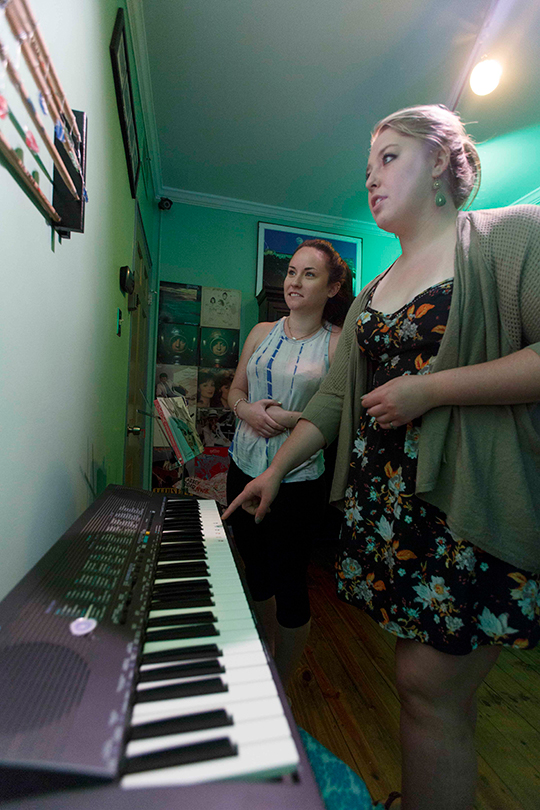 "Adrenaline," said Lynn, on where the success of the escape room trend comes from. "It's live; we have a big clock on the wall. People who like a challenge love this."
"There's not a lot to do where you can have an entire family experience," added Mike. "Where can we get someone who is youngest and someone who is oldest and they can come do something together?"
For the Lawrence family, things happened a little differently.
Two years ago, Mac Lawrence and his mother, Jane, were looking for a business opportunity that the family could get into together. They found their answer on an episode of TV's "The Big Bang Theory," which featured an escape room.
"I wanted to do something that would be fun for everybody," said Mac.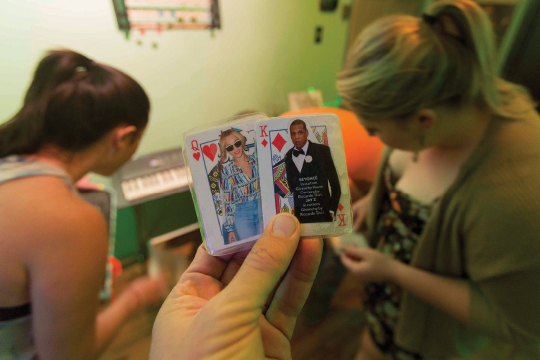 The discovery of playing cards leads the team to piece together patterns from clues in Tic Toc's entertainment-themed "green room."
Approaching their two-year anniversary this month, the Lawrence family is more than happy with their decision.
"People ask, 'What do you do for a living?' and we say, 'We make people laugh,'" said Jane. "There's nothing like laughter."
Like the Horans, Jane thinks much of the success of escape rooms comes from its wide audience appeal.
"It's multigenerational, and people can come in and laugh and enjoy each other," she said. "That's what made me really fall in love with the game."
"Everybody ends up contributing in some way," added Marylu Lawrence. "We try to build for all different kinds of thinkers. Something over here will be more of a physical puzzle, and something across the room will be more for someone who likes math."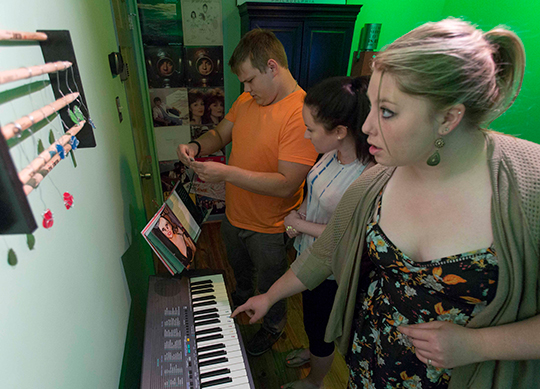 The best part, though? The immersive nature of the live game.
"You completely forget that you're in a room in a building," said Lynn Horan. "You become completely immersed in that space."
Cipher Escape, Morrisville
(919) 378-9362
cipherescape.com
Tic Toc Escapes, Raleigh
(984) 789-9978
tictocescapes.com