Violinist sees Carnegie Hall appearances as steps in her journey
Written by Amber Keister
When you hear that at age 16, violinist Deborah Kim has already played  Carnegie Hall twice, it's not surprising that she is hard-working and talented.
What is surprising is that those high-profile performances aren't the most memorable of her career.
As a high school senior, violinist Deborah Kim is focusing on college: "In terms of violin, I plan to focus on repertoire for college admission, rather than chamber groups. Although it's fun playing with friends, I think it's time to focus on my studies just for college."
Deborah, a rising senior at Green Hope High, calls playing at Carnegie Hall, "a big step in my violin-playing journey." But her most memorable musical experience happened while she was playing in her school's chamber group.
"We had two performances; the first one went OK, but for the second one I left my music off-stage, and I still managed to get through the concert," she said. "The music was pretty easy, but I realized that practicing actually pays off."
Deborah has learned this lesson well. Many violinists start quite young, at 4 or 5 years old, but Deborah didn't pick up the instrument until 10. When she reached high school she realized she was behind her peers.
"I decided that I should catch up if I wanted to continue playing violin after high school," she said. "After seeing performances of others who had started playing earlier, I realized I was way behind."
Reaching her goal required hard work, playing the violin for up to eight hours a day the summer before her sophomore year.
"I wanted to give up numerous times, but my mom helped me get through it," Deborah recalled.
All the effort  paid off.
Less than a year later, she came in second in the American Protégé International Piano and Strings Competition, and performed at Carnegie Hall in July 2015. She played there again in May 2016 as part of the American Fine Arts Festival Concerto Competition.
Deborah says she was less nervous at her second appearance, but not completely comfortable.
"After I got in and was set on doing a performance, I slacked off and relaxed," she said. "As a soloist at Carnegie Hall it was pretty stressful, because at the last minute I was regretting not practicing enough. The feeling after playing at Carnegie was greater. I felt like I was finally done; I accomplished something. But if I had to choose between the two, I'd rather play at a school concert."
Among other awards and accolades, Deborah won the Durham Symphony Orchestra Young Artist Competition this year and performed a solo with the DSO in April.
"When she has a big goal, she's thrilled to try it and achieve it," said Shelley Living-ston, Deborah's violin teacher, who also performed with the symphony that night.
Livingston, who is also conductor of the Duke University String School Youth Symphony Orchestra, says Deborah is self-assured, especially when it comes to music. This was evident when the teen was Duke Youth Symphony concertmaster last year.
"She is soft-spoken, but she fires up when she's performing," said Livingston. "She leads by example. She is focused and works hard, so that inspires others to do the same when they're around her. She is confident. She makes a wonderful concertmaster because she's a really good leader in that way. You don't have to talk when you play the violin."
Deborah also lights up when she talks about another of her interests — elder care.
About a year ago, she was persuaded to join a friend and two other musicians for a performance at SearStone, a Cary retirement community. Deborah says the event was inspirational.
"During the performance I saw a senior who was really enjoying the music," she said. "Technically he was bothering us, but we all appreciated it because we knew he was trying to express how he felt when he heard the music."
After that experience, Deborah founded Senior Serenades, a Green Hope High service club which arranges musical performances at area retirement homes.
She also started MUSE (Music Uniting Students and Elders), a similar ensemble which plays mostly in Chapel Hill.
Listeners will sometimes cry during Senior Serenades performances, says Livingston. "Some will start clapping in the middle of her playing. It touches her deeply, and it's really sweet," she said. "Deborah's finding out in this last year that she can be very expressive, and she can touch people with her music."
Deborah has spent this summer volunteering at SearStone's assisted living facility Brittany Place, in order to learn more about the industry and explore possible careers.
"I didn't know I was into senior care, but playing for seniors helped me develop my dream to become a geriatrician," she said.
She's not clear how her two passions will come together, but she is confident that with hard work, she will reach her goal.
"Music is definitely going to be part of my life, not just with violin, but maybe music education," Deborah said. "I'm not sure how I'm going to pursue geriatrics, but I keep setting goals. My dream has been changing for the past two years, but I think I'm going to stick with this one."
Passion for Public Service: José Ortiz aims to overcome stereotypes, for a better community
Written by Amber Keister
José San Martin Ortiz doesn't want to be known as the Hispanic guy, the poor guy, or even the smart guy — not that he isn't all of those. He wants to be the guy who is making a difference.
"I want to have high hopes, because I don't want to settle for less," he said. "I want to make the biggest change I can make."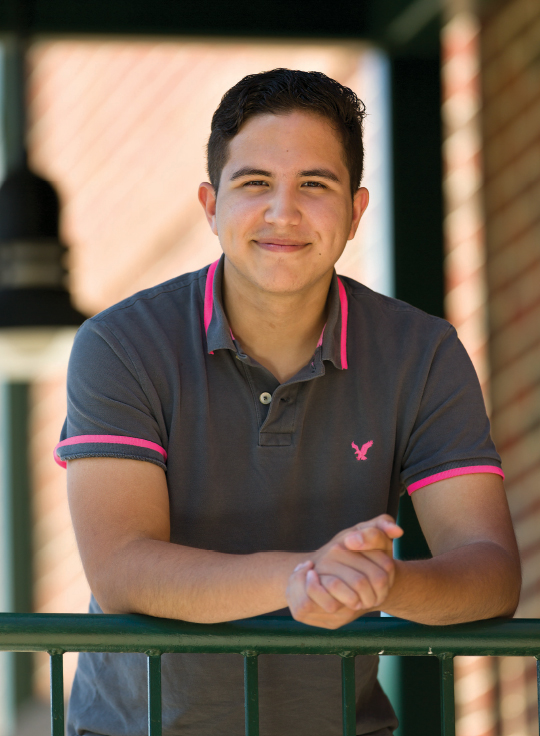 José San Martin Ortiz doesn't like to talk about the obstacles he's overcome, saying he'd rather focus on the opportunities he's had. Chief among these is his mother's influence. "I want to make her proud," he says.
José, 18, graduated in June from Fuquay-Varina High School in the top 5 percent of his class. This fall he will attend Duke University as one of the first 30 beneficiaries of the Washington Duke scholarship, which supports talented students who are the first in their families to attend college.
"Mom was so excited when I got the news," he said of his acceptance letter. "I wish I'd filmed it. The family was jumping and screaming."
Duke was a reach school for him, but then, attending college at all was a reach.
José is not a legal resident of the U.S. Born in Mexico, he was brought to the United States by his mother in 2005, along with an older sister and younger brother. A few years later, his father was deported, and the remaining family settled in North Carolina.
"What really made me want to work in government is seeing my mom struggle every day," José said. "At any point, she could be pulled over and deported. That's my biggest fear. I want to work in government to try and change that. Not only for Hispanics, but any immigrant who's struggling. I want to help them."
He plans to study public policy and economics, with the goal of working in advocacy or politics. José isn't sure how that goal will take shape, although he says his dream would be to work as a consultant in the White House.
Lindsey Biller, José's counselor at Fuquay-Varina High, says getting to know him has made her look at life differently.
"No matter what circumstances are put on him, the adversity he's faced and seen, he's managed to rise above it," she said. "He wants to beat the stereotypes that are on Hispanic immigrants. All he wants to do is make a difference."
José may not have a path to citizenship, but he does have legal standing thanks to the Deferred Action for Childhood Arrivals (DACA) program enacted by the Obama administration in June 2012, just as José entered high school. He is exempt from deportation, and he has a work permit and driver's license.
He can attend college, but isn't eligible for in-state tuition or financial aid at public universities. Because money has always been tight for his housekeeper mother and electrician stepfather, José knew his only college option was to earn a scholarship to a private school.
"I didn't have as many resources for success as other kids. My family is very, very poor," he said.
José used that as an incentive to work harder in school. He took as many Advanced Placement courses as he could, 12 in all. He earned the highest grade on the AP Statistics exam that his teacher had seen in 10 years. He won the Bobby Hamilton Award for overall excellence in math from Fuquay-Varina High.
It all helped earn him the Washington Duke scholarship, which includes tuition, expenses, paid internships and mentoring.
Biller says José's success is due to his work ethic and his family.
"He's been raised in an extremely loving and supportive family," she said. "His mom has taught him the value of hard work, and that you can't allow your circumstances to define you. Hard work has been instilled in him since he came to the United States."
José also relies on his friends and classmates to push and support him. Sophomore and junior years in high school, he was on the cross country and track teams, hitching rides with friends who had cars. Another friend helped him get hired at Mathnasium, a perfect fit for a math whiz like José.
"I loved seeing kids understand a subject that is considered one of the hardest to wrap your head around," he said. "Be it little kids finally understanding what it means to add two numbers, or high-schoolers understanding trigonometry, it was always amazing to see the lightbulb light up."
But as much as he liked tutoring kids, his passion for public service was greater. José quit his job in June to prepare for Duke's summer enrichment program.
"I'm really good at math, but I don't want to do it for a living," he said. "If I'm an engineer I won't make a change in the world. I just want to help people like me, and my mom."
Do More & Be More: History comes alive for Sarah Welsch
Written by Nancy Pardue
It's in her eyes and in her handshake: Sarah Welsch is a leader.
The recipient of this year's Outstanding Teen Volunteer Award in Cary, Sarah has been making an impact in local historic preservation since 2014 as Teen Council liaison on the board of the Friends of the Page-Walker Hotel.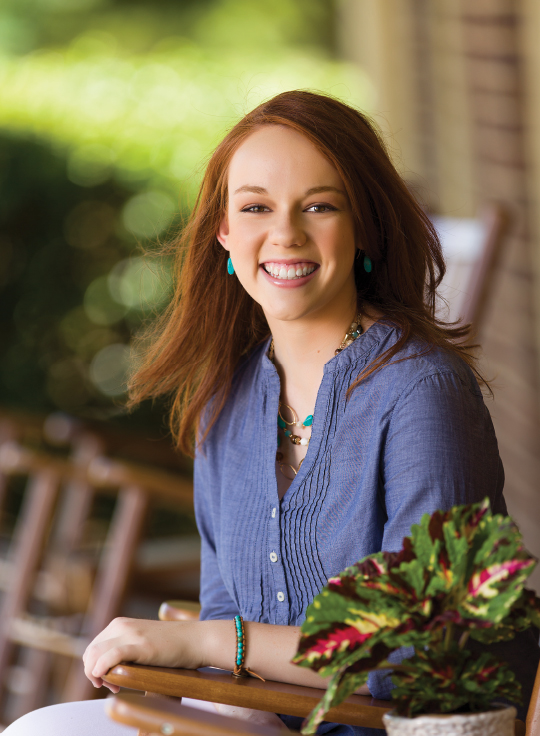 Sarah Welsch says teens have the "capacity to do more, and be more, than people think." She's proving it, one leadership role at a time.
The organization serves as guardian for the Page-Walker Arts & History Center, advocates for preservation of Cary historic sites, offers history education, and promotes the cultural arts.
Sarah's also led in forming the Young Friends of the Page-Walker Hotel, engaging other teens in local history and cultural arts. She calls the challenge "stretching herself."
"There's a lot of stereotyping that teens aren't able or motivated to be more involved," said Sarah, 17, and a rising senior at Panther Creek High. "But there is definitely the capacity for us to do more, and be more, than people think.
"I really enjoy working with the Friends. I love history, and they've swept me up into their passion. The Young Friends came out of that, wanting to get teens involved in local history."
The work is paying off, she says; she led planning and execution of the first Paint the Page art event for teens last fall, featuring an exhibition, reception and judging by the likes of renowned Cary artist Jerry Miller.
Under Sarah's leadership, the Young Friends have doubled profits in their second annual fundraising bake sale, and now have their own section on the Friends' main website.
"Sarah's building youth representation in Page-Walker membership and engaging youth in experiencing the history and cultural arts of Cary," said Friends' president Leesa Brinkley.
"Paint the Page was a significant event to plan and execute," Brinkley said. "Sarah was instrumental to its success by identifying and delegating tasks, keeping up with status and most of all, communicating effectively with (sponsors and) everyone involved. She shows the ability to guide others, through collaboration and consensus.
"It's truly amazing to see a teen not only dedicated to historic preservation at such a young age, but one who we can depend on just as much as our other board members."
Founded more than 30 years ago by Anne Kratzer, the award-winning Friends organization will only become more diverse as today's newcomers put down roots in Cary, Sarah says.
"This is such a great place to live, and (in the future), I'd like to still see the things I grew up with, the historical homes around mine," she said. "Development is good, and the town does a good job of making it cohesive and pristine, but I'd like to see things not get huge, in west Cary especially."
Of current concern for the Friends is the proposed relocation of the historic Ivey-Ellington House as part of Cary's downtown revitalization project. Located on West Chatham Street, the house is one of few surviving examples of the Gothic Revival style in Wake County.
"I would hate to see it moved from the streetscape," Sarah said. "It's so important to maintaining town history, and it could be utilized and appreciated where it is."
Sarah's leadership skills have been honed by participation in the Shelton Challenge through The General Hugh Shelton Leadership Center, and the National Youth Leadership Conference in Washington, D.C.
She applied those skills at Panther Creek High, building its once-struggling Key Club into one of the largest in the Carolinas district at 400 members, and setting strict expectations for all. The role as 2015-16 club president was, she says, "a huge undertaking."
In other words, it was just her style.
"I like to work hard, have a goal and accomplish it," said Sarah, who uses a color-coded system to stay organized — although she admits her room can get messy at times. "It brings me a lot of happiness to be part of something that makes an impact.
"To me, leadership is knowing when to guide people in the right direction and when to step back and be a follower and let them lead," she said. "It's empowering others to act, to work toward a common goal."
In her senior year at Panther Creek, Sarah will keep up the good work with Key Club and her school's chapter of the National Honor Society, and serve as chief co-editor of the yearbook.
She also will continue her appearances on the Town of Cary's monthly episodes of BUD TV, and with the Friends, working to ensure the sustainability of Young Friends.
Then it will be off to college, to double major in Spanish and perhaps political science.
Sarah has two pieces of wisdom for other teens: "Listen to your mom, because she knows a lot, and try new things. Involve yourself in every aspect of them possible, until you find what you enjoy."