Pearl, a 93-pound Great Pyrenees, and her handler Melinda Corn stroll into the semicircle of eager seniors at the Glade Adult Day Center at Glenaire.
Reaching hands stroke Pearl's fluffy white head and back, and joyful chatter blossoms as the therapy dog visits each person in turn.
"Isn't she pretty?"
"You can come whenever you want. Can she stay all day?"
"This is better than medicine!"
Qualities of a good therapy dog
Calm, non-reactive
Tolerant of voices
Doesn't mind being handled, petted and tugged on
Confident enough to go into unfamiliar places
People-oriented, able to make eye contact
Able to learn and obey commands
Willing to do the work
Have a caring, attentive handler who knows the dog well
Mary Arthur, director of the Glade Center, says the seniors enjoy when the therapy dogs visit, and she sees clear benefits.
"A lot of them don't have pets at home. They've had pets all their life, and this is something that allows them to be around an animal," she said. "It brings them so much joy when they see that dog come in here. It offers them a sense of calm, too. When they pet that soft fur, I see an instant smile on their faces."
Studies show that interacting with a friendly pet can lower blood pressure, calm anxiety, alleviate pain, reduce stress and improve a person's mood. Animals are also a conduit for conversation. Arthur says the seniors often start talking about pets they have owned in the past, recalling happy memories.
"The dog makes them feel good and brightens their day," said Arthur. "I wish she could come every day, because we have different participants who come each day."
Corn, who works at SAS, brings either Pearl or Moose, her other Great Pyrenees, to the center every other week. The pet therapy volunteer also goes to SarahCare Adult Day Care at Lake Boone Trail twice a month, and on the weekends, she often visits local assisted living centers such as Woodland Terrace or Brookdale in Cary.
"With Pearl and Moose, when they go into a nursing home environment, memory care or dementia unit, the dogs put their heads up, and you see a little smile from the patients," said Corn.
She also brings her dogs to Citrix, as part of its corporate wellness program, and to N.C. State, where students can pet therapy dogs before finals at the Stressbusters: Pet-A-Pooch event.
Before she became a volunteer, Corn would take the family dog to visit her grandmother, who had Parkinson's disease.
"When we went into the nursing home, the whole place lit up," she said.
Those visits made Corn understand the benefits of pet therapy, and inspired her to go through the training and certification in 2009 with her previous dog. Corn found her current two dogs through Carolina Great Pyrenees Rescue — Pearl about two years ago and Moose, six months later.
"Moose is the most loveable dog in the world. He goes up to nursing patients, lays his head and gazes into their eyes. He's got the soulful eyes," said Corn. "They're amazing, these two.
"People think they're these throwaway dogs, and they can do these magical things that we can't do."
Specialized training
Corn and all of her dogs went through training at Start Them Right, a dog-training business with classes in Cary and Pittsboro. In addition to obedience classes, partners Sherry Dodson and Laurie Ray offer pet therapy instruction roughly three times a year.
Specialized training
To enroll in pet therapy training, the dog and handler must go through obedience training and pass the American Kennel Club Canine Good Citizen test. To be a therapy dog, they also learn these skills:
To walk on a leash beside the handler, not in front
To calmly enter a building
How to go around corners: The dog can't go around corners first, because they could startle or jostle someone coming the other way.
To obey "leave it:" In a senior setting, medication might be on the floor or within the dog's reach. The dogs are not allowed to take food or treats from those they visit.
To be at ease with wheelchairs and walkers
"It's not just obedience; it's way beyond obedience," said Dodson, a retired certified nurse practitioner.
To be a good therapy team, the owner and dog must be able to work together well, she says. The dog should have a gentle nature and be people-oriented, and the human has to have patience and know their animal well.
For the first class, the dog must lay quietly in an unfamiliar conference room. In other classes, the dogs are taken into senior living facilities, so they can get to know wheelchairs, walkers and elevators. The senior setting is a great way for the dogs to learn control, says Dodson.
For another class, children are brought in to read to the dogs. For that exercise, dogs need to calmly interact with kids as young as 5. It's important to not overwhelm the children, especially when they get excited.
"They're exposed to a variety of situations, a variety of people with different issues. Every team has a different personality," said Ray, who is also a social worker specializing in geriatric care. "We help find the right fit."
At the end of training, pet therapy teams are certified through the Alliance of Therapy Dogs/Therapy Dogs Inc., a national organization.
Making connections
Dodson and Ray also founded a local nonprofit to promote pet therapy and to support volunteers — Pets Engaging People/People Engaging Pets or PEP. In addition to resources for training and certification, the group provides camaraderie and matches volunteers with requests.
"Many people who go to other pet therapy classes, once they get that certification, they're on their own," said Ray. "People like to join PEP so they know what options are out there. It's hard to go knocking on doors: 'Would you like me to bring my dog in?' There is more to it than that."
PEP volunteers visit retirement communities, schools, hospitals and homeless shelters. They also get calls from people requesting in-home visits for hospice patients.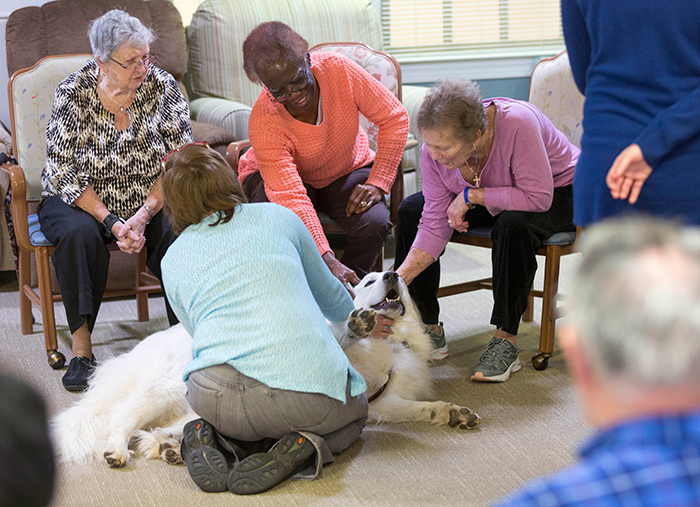 "They're a support system for us, and often we visit people who are unable to have a dog for whatever reason," said Ray. "There's no lack of want. We can't meet the needs or requests."
"I wish we could," added Dodson.
Resources
Start Them Right, startthemright.com
Pets Engaging People-People Engaging Pets, petsengagingpeople.com