Spring is officially here when the strawberries are ripe in the fields.
For a weekend outing, wrangle the kids and venture out to one of the area's you-pick farms. Within a short drive are several Western Wake growers: Buckwheat Farm and DJ's Berry Patch in Apex, and Phillips Farm in Cary.
If you're short on time or lacking the energetic young pickers needed to fill buckets with berries, head to any of the area's farmers' markets this weekend (see listing below).
To whet your appetite, we offer this fresh take on using all that luscious fruit — Chai Strawberry Bread. Deborah Whitmire of Cary won first place in the 2013 State Farmer's Market Strawberry Dessert Recipe Contest with the sweet loaf.
And if you're hungry for more delicious ways to use the fresh berries, check out the North Carolina Strawberry Association's website.
Chai Strawberry Bread with Strawberry Mascarpone Spread
4 cups fresh strawberries, rinsed and hulled, divided use
3 1/8 cups all-purpose flour, divided use
1 teaspoon lemon zest
1 tablespoon lemon juice
1 teabag spiced chai decaffeinated tea, opened
4 eggs, beaten
1 ½ cups sugar
1 teaspoon vanilla extract
1 teaspoon baking soda
1 teaspoon salt
For the spread:
8 ounces mascarpone, softened
½ cup fresh strawberries, rinsed and hulled
¼ cup sugar
1 tablespoon lemon juice
1 teaspoon lemon zest
1/8 teaspoon vanilla
Preheat oven to 350 degrees. Generously grease and flour two 8 x 4-inch loaf pans. (One tube or Bundt cake pan can also be used.)
Chop 2 cups fresh strawberries and combine with lemon zest. Sprinkle mixture with 1/8 cup all-purpose flour. Set aside.
Puree the remaining 2 cups fresh strawberries, lemon juice and tea in a food processor or blender. Set aside.
In a large bowl, stir together eggs, sugar and vanilla. Mix in the pureed strawberries and tea mixture.
Whisk together 3 cups flour, baking soda and salt.
Add the dry ingredients to the wet ingredients, stirring until just combined.
Gently fold in the chopped/floured strawberry mixture.
Divide batter between two prepared loaf pans.
Bake for 45 to 60 minutes. Bread is done when toothpick inserted into center of bread comes out clean. Let cool completely before slicing.
To make the spread: Mix all ingredients in a food processor until well combined. Store in refrigerator.
Find a pick-your-own farm near you:
Buckwheat Farm
2700 Holland Road, Apex
DJ's Berry Patch
1223 Salem Church Road, Apex
Phillips Farms
6701 Good Hope Church Road, Cary
Find an area farmers' market:
Growers Market of Fuquay-Varina
102 N. Main St.
Saturdays, 8:30 a.m. to 12:30 p.m.
growers-market.com
Western Wake Farmers Market
260 Town Hall Drive, Morrisville
Saturdays, 8 a.m. to noon
wwfm.ag
Cary Downtown Farmers Market
135 W. Chatham St.
Saturdays, 8 a.m. to 12:30 p.m.
caryfarmersmarket.com
Apex Farmers Market
220 N. Salem St.
Saturdays, 8:30 a.m. to 12:30 p.m.
apexfarmersmarket.com
Holly Springs Farmers Market
128 S. Main St.
Saturdays, 8:30 a.m. to 12:30 p.m.
hollyspringsnc.us/319/Farmers-Market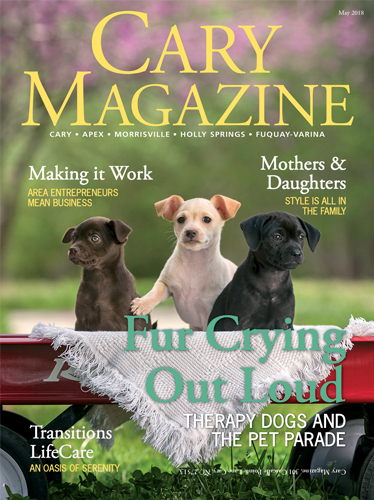 Pick, Bake and Eat Spring's Bounty of Berries