Written By Laurie Zuckerman
Growing up on a farm in Willow Spring, Daphne Ashworth took a vow: "If I ever get off this farm, I'm never going to pick another chicken or shell another butter bean."
Her wish came true.  Today, Ashworth, her husband Ralph and their two sons own and operate Ashworth Drugs, a downtown Cary landmark. The family also owns 15 Hallmark stores throughout North Carolina and one Virginia store. "We've truly been blessed," said Ashworth. "I love what I do."
But she is quick to admit that the road hasn't always been smooth. In 1969, the Ashworths opened their first Lynn's Hallmark store in Kinston, N.C. Ashworth feared they had made a mistake. It was a money pit. Hearing that a new mall was opening in Chapel Hill, they decided to "give it one more try" and opened another store in University Mall. The Chapel Hill store paid its way from the beginning, the Kinston store turned around and both stores – and 14 others –are still in operation.
Over the years, Ashworth and her family have learned tough business lessons, like accepting what they couldn't control. But, over time, the long hours and hard work paid off.
"Idle hands are the devil's workshop," Daphne said was one of her mother's favorite sayings passed down for generations.
Ashworth's mother, Pauline Adams, who graduated from Cary High in 1913 (in a class of eight students), also passed down another value to give back to the community. "Mother was a wonderful role model. She was the hardest working person that I've ever known, but she always made time for the community that I grew up in," said Ashworth. "She collected for the Red Cross, sold war bonds during World War II, wrote letters for people who were illiterate."
Ashworth and her family have been actively involved with the Cary YMCA, the Salvation Army and the Boy Scouts, but her favorite undertaking is Cary Visual Art. She is board president and knits together the various committees to promote public visual art.
Ashworth's voice pitches in excitement as she talks about the organization, which has already brought numerous pieces of art to Cary, among other initiatives.
"Cary Visual Art is a grassroots effort that is bringing aesthetic excellence to Cary," she said. "It helps set Cary apart, and the art really improves people's surroundings."
Ever since the day in 1957 when she, cradling her infant son, and Ralph stepped into Henry Adams' drugstore to inquire if it was for sale, she has felt welcomed. In fact, the sales listing that Ralph had seen was for a drugstore down the street.  But Adams, who had just come to terms with the fact that his son did not want to become a pharmacist, took one look at the hopeful young couple and said, "It wasn't, but it is now."
Ashworth spent those early days in Ashworth Drugs tending to her baby and helping around the store. "It was a new adventure, but Cary is really very accepting of newcomers," she said. "They were very accepting of us. It is just a very special place."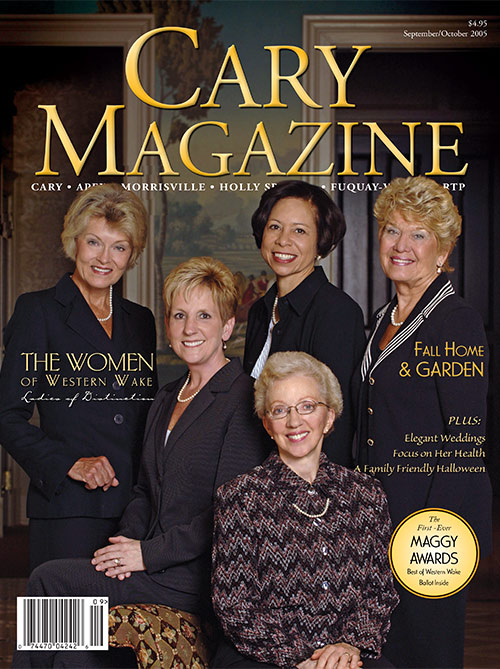 Daphne Ashworth, 2005 Women of Western Wake Honoree