Written By Jeremy Gwaltney
When sitting in the elegant parlor of the Matthews House with Sheila Ogle, one immediately realizes that the only thing more distinguished than the surroundings is the business woman sitting next to you. She is graceful, friendly and a perfect hostess.
But ask her what the favorite part of her life is, and a fire sparks behind her eyes. A cunning smile unleashes and there is excitement in her voice as she said, "It's the thrill!"
"It is a thrill having an idea and then seeing it come to life."
Ogle's thrill-seeking began in her mid-40s when she had reached a professional plateau. The Cary native had enjoyed a successful career as a director at J.T. Howard Advertising. But she was eager for something new.
So, with the support of her husband, Carroll, she started Media Research Planning and Placement. She spent the early years battling the transition from employee to entrepreneur. But she learned that the keys to success are commitment, compassion and surrounding yourself with smart people.
"The more smart people you surround yourself with the better it makes you look," she said. "You have to have a compassion for the people who work for you and be committed to your clients."
In October, MRPP will celebrate 16 years of success. Ogle was the first women inducted into the UNC Advertising Hall of Fame, and she has won many small business awards.
But Ogle felt the thrill bug biting her again. After restoring her own home, the Guess-White-Ogle House on Academy Street, she became interested in the Matthews House.
"I had this vision one night," she said. "I could just see brides walking down the steps on red carpet."
Ogle bought the house not knowing much about the business and hired experts. She restored the property, and it is now a successful wedding and special event venue.
Ogle emphasizes ethics and faith in her business philosophy.
"Ethics is the most important thing in any business I run," she said. "My faith is a strong part of my everyday life. I can't imagine how anybody could be an entrepreneur, business owner or even survive in today's world without having a higher power to look up to."
Ogle is still thrill-seeking, recently starting another company, Integrated Clinical Trials Services, and developing a mixed-use complex for downtown Cary. But her greatest fulfillment comes from her loving family and their legacy.
"When I look at our kids and see them grown and having their own life, then the grandchildren come along, I know that my heritage is going to go on. Now, we have two houses that we've restored, and that heritage is going to go on as well."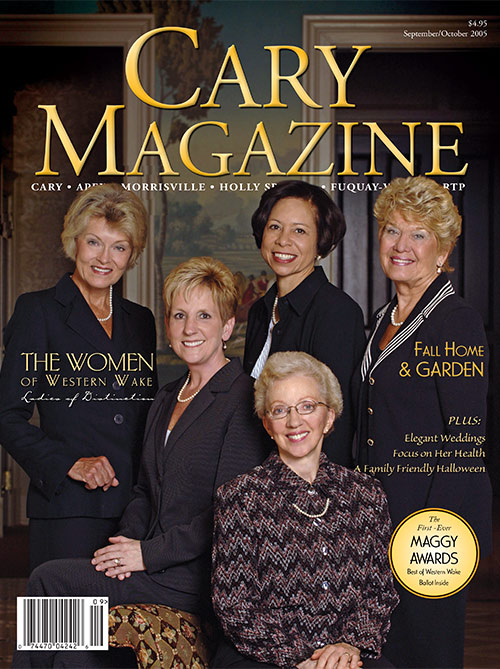 Sheila Ogle, 2005 Women of Western Wake Honoree