Written By Jeremy Gwaltney
Ann Goodnight's passions are woven into the very fabric of the community.  The wife of Jim Goodnight, the founder of SAS Institute, she is also involved with Cary Academy, N.C. State University and the N.C. Museum of Art.
But ask this elegant, high-profile woman what her biggest challenge in life has been, and it might surprise you.
"It was trying to keep a low profile," she said. "Jim and I both were really shy. It's been quite a learning curve for both of us."
To overcome this shy nature and learn how to carry her public persona with such grace and dignity, she joined causes that she loved – education, art and the future.
"It was because of our public education we have SAS Institute," she said. "So we began to put a lot of our focus, both personally and at SAS, into education."
She is a co-founder of Cary Academy, on the NCSU board and on the board for High Five, a coalition to eliminate high school dropouts in five N.C. counties.
Her love for public art has "evolved" from her own art collection, and a belief that art can shape the culture of a community.
"We believe that cultural amenities are important to the Triangle. There are creative people who are moving here every day who are used to having great venues in the arts and music. So, we are trying to build the infrastructure."
Much of this infrastructure has been developed through her involvement with Cary Visual Art, which has placed a number of art pieces in Cary.
Growing up in Harnett County, Goodnight's inspiration was her father who was community-oriented and fair-minded. This home-grown decency inspired her into action.
"When you are on several non-profit boards that are trying to solve similar issues, you can develop multiple strategies to correct a social problem," she said. "It is thrilling to realize that you are really, truly making a difference."
Goodnight said her greatest fulfillment has come from her three children and how each is contributing to their communities. Her family values are reflected in the advice she gives to young women.
"Put family first," she said. "There's plenty of time in a person's life to accomplish everything. If you are stressed out trying to balance family and work, you're really cheating yourself."
Goodnight is spending much of her time now overseeing the new,
150-room luxury Umstead Hotel on the SAS campus – scheduled for early 2007. But you can be sure that she is never far from those things that inspire her the most.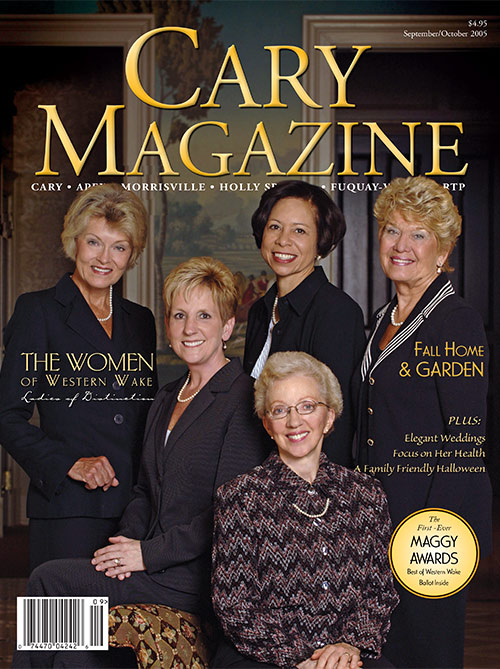 Ann Goodnight, 2005 Women of Western Wake Honoree