This holiday season, local chefs and restaurateurs will take a much-needed respite from their demanding routines and spend time with their families. We asked five of the area's most versatile men and women of the kitchen to share their favorite food traditions with us.
As a bonus, we managed to score several heirloom recipes plus some intriguing backstories behind the must-serve items that appear on these chefs' tables at home.
Miguel Cuevas
Executive chef at Totopos, Cary and Viva DF, Morrisville
totoposfoodandtequila.com; vivadf.com
What better way for a chef to celebrate the holidays than by serving one of the most iconic seasonal specialties from his native country?
Mexican-born Miguel Cuevas enjoys cooking classic chiles en nogada, which involves pork-stuffed poblano peppers with walnut cream sauce and pomegranate seeds.
"This dish contains the green, white and red colors of the Mexican flag, and it originated around the time of the country's independence," Cuevas explained. "Just as most Americans have turkey at Thanksgiving, we enjoy chiles en nogada. It is an annual tradition."
While this delicacy is a beloved favorite at his home, Cuevas also makes it available at Totopos and Viva DF from just before Thanksgiving through January.
"The walnut sauce is intentionally served cold, and it helps offset the spiciness of the peppers," he said. "People love this dish because it bursts with flavor."
Chiles en Nogada
Serves 10
For the sauce:
1 ½ cups walnuts, shelled
2 ½ cups milk, divided
2 ½ cups heavy cream
1 ½ cups queso fresco (6 ounces), crumbled (available at Latin supermarkets)
2 tablespoons sherry
5 tablespoons sugar
½ teaspoon salt
For the filling:
4 pounds boneless pork shoulder, cut into 1½-inch chunks
¼ onion, cut into chunks
4 garlic cloves, peeled
2 cilantro sprigs
1 tablespoon salt, divided
¼ cup oil
1 medium onion, chopped
2 garlic cloves, finely chopped
1 15-ounce can tomato sauce
4 tablespoons minced cilantro
1 apple, peeled and chopped
1 pear, peeled and chopped
1 peach, peeled and chopped
1 ripe plantain, peeled and chopped
½ cup dried fruit (prunes, raisins)
½ cup almonds, blanched and chopped
10 large fresh poblano peppers
Seeds from 2 to 3 pomegranates
Cilantro, for garnish
Make the sauce: Soak walnuts in boiling water for 5 minutes. Drain, and use a stiff-bristled brush to peel away most of the skin from walnuts. Place walnuts in bowl and cover with 11/2 cups of milk for 12 hours. Drain walnuts, and transfer to a blender with the heavy cream, remaining 1 cup of milk, queso fresco, sherry, sugar and salt. Process until smooth. Place in refrigerator.
Make the filling: Place pork in large, heavy saucepan with onion chunks, 4 peeled garlic cloves, cilantro sprigs, and 1 teaspoon of salt. Add enough cold water to cover by ½ inch, and bring to boil. Reduce to a simmer, and cook until pork is very tender, about 1 hour. Remove pork and let cool, reserving 2 cups of cooking liquid. Discard any remaining liquid along with solids. Once pork is cool, shred meat and set aside.
Heat oil in large pan, add chopped onion and chopped garlic, and sauté until translucent. Add tomato sauce and minced cilantro; stir constantly for 4 minutes. Mix in remaining 2 teaspoons salt, the fruit, raisins, and almonds, and cook on medium heat for 5 minutes. Add the pork and reserved cooking liquid. Cook uncovered on low heat for 10 minutes, or until fruits are cooked and sauce has thickened. Set aside.
Peel and seed the peppers: Heat broiler to high. Place peppers on a foil-lined baking sheet and broil, turning until skin is blackened, about 20 minutes. Let cool slightly, and with a towel rub the pepper to get the skin off. Make one vertical cut to remove seeds and ribs, leaving the pepper intact.
(Note: Latex or vinyl gloves can be helpful when seeding peppers.)
To serve: Heat oven to 350 degrees F. Fill the peppers with the pork mixture. Place in a large baking dish, seam side up. Cover with foil and bake until just heated through, 20 to 30 minutes.
Carefully place one filled poblano pepper, seam side down, on a plate. Cover with the walnut sauce, sprinkle pomegranate seeds on top, and garnish with a cilantro sprig.
Jason Smith
Chef-owner of 18 Seaboard, Raleigh; Cantina 18, Raleigh and coming in early 2017 to Morrisville; Harvest 18, Durham
18restaurantgroup.com
For as long as he can remember, Jason Smith has enjoyed eating oyster casserole for Christmas brunch.
"It's my dad's recipe," the Raleigh native shared. "He inherited it from a longtime friend from Washington, N.C., who grew up on the Pamlico River."
Smith recalls that for years his father, prominent attorney Steve Smith, would go to Earp's Seafood Market on South Saunders Street and buy several quarts of oysters to prepare the casserole.
"I would sneak into the kitchen and fire a few raw ones down the hatch," the chef said with a laugh.
Smith's family still relishes the rich, savory casserole, and it has a conspicuous place at the table every year.
"It's creamy with a little bit of acid and an ocean-salt seafood punch," Smith said, adding that he has tweaked the recipe over the years to include fresh herbs and lemon zest.
"I also like the Japanese breadcrumbs because they hold up well, but if someone wants to make the recipe a bit more Southern, they could use saltine crackers instead," said Smith.
Oyster Casserole
Serves 6 to 8
3 cups panko bread crumbs,
toasted
4 eggs
1½ cups heavy cream
½ cup milk
Juice of 1 lemon
1 tablespoon Worcestershire sauce
Zest of 2 lemons
3 tablespoons oregano
1 tablespoon fresh thyme
1 teaspoon nutmeg
1 tablespoon kosher salt
Fresh cracked pepper, to taste
Dash of Texas Pete hot sauce
4 dozen oysters, drained
Heat oven to 375 degrees F.
Spread bread crumbs in a shallow baking dish, and toast until golden brown.
Whisk together all other ingredients except oysters, then fold in oysters and toasted breadcrumbs.
Pour into a shallow, buttered casserole dish.
Bake about 20 minutes until golden brown.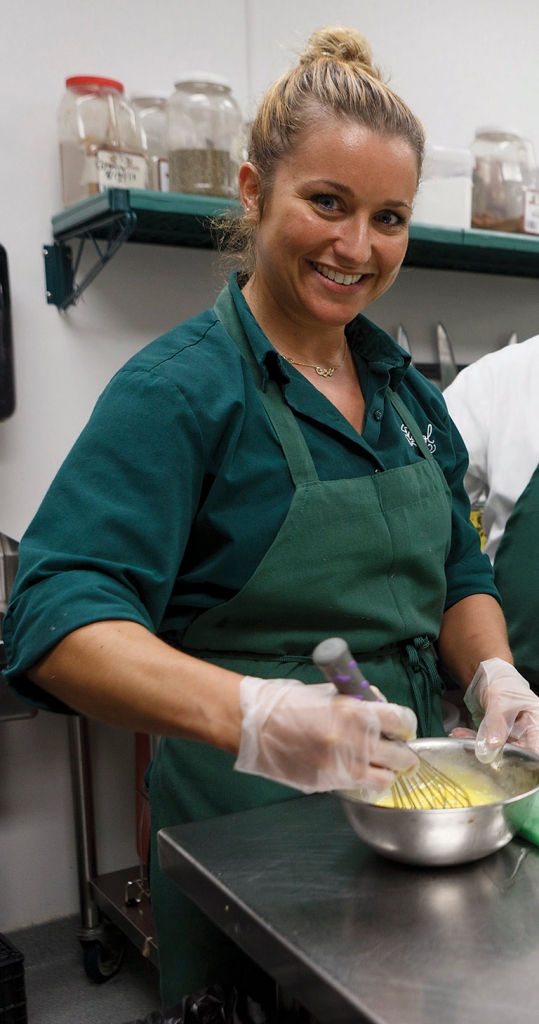 Simone Saleh
General manager of Sassool, Cary
sassool.com
In her Lebanese-American household, Simone Saleh enjoys the holiday tradition of making ojjeh, a zucchini omelet prepared with finely chopped mint and onion.
"It's common in Middle Eastern culture to entertain and have a lot of people in your home," said Saleh, who manages the Cary location of Sassool and heads up the restaurant's catering division.
"Ojjeh is easy to prepare, and it's great for serving to a crowd. It's really good right out of the skillet or even served cold in a pita sandwich."
Saleh says the ingredients used in the dish, such as mint, onion and squash, are things many people grow themselves.
"Our family has a garden at home, so we are able to use fresh items," Saleh said.
Mounir Saleh, Simone's father and owner of Sassool restaurants in Raleigh and Cary, said the simplicity of ojjeh makes it a wonderful dish for the holidays.
"We are fortunate to have many of our family members here, and everyone enjoys eating ojjeh because it reminds them of our days growing up in Lebanon," he said.
According to Simone Saleh, the combination of flavors found in ojjeh is not what you typically experience in a traditional omelet.
"I've never seen any other omelets made with mint," she said. "It's really distinctive."
Ojjeh (Zucchini Omelet)
Yield: 12 to 15 omelets
2 medium zucchinis, shredded
(about 2 cups shredded zucchini)
½ cup fresh mint leaves, finely chopped
1 small onion, diced finely
1 teaspoon salt
Pepper, to taste
4 eggs
Olive or other oil for frying
Combine zucchini, mint, onion, salt and pepper in a bowl.
In a separate bowl, beat eggs. Add to zucchini mixture, and stir to combine.
To fry the omelets, add ¼ cup olive oil to a heated skillet. Once oil is hot, add ¼ cup of zucchini mixture to skillet. Cook about 3 minutes on each side, waiting until one side is nicely browned before flipping over. When cooked, place ojjeh on a plate covered in paper towels. This will help soak up any excess oil.
Continue to fry omelets, adding additional oil to the skillet as needed.
Serve with pita bread alone or with a dollop of labne (yogurt cheese). You can also sprinkle your favorite cheese over the omelet while it is cooking.
Bernard Huang
Chef-owner of Tangerine Café, Cary
tangerinecafecary.com
Leave it to a chef who cooks pan-Asian cuisine at his hideaway restaurant to serve Cantonese-style roast duck for his family at Thanksgiving.
"My sister and her family live in Winston-Salem, but we usually invite them to our house to enjoy the holiday with my wife, daughter and me," explained Huang, who hails from Kolkata, India.
Huang says he typically marinates a five-pound duck for several days. He then applies healthy dashes of five-spice powder, salt and pepper before roasting it in the oven the day before it is served.
"On Thanksgiving day I crisp it up in the deep fryer," he said. "We also have stir-fried greens and some fish, shrimp and pork to go along with it."
Ngaire Hubbard
Owner of Patrick Jane's Gourmet Pizza Bar & Bistro, Cary
patrick-janes.com
Ngaire Hubbard cherishes memories of living in her homeland of Australia, a place where desserts were always plentiful.
"We were surrounded by sugar cane fields in the north of Queensland, and our family actually grew up on one and worked it," she said.
Christmas pudding with hot egg-yolk custard was always part of her yuletide celebration, and it still finds joyful distinction today. It's served with a rich brandy butter sauce.
"Sixpence coins were hidden inside, and it was always considered good luck to get one in your serving," she said.
Another dessert Hubbard serves during the holidays is her "famous" Banoffee pie, which includes bananas and caramel topped with fresh whipped cream, chocolate shavings and chocolate drizzle.
"Its presentation is huge, obnoxious and irresistible," she said, "all at the same time."