No party is complete without a big bowl of dip and a handful of chips.
There's just something elemental about gathering 'round a communal dish, rubbing elbows with family and friends.
Holiday parties especially are great occasions to whip up something rich, creamy and delicious. Guests are in the mood for richer fare, and a smidgeon of cheesy dip won't tip the scales too far.
"It's nice to have at least one 'above and beyond' appetizer that you can offer people to show that it's a special occasion," said Denise Gee, author of "Southern Appetizers: 60 Delectables for Gracious Get-Togethers."
Entertaining Ideas
Our offer these suggestions to make entertaining easier.
Put food at different heights by using cake plates or books under your tablecloth.
Use glass ornaments or votive candles to make the serving table festive.
For an easy appetizer, pour red or green pepper jelly over cream cheese and serve with crackers.
Set up beverage dispensers or a do-it-yourself bar area so guests can help themselves.
Spend time on one visually appealing standout appetizer, she says. Take your favorite crab dip and bake it in a ring of yeast rolls, add a punch of red to the holiday table with a bright salsa, or sub the port wine and cheddar cheeseball for a chocolatey, spreadable dessert.
A gorgeous centerpiece dip can set the scene for your party, and it can bring people together, says Melissa Sperka, author of "Melissa's Southern Cookbook."
"If you're having family and friends over who perhaps haven't met one another before, when they're all dipping into that dip with the bread, they start communicating with each other in a relaxed way," she said.
Both women say it's important the host be relaxed as well, and planning is key to that.
Make as much food as you can in advance, advises Sperka. Know what should be served cold, what's fine at room temperature, and what's going to be served warm. Consider the needs of your guests too, making sure there's a variety of edible options.
Gee suggests balancing a creamy, cheesy splurge appetizer with nibbles that are spicy, crunchy or fresh. A fresh salsa, cut up vegetables or spiced nuts are good options. And not everything has to be homemade, she adds. Turn chicken salad into something festive by spooning it into phyllo tart shells, found in most supermarket frozen food sections. Or enlist a friend to pick up takeout guacamole and tortilla chips.
"It's hectic enough during that time, so you really want to make everyone feel relaxed. And in order to do that, you need to be at least reasonably relaxed," said Gee.
Casual parties, such as an open house with appetizers and cocktails, are another way to keep the stress levels low, the women agree.
"I love open house parties, because people can drop by any time during that window. It keeps the conversation fresh," said Gee. "It also takes the pressure off of you because there's a flow of people in and out, and it's OK for you to go in and out of the kitchen."
The party atmosphere is immediately less formal when people stand around chatting and eating, says Sperka.
"I love white tablecloth dining, but when it comes down to serving family and friends at your home, you want to be comfortable," she said. "So be relaxed, make things you know are winners, and your guests will feel warm and fuzzy."
Curried Chicken Salad
From "Southern Appetizers: 60 Delectables for Gracious Get-Togethers,"
by Denise Gee, denisegee.com
Makes 3½ cups
1/4 cup whipping cream
1 cup mayonnaise
1 tablespoon curry powder
¼ to ½ teaspoon salt
1/4 teaspoon black pepper
3 cups diced, cooked chicken
1/2 cup sliced almonds, lightly toasted
1/4 cup finely chopped celery
1/4 cup finely sliced green onions
In a small oven-safe bowl or glass measuring cup, heat the orange juice in the microwave on high for about 30 seconds. Add the raisins and press down to ensure the liquid reaches the top of the raisins so they're completely covered. Let the raisins soak for about 10 minutes before draining them.
In a large bowl, use a handheld mixer to whip the cream until soft peaks form. Fold in the mayonnaise. Stir in the curry powder, salt and pepper. Add the chicken, almonds, celery, green onions and raisins. Gently combine and refrigerate at least 3 hours, or overnight, for flavors to meld.
Note: Use only regular curry powder for this. Anything marked "Madras" will be too hot and overpower the dish.
Strawberry-Beet Salsa

From "Southern Appetizers: 60 Delectables for Gracious Get-Togethers," by Denise Gee, denisegee.com
Serves 6 to 8, makes about 2 cups
8 ounces peeled, steamed red baby beets (see cook's note)
8 ounces hulled, ripe fresh strawberries
3 tablespoons finely chopped red onion
3 tablespoons finely chopped fresh cilantro
1½ teaspoons honey
2 teaspoons freshly squeezed lime juice
¼ to ½ teaspoon hot sauce (optional)
Salt to taste
Finely chop the beets and strawberries and add them to a large bowl.
Stir in the onion, cilantro, honey, and lime juice. Add the hot sauce, if using, and salt, if necessary. Refrigerate, well covered, for about 2 hours before serving.
Serve with sweet potato chips, tortilla chips or any sturdy thick-cut potato chip.
Cook's Note: baby beets (like those packaged by Melissa's) are available at specialty supermarkets. Canned beets will also work; just drain well and chop. To steam beets, place peeled, trimmed baby beets in a steamer rack fitted within a pot of 2 or 3 inches of boiling water; cover and cook for 7 to 10 minutes, until they are fork tender. Remove the beets and allow them to cool before peeling or dicing.
Cajun Crab Dip with Garlic-Herb Roll Dippers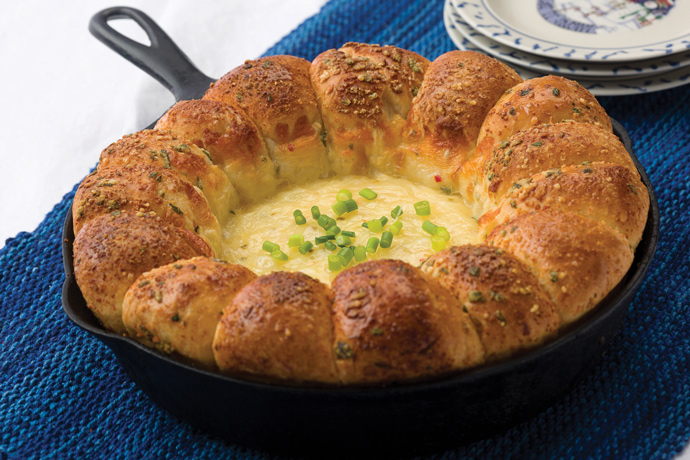 From "Melissa's Southern Cookbook," by Melissa Sperka, melissassouthernstylekitchen.com
Serves 16
Rolls
16 frozen yeast dinner rolls (see cook's note)
1 tablespoon unsalted butter, for pan
1/3 cup grated Parmesan cheese
1 tablespoon chopped fresh Italian parsley
1 teaspoon garlic salt
½ cup (1 stick) unsalted butter, melted
Dip
4 ounces chive and onion cream cheese, softened
1 cup real mayonnaise
1 cup sour cream
2 tablespoons unsalted butter, melted
1½ tablespoons Cajun seasoning
1 teaspoon garlic powder
½ teaspoon seasoned salt
¼ teaspoon freshly ground black pepper
1 teaspoon hot sauce
2 cups (8 ounces) shredded pepper jack cheese, divided
8 ounces jumbo lump crabmeat
1 tablespoon chopped fresh chives
To make the rolls: Place the frozen dinner rolls on a waxed paper–lined baking sheet. Cover with plastic wrap. Allow to thaw at room temperature for 30 minutes. The dough should be thawed but still cold.
Butter the bottom and sides of a 12-inch cast-iron skillet.
Sift together the Parmesan cheese, parsley, and garlic salt into a 1-gallon resealable plastic bag.
Dip the thawed dinner rolls into the melted butter. Toss them in the plastic bag that contains the Parmesan cheese mixture. Arrange side by side around the edge of the prepared skillet. Cover with plastic wrap and let rise for 2 to 2 ½ hours, or until doubled.
To make the dip: Preheat the oven to 350 degrees F.
In a medium-sized mixing bowl, using an electric mixer on medium-high speed, whip together the cream cheese, mayonnaise, sour cream, melted butter, Cajun seasoning, garlic powder, seasoned salt, black pepper and hot sauce until fully combined.
By hand, mix in 1 cup of the pepper jack cheese, the crabmeat and chives. Unwrap the skillet and pour the cheese mixture into the center of the skillet. Top with the remaining cup of shredded pepper jack cheese.
Bake for 30 minutes, or until the rolls are golden and the dip is heated through, covering the rolls with aluminum foil during the final 10 minutes of baking to prevent overbrowning, if needed.
Let rest for 5 minutes on the counter before serving.
Cook's Note: The frozen yeast dinner rolls used in this recipe are unbaked. They are small rounds of dough that can be found in the frozen foods section of most grocery stores.
Monster Cookie Dough Cheeseball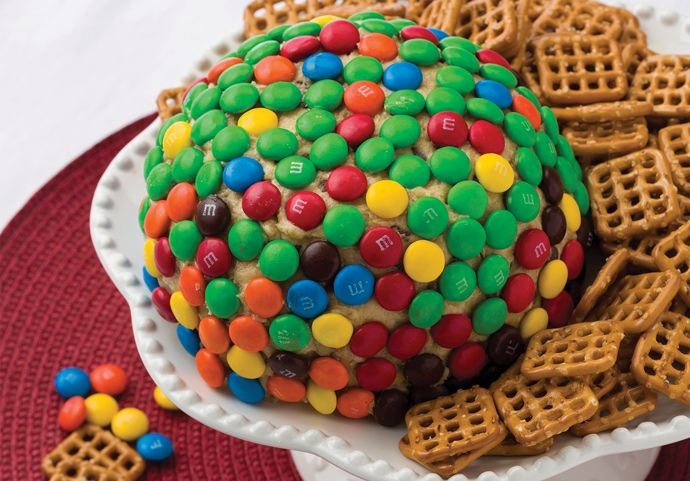 Adapted from togetherasfamily.com
Serves about 12
½ cup (1 stick) unsalted butter, softened
8 ounces cream cheese, softened
1 cup creamy peanut butter
1 teaspoon vanilla extract
¼ cup light brown sugar
Pinch of salt
1/2 cups powdered sugar
1½ cups quick-cooking oats
1 cup mini semisweet chocolate chips
2 cups M&M's milk chocolate candies
In large mixing bowl, beat butter, cream cheese, and peanut butter with an electric mixer until creamy. Blend in vanilla, brown sugar and salt. Add powdered sugar and mix.
By hand, stir in the oats and mini chocolate chips.
Line a 4-cup size bowl with plastic wrap. Spoon cheese mixture into the bowl and cover with more plastic wrap. Refrigerate for at least 2 hours.
When ready to serve, remove plastic wrap and place on a serving plate. Press M&M candies onto the top and sides of the ball until covered.
Serve with pretzels, vanilla wafers or graham crackers.