Ah, the beloved Christmas tree.
Is yours less than fresh from months of being holed up in the attic, with bits of last year's glitter still stuck to its branches?
No worries!
We set up one well-used, 7-foot pre-lit Christmas tree and invited local designers to demonstrate their secrets for creating Christmas magic.
The results are amazing, and will help you transform your same-old tree for yet another merry year.
Tree Theme 1: Serenity in Nature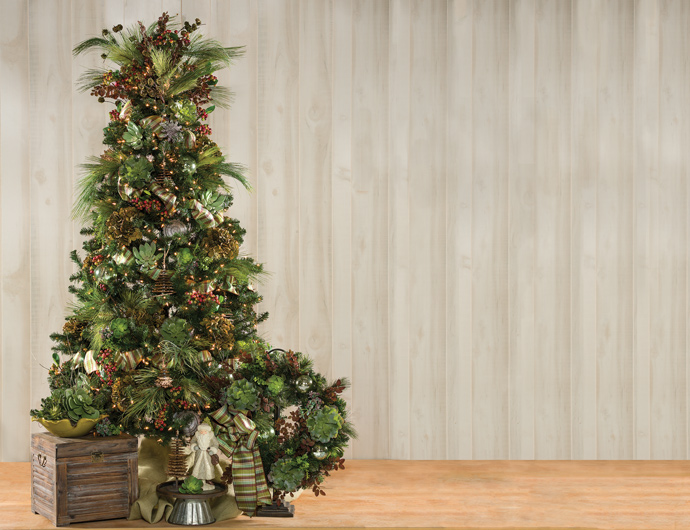 Designed by Phyllis Rollins and Susan Rollins of Fairview Garden Center
You'll need: 20 yards of 4-inch wired ribbon; 24 pine branch stems; assorted floral stems including succulents; ornaments; wire; 3 yards of burlap
The Rollins family knows holiday trees; their shop shows off 15 themes ranging from Farmyard Christmas to the trendy succulents seen here. So what are the must-haves for a great tree?
"The first step is to choose a theme," Phyllis said. "Have at least three colors to go with that theme, florals to make a statement, and textures like metal, glass and wood."
Step 1: Weave ribbon around and into the tree, bending branch tips to hold it as necessary.
"Ribbon is like the backdrop for your tree, adding color and texture," Phyllis said. "It doesn't have to be precise; there's no right or wrong way to do it."
Step 2: Create the treetop. Insert the stems as close to the trunk as possible, to add height to the tree. These stem choices reflect the color scheme: Brown pine branches, cones and leaves, red berries, and four green succulents.
Step 3: "Lay pine branch stems on the tree branches to fill in gaps. Point them out or up, like a natural, living thing," Phyllis said. "It's a tree, after all! Next, bring in hydrangea stems, close to the ribbon to show it off."
Then add the stars of the show — two dozen succulents in two styles.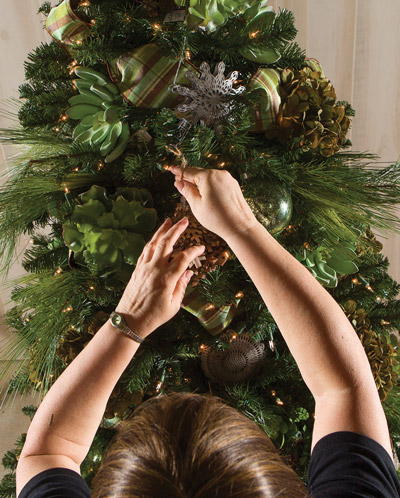 Step 4: Metal and mercury glass ornaments catch the light, while wooden ones contribute to the natural theme. You can wire in larger items, and incorporate pieces from your everyday décor.
Step 5: Berry stems add color throughout the tree, and Susan wires mini-succulents into bundles to fill gaps.
Step 6: Add a skirt.
"Most of mine are just a few yards of fabric," Phyllis said. "Just choose fabric that won't compete with the tree."
Fairview Garden Center
8224 Holly Springs Road, Raleigh
(919) 851-6821
fairviewgardencenter.com

Bonus Tips
Add kids' handmade ornaments to a solid-color tree theme, with florals to match.
Monotone tree? Use various textures of your chosen color, like feathers, glass, wood and metallic.
Carry your theme throughout the house with matching wreaths and table décor.
Re-use this theme next year by adding feathery owls and snowmen with fabric touches.
Tree Theme 2: Whimsical Elves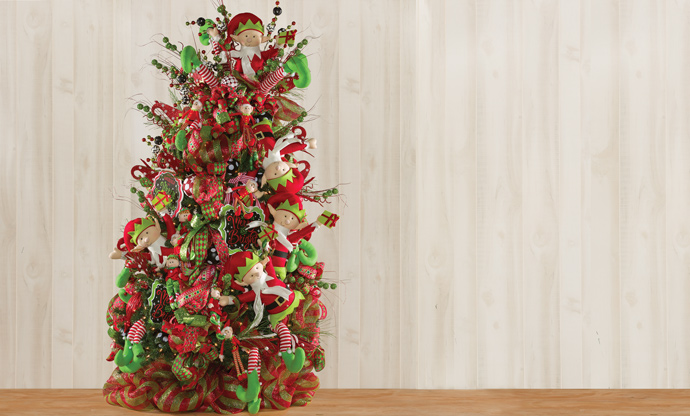 Designed by Creative Director Sarah Gaither Fleming and Designer Gena Poole of Carolina Pottery

You'll need: Five 10-yard rolls of 21-inch-wide, wire-free mesh; wired ribbon in five patterns; elves and assorted stems; ornaments; holiday signs; wire. Designers' recommendation: Gather twice as many stems as you think you'll need.
Step 1: Mesh, say Sarah and Gena, is a magic ingredient when it comes to decorating; it's inexpensive, easy to cut and easy to store.
"It's a very forgiving fabric," Gena said. "It does what you want it to do."
Tuck the mesh into the tree branches every 12 inches; placing it vertically fills up more of the tree, Sarah explains.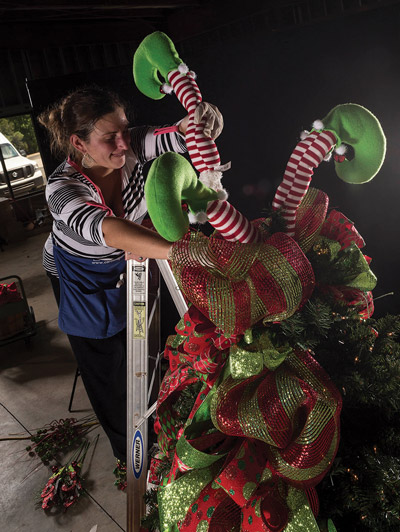 Step 2: Five large bows made with different ribbon patterns will blend if you keep them all in the same color family, she says. Wire the bows onto the treetop, then fluff the loops.
Wire in playful somersaulting elves, followed by elf leg picks and assorted stems.
"The tree topper is the most important part," Sarah said. "You want it to be over the top and fun."
Step 3: Sarah mentally divides the tree into three triangles, and decorates one at a time. Loop three stacked ribbon patterns and tie single loops onto branches. Curl the ribbon streamers with your fingers.
"Everywhere the mesh is connected, I put a ribbon," Gena said.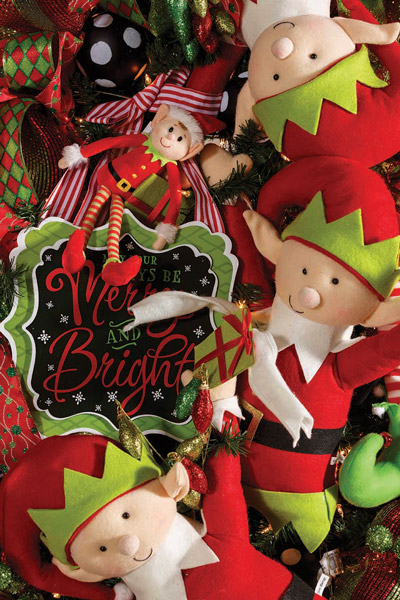 Step 4: Tuck glittery stems, red and white ornaments and miniature elves into the tree, pushing some deep to layer the sparkle. Black and white ornaments ground the look and rest the eye.
"People try to fill a tree with little things, but big items make a statement," Sarah said, such as Christmas messages wired into the tree.
Step 5: Mesh, in large loops, comes into play again as a tree skirt.
"Some people enjoy spreading the tree theme to wreaths, stockings and garlands on mantels," Gena said. "The best thing about Christmas is you can do whatever you want. And being covered with glitter is the fun part!"
Carolina Pottery
960 Kildaire Farm Road, Cary
(919) 388-0080
carolinapottery.com

Bonus Tips
Excited? Set a timer for decorating, to keep from overdoing it. Sarah and Gena spent about one hour on this tree.
Balance the look, side to side and vertically.
Let the kids help! "There's nothing you can't fix after they've gone to bed," said Gena.
Trends: Santa fun, cardinals and woodland items.
Tree Theme 3: Generational Traditions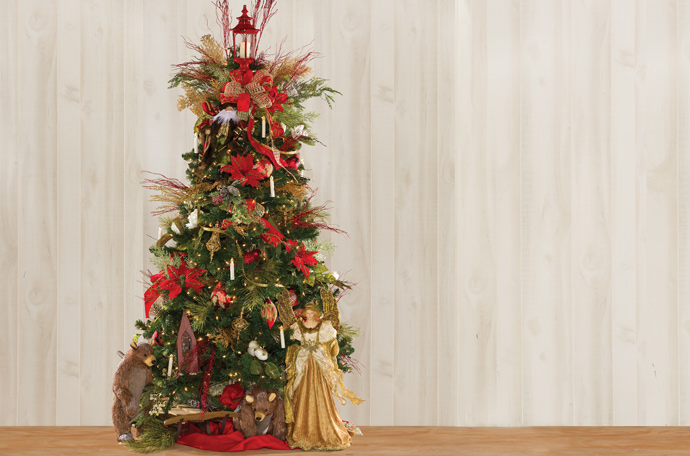 Designed by Carol Hunter, Susan Jarman and Clarissa Relick of The Garden Hut

You'll need: Lantern; four to eight each of five different floral picks; 5 yards each of three ribbon patterns; zip ties; wire, ornaments; remote-controlled clip-on tapers
Step 1: Start at the top, and start big: That's Carol's advice for decorating a tree.
For this topper, the crew wired in a red lantern to which Susan had added dowel rods as stems.
"Any of your favorite things can be on your tree," noted Clarissa, as a topper or otherwise.
Step 2: Add picks until the look is full: Pine branches, ferns and berries, and branches in red, green and gold. Look beyond the individual décor pieces to the overall effect.
Work one side of the tree and then the other, for balance. Add large poinsettias for a classic touch.
"These are the colors you grew up with, so you get that sentimental feeling, but it's not the tree you grew up with," Carol said.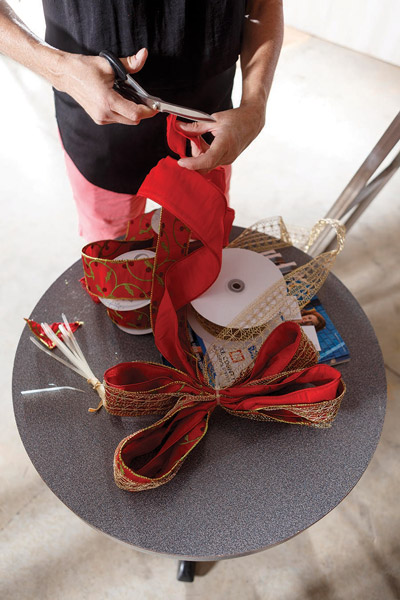 Step 3: Working straight from the spools, cut lengths of three ribbons together, looping once and securing with zip ties. Fluff, and tuck into the tree.
Attach stiff gold ribbon to the bow just below the lantern, and let it coil down and around the tree.
Step 4: Cardinal, magnolia and bear ornaments all represent North Carolina, accompanied by red balls and gold textured teardrops. Remote-controlled LED candles clip onto branches to add to the old-fashioned look. With one click they all light, and can be set on a timer.
Fill in gaps with wads of sheer gold fabric to catch light, or cotton batting to resemble snow.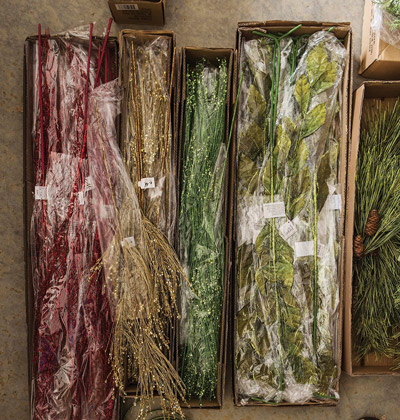 Step 5: Add a little whimsy to the tree skirt, says Susan, with bears made of brushed coco fibers, or use your children's stuffed animals.
Spread the theme around your home with picks and greenery on the mantel and bannister, complemented with ribbons and lights.
The Garden Hut
1004 Old Honeycutt Road, Fuquay-Varina
(919) 552-0590
nelsasgardenhut.com

Bonus Tips
Cut up an old tree and use branches on your mantel or mailbox, and to fill in gaps in a new tree.
Trends: Rose gold, mercury glass, and metallics like copper and platinum; add statuary to finish.
Tree Theme 4: The Flower Tree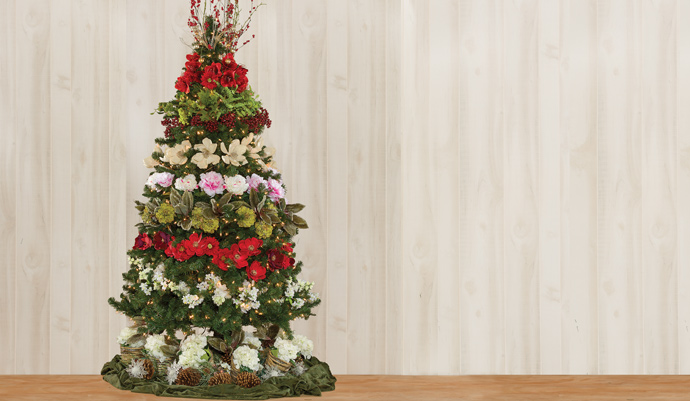 Designed by Design & Event Manager Candy Jackness and Retail & Marketing Manager Elaine Eicher of Preston Flowers

You'll need: Assorted floral stems.
No wire and no ribbon — just flowers, creating a vertical garden on a tree.
Step 1: Unlike our other designers, Candy and Elaine start at the bottom of the tree when decorating, with a ring of cherry blossom stems.
"Use longer stems where the tree is at its widest," Candy explains. Next come red and burgundy roses, greenish dahlias, "icy" leaves, pink peonies and white magnolias.
"Flowers are wild. Don't put them in symmetrically or 2 inches apart," she said. "Just do it naturally, not in a line, but like flowers grow."
Step 2: Working up, the designers add red berries, snow hydrangeas and chestnut sprays. Budget-friendly note: Substitute holly from your backyard, or have the kids pick up pine cones, and flock them.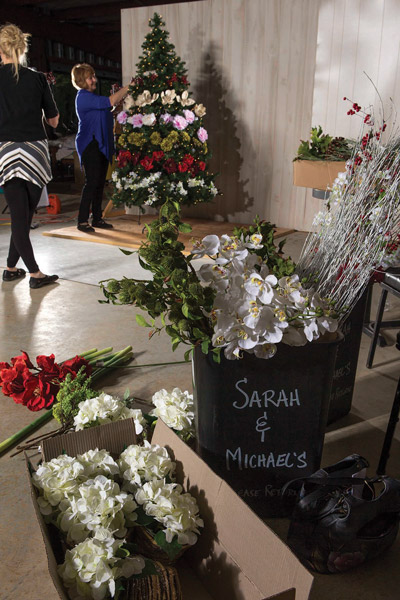 "It doesn't have to be perfect or expensive to be beautiful," Candy said. "The tree should represent who you are, at this time in your life."
Adding amaryllis with thick true-to-life stems, Elaine notes that the bend in silk flowers allows you to make them do what real flowers can't.
Step 3: For the topper, the designers use sparkling silver willow branches, but again, any branch you find will do. Bright red berries and jingle ball stems round out the look.
"People put so much importance on the tree top, so use things that reflect what's in the tree and incorporate something you love into it as well," Candy said.
Step 4: At the bottom, drape a pine branch garland across a fabric-remnant skirt and nestle in baskets of hydrangeas, large pine cones and glittery snowflakes.
Preston Flowers
1848 Boulderstone Way, Cary
(919) 460-4625
prestonflowers.com

Bonus Tips
For a variation on this Flower Tree, place the same florals randomly all over the tree.
More trends: Naturals, succulents, burlap, and baby's breath, painted gold or silver.