On a recent rainy afternoon, Gonza Salamanca sat at the Cary bar of his newest namesake eatery and reflected on how far he has come over the last six years. The Colombia native opened his first restaurant in North Raleigh in 2011 along with his younger cousin, Carlos Rodriguez.
"More than six years ago we began serving elevated Colombian and Mexican cuisine in a fun environment," said Salamanca, bedecked in a black Gonza Tacos y Tequila T-shirt.
Today, he co-owns five locations throughout the Triangle, plus a seasonal spot inside the Durham Bulls Athletic Park and a popular food truck.
"To this day I don't know how we did it, because we really had no money at the beginning," Salamanca said. "Our success has come from word of mouth from customers, and we've been offered great opportunities in Raleigh, Durham, Wake Forest and now Cary."
Situated in the lower level of Waverly Place, the latest Gonza outpost features some 200 illumined stars suspended from the ceiling. An eye-catching mural on the back wall showcases famous Latin celebrities and athletes, while an assortment of lucha libre wrestling masks adds to the eclectic décor.
What's more, a Day of the Dead motif pervades throughout the expansive main dining area, but despite the skulls, it's not that eerie.
"The tradition behind the Day of the Dead involves people honoring loved ones who have passed away," Salamanca explained. "It's a much bigger holiday in Mexico than Cinco de Mayo."
Salamanca says the goal at Gonza is to provide a memorable dining experience for each guest.
"People don't just come here because they are hungry," he said. "They want to have a good time and receive great service in a fun atmosphere."
Lunch and dinner menus feature a tempting selection of Mexican and Colombian specialties. Start your meal with a plate of chiles endiablados, which comprises bacon-wrapped jalapeno peppers, cream cheese and habanero sauce.
Gonza Hours
Open six days a week for lunch and dinner, Gonza is closed on Mondays. Reservations are accepted. A private room is available for parties, corporate gatherings or other special events.
"I like to tell the guests these are armadillo eggs just to see how they respond," Salamanca said with a smile.
Among the most popular entrees, street-style tacos and fajitas are crowd-pleasers. For a surefire winner, order the impeccable chile-braised short rib tacos.
Standout dish Mexican Flag features chicken, steak and pinto beans stuffed inside corn tortillas topped with green, red and white sauces.
"The beauty of the dish is the combination of all the flavors with tomatillo, chile de arbol and Mexican cream," Salamanca said, describing the three sauces.
Colombian-inspired dishes include arro' e coco con pecao' (catch of the day served with salsa Veracruzana and coconut rice), ceviche and a guava dessert.
When it comes to libations, Gonza features more than 72 varieties of tequila. Skilled bartenders serve up mojitos, margaritas, other classic cocktails and locally crafted beer.
Signature Drinks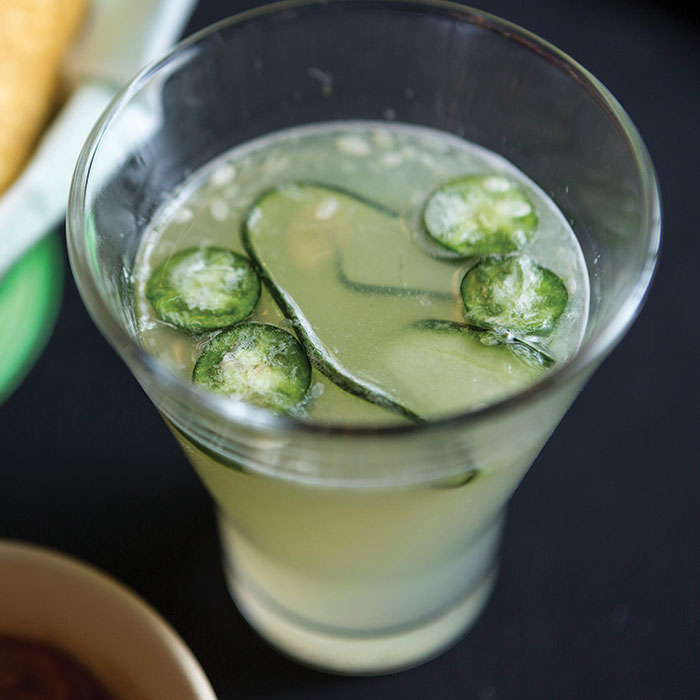 The tequila-infused Spicy Pepino (seen above) is Gonza's leading specialty drink. This $9 concoction incorporates St-Germain liqueur, cucumber, lime, agave and organic, house-made spicy sour mix.
Also unique is La Mona de Gonza, a 12-ounce can of crisp blonde ale developed exclusively for the restaurant by Cary's Fortnight Brewing Company.
"We're particularly keen on providing excellent service," Salamanca said of his wait staff.
"Cary has been such a welcoming community, and this restaurant is the most beautiful of all our locations," said Emily Wrenn, a Gonza operations director, adding that over 130 seats are available inside, along with room for 50 guests on the outdoor patio. "The clientele is similar to the other locations, but this space has such a great vibe, and it's perfect for a date night or for entire families."
The Gonza on Wheels food truck also has developed a loyal following. Primarily a catering and special events vehicle, the truck offers a limited menu mostly featuring tacos.
As for future expansion plans, Salamanca said he has received inquiries to develop in cities such as Wilmington, Greensboro and Charlotte.
"If the right opportunities come our way, we will definitely consider those," he said. "For now though, we want to remain loyal to the local places where people know and support us well."
525 New Waverly Place,
Suite 105, Cary
(919) 653-7310
gonzatacosytequila.com