Jeff Hutto worked his way up from fashion buyer to executive roles in global retail with designer icons like Diane von Furstenberg. But a 2014 consulting stint with Apex-based jewelry firm Moon and Lola captured his attention.
"At a certain level in your career, you have to be learning and challenging yourself in a different way," Hutto said. "I knew I needed the next chapter.
"There's an energy and a pulse to the Raleigh area that I wanted to be part of. I was inspired by all of the young entrepreneurs. And that's when I realized I didn't have to work for somebody else."
Hutto moved to the Triangle and this past summer opened Kale Me Crazy at Cary's Waverly Place, providing locals something he missed from New York — fast, healthy dining.
"This is an opportunity, from a business standpoint and as a movement," he said of the Georgia-based franchise. "The Kale Me Crazy company has Southern roots, a luxury vibe, and the food is fantastic. It felt right."
Never mind that Hutto had no restaurant background. With a dive-in attitude, he's making it happen.
"The part I love most is greeting customers by name," he said. "I'm a true believer that you get to choose your own destiny.
"Life is too short not to be happy. Always be thinking about the next chapter."
"A squirmy feeling"
People start over for many reasons, says certified coach Susan Arnold of Apex, from career change or divorce to a quest for new skills. Her own résumé includes a classical music career, multiple university degrees, and work in the corporate and private sectors.
"It's a squirmy feeling, the space between an end and a beginning," said Arnold, "but it's about progression and expansion. Reinvention is a conscious series of choices every day, deciding who you become."
Step one is to identify your top values. For many, these include respect and integrity. The next step is to make decisions based on your values, taking tangible steps toward your desires.
"People say, 'I want this,' but often their choices contradict that," said Arnold, who coaches clients worldwide.
"Wrestling with a situation is usually your evolution," she said. "When you listen to yourself and respect the amalgamation of life experiences that got you here, you'll find a powerful place from which to make decisions.
"Be OK with the bumpy ride."
Unbidden change
But sometimes change is not a choice. For mother and son Joyce and Quincy Adams, it came when family patriarch John Adams died suddenly in 2010, leaving behind his pet project, Adams Vineyards, Wake County's first vineyard-winery.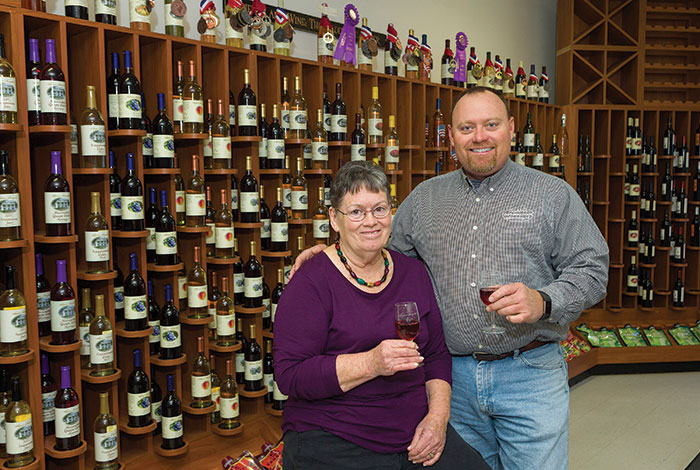 "I remember looking at Mom and saying, 'What are we gonna do?'" said Quincy, who had his own farm and a full-time job.
"We had a lot invested in it," Joyce said. "This farmland has been in the family since the 1700s, for eight generations. If we didn't keep going, we'd have to sell it. I said, 'I guess we'll keep going.'"
The learning curves of retail, marketing, events and accounting were steep for Joyce, who had never held a paying position.
Quincy points to the dog-eared books he delved into to learn the species-specific craft of making muscadine wine. He also sought advice from Hinnant Family Vineyards in nearby Johnston County and adopted a "let's experiment" motto.
His hard work has resulted in award-winning wines, garnering gold medals at the Mid-Atlantic Wine Competition and the N.C. State Fair. Quincy has also assumed the role of professor, teaching winemaking and viticulture classes through Wake Technical Community College.
He is now the full-time winemaker and a member of the North Carolina Wine & Grape Growers Council. Joyce manages the front of the house.
They've become stronger people, she says.
"I don't second-guess myself," Quincy agreed. "I've learned that you should always have a business plan that's dynamic, not static, because things will change."