This is yoga … with a special twist.
Gently on a mat, or seated in a chair, it's all-inclusive yoga being shared with the Triangle community by a nonprofit dubbed You Call This Yoga.
"We provide yoga classes to those who haven't had access to them," said YCTY founder Howie Shareff. "We don't have a studio; we have an affiliation of teachers contracted through the organization to serve in the field, and we go where people are readily able to attend."
Adaptive yoga, meaning poses are adapted to the capabilities of the student, is offered free or at low cost at donated public and private spaces, as part of YCTY's mission to improve quality of life.
Among its youth offerings are classes on mindfulness to help manage stress, and a Teen Club of afterschool enrichment.
For adults, a calendar full of yoga classes serve the uninsured, medically compromised, veterans, and those aged 55-plus. A new pilot program offers mindfulness training for families transitioning out of homelessness.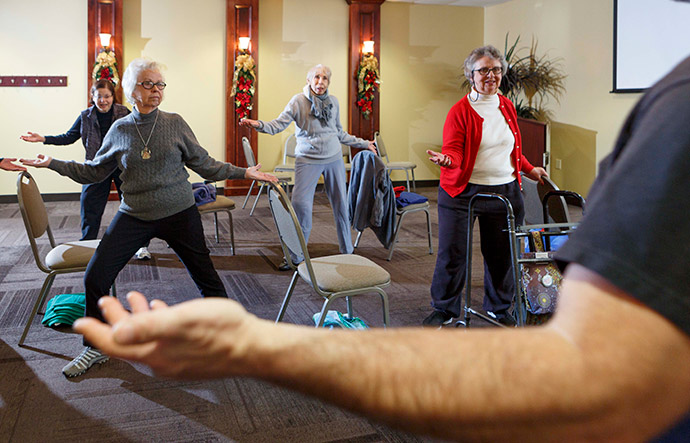 YogaFest NC 2017
Saturday, April 8
The McKimmon Center, Raleigh
Open to ages 6 and up, this sixth annual fest aims to improve quality of life for people of all levels of mobility and yoga experience, and introduce them to new experiences and
community resources.
Peek inside
In the Yoga for MS, Neuromuscular & Joint Disorders class, Shareff leads participants in resting their palms face up on their thighs, shoulder blades back, to open the chest and "invite in freshness."
"Feet go down, spine goes up. Stay tall, keep breathing," he said. "Get that sense of possible."
The concentration is interspersed with laughter and encouragement as participants bend in a seated "dancer's pose," then stand for more mobility-boosting instruction.
"I have MS, and this yoga helps my balance and overall toning, and strengthens my legs," said class member Sue Karpen. "And I truly enjoy the social part, meeting others with similar issues."
Sandy Irving agrees; she joined the class two years ago.
"It's relaxing, and Howie gives us advice on things like how to hold the steering wheel when we drive, for less strain," Irving said. "You can bring your spouse or caregiver too. Everybody is welcome.
"I think You Call This Yoga is an asset for our community, doing so many wonderful things with populations who are disadvantaged."
Changed lives
Shareff, a retired dentist and recreational athlete who has undergone dual neck surgeries and a hip replacement, was introduced to gentle yoga by a patient who became a yoga teacher.
"Yoga is a physical, mental and spiritual practice that can be achieved by anyone to some degree," he said. "I believe it heightens one's spiritual awareness in any religion, and fosters physical and emotional comfort."
Yoga practice can improve strength, balance, range of motion and functional movement, Shareff says, while use of its breathing techniques can improve cognition and focus.
To share the message, he launched a yoga DVD program aimed at helping baby boomers and seniors counter the effects of injury, aging and stress, before founding YCTY in 2010.
"You Call This Yoga is a unique entity.
It brings the services, with the funding to back them up, and support for teachers for more advanced training," Shareff said.
"It's a social entrepreneurial endeavor, to share the practice of yoga that is accessible to anyone. We also partner with select existing programs that align with our mission. This helps us avoid re-inventing programs that are already serving the public."
Get involved
New at YCTY is an online television talk program which welcomes viewers' calls and features health professionals for demos and discussion. The "You Call This Yoga Show" airs live on Tuesdays at 10 a.m., at nissancommunications.com/ycty.php.
YCTY also offers a separate TV show for practicing gentle mat and chair yoga at home, airing on Raleigh Television Network Channel 10. These shows and additional videos are also available on the You Call This Yoga YouTube channel.
The organization's work is funded through special events and donations, and the sale of Shareff's book and video "Sit Stretch Smile," available on Amazon.
YCTY's main fundraiser is the annual YogaFest NC, this year set for April 8 at the McKimmon Center at N.C. State University. The event is open to people of all ages and abilities, and includes exhibitors of yoga and wellness products. Event volunteers are welcome.
Meanwhile, Shareff and the board of YCTY are recruiting more yoga teachers, seeking an accessible meeting room for classes, and looking to the community for introductions to groups that need their services.
By the way, if you're curious about the name of this nonprofit, it stems from Shareff's slow-moving, long-held adaptive yoga poses.
"When you practice any safe, mindful pose with awareness of your breathing," he said, "then You Call This Yoga!"
For more information, see youcallthisyoga.org.