Home is our haven, the place where we kick off our shoes, and know which drawer houses the chip clips. It's automatic. It's familiar.
Maybe a little too familiar.
"Home should be a retreat from our busy lives. But if your home is in disrepair or doesn't function well for your family, it's time to refresh," said Vicky Serany of Southern Studio Interior Design of Apex.
Serany recently worked with Gretchen Cooling to do just that for the family's home in Cary, including this kitchen.
"The former owners completely renovated the house in 2005, including the kitchen," said Cooling, who purchased the home two years ago. "We just changed cosmetic things."
What's IN for 2017
Vicky Serany
Mixed metals. Strategically mixing finishes adds depth and interest to a space.
Faux leather. Colors and textures provide great durability for active families.
Wallcoverings. Grasscloths, metallics and textures add visual interest to walls and ceilings.
Outdoor living. An outdoor space for families and friends to gather can include fire pits, kitchens and televisions.
Lauren Burns
Warm metals. We're seeing matte brass in hardware and accent pieces.
Jewel tones, such as Pantone Color of the Year Greenery, and deep blues and purples. Mixed with metals, they add understated drama.
Navy, replacing black for accents, can pair with almost any color. Add it to the back of bookshelves!
Engineered quartz. For bath or kitchen countertops, this looks like marble but is more durable against stains and heat.
Upholstered headboards. In neutral or plush velvet, tufted or with simple lines, these cost less than traditional wood beds and offer instant glamour to soften a space.
What's OUT for 2017
Vicky Serany
Clutter. Eliminating it is the best thing you can do for your home.
Matching furniture sets. In the bedroom for example, incorporate an upholstered bed for an entirely new look.
Formal living spaces. Change an unused living or dining room into a flex space to function as a home office, music room or library.
Lauren Burns
Orange! Or, use it only as an accent.
Matte white subway tile. For a more unique, timeless look, try tile in crackled ivory, beveled for 3-D dimension.
Brushed metals, especially rose gold. For an easy update, replace your drawer pulls or knobs; coordinate them with your lighting.

Here's what the project entailed:
The cabinets, formerly a buttery yellow, were refinished and glazed, and their cream color custom-matched to Cooling's favored shade from her previous kitchen across town. Hardware was updated from silver to oil-rubbed bronze.
"The primary considerations when deciding whether to refinish or replace is first the function of the kitchen, and then the quality of the cabinets," Serany said. "Refinishing cabinets in a kitchen that functions well, with high quality cabinets, is a great option. A quality refinishing project takes time and is still a significant investment, but usually worth the savings over completely replacing the cabinets."
The island was extended, adding legs and a new granite top.
"This can be a significant challenge, usually because of space constraints. In Gretchen's kitchen, the space allowed for the larger island and fits beautifully," Serany said.
Matching the new island top to the existing countertops was a challenge; Cooling's husband, John, found the lucky granite piece.
Serany notes that changing the cabinet color removed the gold tones often seen in homes that are 10 to 15 years old.
"The warmer grays are popular now, such as the pewter on the walls, and the two colors clash," she said. "There's gold in this granite, but it's nicely downplayed."
The extra seating is also appreciated by Coolings' two teenagers, and a help as the family frequently hosts dinner for 20 on Sundays.
The backsplash was updated with a tile handmade in California that Cooling says "spoke to me." It's called Javi San Felipe Patina Stone II, in Titanium White.
"It's neutral," Serany said, "but has great texture and adds visual interest."
New light fixtures replace a black and crystal chandelier.
"I wanted them open, with no glass," Cooling said; note their shape reflects the backsplash design.
The Brazilian cherry hardwood floors were refinished from their natural reddish color to a darker shade that complements the neutral color scheme of the kitchen.
"A neutral color scheme always allows for long-term flexibility," Serany said. "Gretchen loves color and pattern, so the neutral kitchen will allow her design to change and evolve for many years."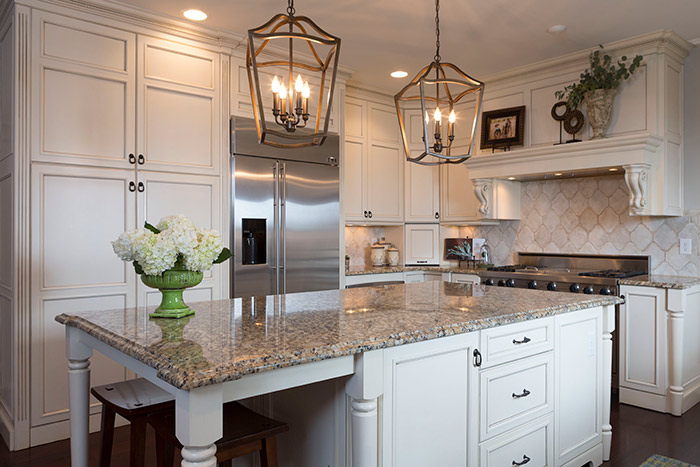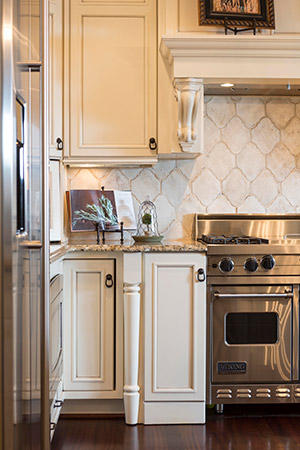 Now it's your turn
How to tell if your home needs a refresh? Take a look around as if you're a visitor, and look for telltale signs like these:
"Dated or boring fixtures and hardware," said Lauren Burns of Lauren Burns Interiors. "Is the face of your fireplace shiny faux granite? And a tumbled stone kitchen backsplash is so 2008. It's not a massive investment to change these."
About that furniture: If you brought it with you from a previous home, be sure it's to scale for the rooms you have now. And if you haven't replaced that sofa in 10 to 15 years, it's time, says Burns.
The first step to a refresh, these designers say, is to keep what you love.
"Anything that has personal meaning will never go out of style," said Serany. "A home should be a collection of treasures from a life well-lived. Don't pay attention to trends — pay attention to what inspires your life.
"The winter months are a great time to spend a Saturday afternoon rearranging your accessories," she added. "Remove all of your accessories and place them in a central location. Eliminate anything that's broken or does not have personal value.
"Then, with a fresh perspective, begin to place your accessories in a new way. This simple purge and shuffle can give new life to a space."
Burns agrees.
"Take inventory," she said. "If it's an heirloom piece or just a piece you love, envision it in another place in the house. Repurposing saves money and feels new visually.
"Or paint it, in a metallic or a color to go with your current décor. You can spray paint, or sand and brush paint a piece, for an update. Spray light fixtures too; they'll look refreshed, and it will only cost you about $8."
Pillows and paint offer the biggest bang for the buck, Burns notes, as an easy and inexpensive way to add fresh colors and patterns.
When choosing larger, more costly home pieces, think classic over trendy.
"It's important for rooms to feel collected, not decorated," said Burns. "That means it won't necessarily all come together at once."
Her timeless choices include natural accents such as succulents, moss, birch twigs and dried arrangements.
"For a timeless design, keep large investment pieces neutral with classic lines," Serany said. "Add trendy accessories and colors in less-expensive pieces that can be easily changed."
About the designers
Vicky Serany
Southern Studio Interior Design, Apex
(919) 362-5143
southernstudio.com
Among Southern Studio's award-winning portfolio are the 2015 Southern Living Showcase Home at Sunset Beach and the Southern Living Inspired Home on Bald Head Island. In December 2016 Serany launched a new website and branding for the studio.
Lauren Burns
Lauren Burns Interiors, Cary
(919) 699-8009
laurenburnsinteriors.com
(919) 397-2430
pieceandpalette.com
In December 2016, as a complement to her design services, Burns and two partners launched Piece & Palette, an online shop offering designer décor matched to custom coordinated Benjamin Moore paint colors.