At an age when most people would be thinking of golf and grandchildren, Sheila Ogle is still going full throttle.
Since she was first named a Cary Magazine Woman of Western Wake in 2005, Ogle has sold two businesses, started a third, helped launch a charitable foundation, and mentored many entrepreneurs. As recognition of these accomplishments and her impact on the Cary community, in October she was presented with the inaugural Women of Western Wake Lifetime Achievement Award.
"So many people retire and they think, 'I don't have to work anymore,'" Ogle said. "Think of all the intellectual property that is in their head and the wonderful experiences that they've had. They could take that knowledge and that experience and share it with somebody.
"I have little patience with people who don't want to do anything."
Duty to mentor
This commitment to sharing expertise isn't idle talk, say Ogle's longtime friends Alisa Wright Colopy and Darelyn "DJ" Mitsch, both former Women of Western Wake themselves.
"Many people hold their cards of their success to their chest, not sharing how they reached their goals or even sharing the lessons of their failures," said Wright Colopy. Founder and president of the nonprofit Fit and Able Productions Inc., she has known Ogle for 20 years.
"Sheila does both routinely, as she wants to help other people reach or surpass their goals," she continued. "Her drive to make a difference in individuals' lives has had a tremendous ripple effect on families, workplaces and the Cary community."
Mitsch, co-founder of corporate coaching firm Pyramid Resource Group, calls Ogle a "master connector," meeting newcomers, hearing their ideas and making vital introductions.
"Sheila is the 800,000-volt spotlight, shining a beacon of warmth and welcoming top-notch business and community leaders to an area ripe for growth and contribution," she said.
"She has been my mentor through my early career in advertising and then as an entrepreneur and CEO. She considers mentoring to be a gift that anyone who is successful has a duty to share," said Mitsch, who was selling ads for a Winston-Salem radio station when she met Ogle in 1979.
A vision for Cary
Outside her wide circle of friends, Ogle is perhaps best known as the owner of the Queen Anne-style Guess-White-Ogle House on Academy Street, also known as the Pink House. A lifelong proponent of historical preservation, Ogle and her late husband, Carroll, bought the house in 1997 and restored it.
"We have to preserve our past," said Ogle. "Just think if the town had torn this house down. The way that it looked, when you see pictures, the house was awful."
According to Ed Gawf, the town's first downtown manager, the building became one of the first major assets in Cary's revived downtown.
Another was the Matthews House, which the Ogles bought in 2001. They transformed the 1915 Greek-Revival-style building into a wedding and special event venue, which Ogle sold in December 2016.
"Through the '90s and early 2000s, not much was done downtown — a lot of talk and no action. The Matthews House and the effort in developing it as a reception and events facility was during that time," said Gawf. "It was the most significant private investment downtown."
The Ogles had a vision that downtown Cary could be something special, he says. And by investing in the area and making it work, they helped attract other business ventures.
"The early efforts of Sheila and Carroll in downtown Cary, during some not-so-good investment times laid a solid foundation for what we have now," said Gawf.
Building business
Kyle Greer, with the Cary Chamber of Commerce, agrees with Gawf's assessment, calling Ogle "the true pioneer in developing and redeveloping downtown Cary."
But the historic properties are only part of Ogle's influence, Greer says. The office building on West Chatham Street, built by Ogle and her husband, was also key.
"She located her company, Media Research Planning and Placement, in downtown Cary, and built one of the first new commercial buildings in downtown," said Greer. "After she sold MRPP, she then worked to open Cary's first co-working space, the Innovation Center, years before these types of spaces were common."
Ogle still manages the Cary Innovation Center, saying she enjoys seeing fellow entrepreneurs blossom.
"The beauty of that business is to get a tenant in and see them leave," she said. "Most of the time when I lose a tenant it's because their business has grown exponentially, and they need more space."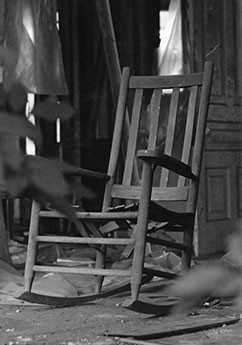 Serving the community
Along with her business interests, Ogle has made time for philanthropic causes in and around Cary. She was one of the founders of the Cary Community Foundation, and also helped start the Cary Women's Giving Network, which brings women together to promote charitable giving.
"We wanted to educate women that you don't have to be rich to be philanthropic," Ogle said. "Each of our members gives $600 a year, and it's a three-year commitment. In the past four years, we've given away more than $73,000 to nonprofits in the Cary community."
Her church, First Methodist Church in Cary, is also near to her heart. She jokes that since selling the Matthews House, she has a new job — working on the church building committee. Renovations are scheduled to be finished in four years, and Ogle is especially thrilled about the "fabulous youth center" that will serve the community for years to come.
Lead pastor R. Carl Frazier Jr. says Ogle has been a tireless advocate for the church and the town.
"Sheila has her fingerprints all over Cary, and her impact and influence is significant," Frazier said.
"However, I would say her biggest impact is her encouragement of so many others in pursuing their visions and dreams, both for themselves and for the community."
Read more about the Women of Western Wake luncheon