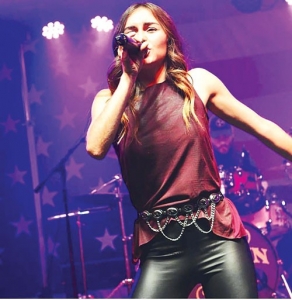 Kaylin Roberson
Written by Jessica Snouwaert
Kaylin Roberson, 19, is already well on her way to pursuing a career in music.
As a singer-songwriter, she has had the chance to travel across the country to perform with the Teen Nation Tour, work with some of the best professionals in the music industry and play gigs across North Carolina with her own band.
"I always knew I wanted to entertain," she said, "Whether it was acting, dance or singing."
While Roberson always had the drive to entertain, her medium didn't become clear until she had a life-threatening accident. At nine, she was attacked by a family dog and needed more than 200 stitches to repair her lips, gums, cheekbone and the side of her eye.
"After that incident happened, music became my medicine; it became my crutch," Roberson said. "Since then I took music more seriously. It was something that instead of doing for fun, it was something that I needed."
During the following years Roberson became more in touch with her music, but her confidence faltered. She was bullied in elementary school and would analyze her appearance in the mirror — which Roberson calls "self-bullying."
She describes her struggle with self-bullying as, "growing up, waking up every morning, looking in the mirror, seeing these scars on my face from my past, and having to go out in the world and be in public and perform on a stage, still keep my head up high and pretend like they're not even there."
Four years ago, at 14, Roberson decided to embrace music more professionally, and she joined the Teen Nation Tour, travelling across the country for weeks at a time. She and other musicians would perform at concerts in schools in cities far from home, such as Las Vegas and San Antonio, spreading the message of anti-bullying and encouraging discussion about bullying by sharing their own stories.
"The tour was really great for me, because not only did it give me exposure," Roberson said, "It helped me with my talking skills and my performance skills."
Roberson also performs at hospitals such as UNC Children's Hospital and St. Jude Children's Research Hospital in Memphis. She loves the chance to relate with the kids since she had her own life-threatening experience.
"I always like to tell students that just as much as I may be helping them when they're going through something, they're also helping me because I've gone through something."
During Roberson's most recent visit to UNC Children's Hospital she sang for a mother and son. The mother held her son in her arms and started sobbing as Roberson sang to them.
"It was really touching to see," Roberson said, "honestly, it makes me speechless."
But with the music tours and visits to hospitals, maintaining school attendance became difficult for Roberson, so she embraced online schooling.
Now she is a graduate from Crossroad Flex —­ a non-traditional high school that afforded her the ability to pursue a career as a musician and receive a quality education. The Wake County magnet school accommodates her schedule by blending face-to-face interaction with digital learning.
"It's honestly a blessing that they opened when they did, because I needed them, and they came and saved me — saved my education," Roberson said, "I needed structure, but I also needed freedom at the same time."
Roberson's classmates are Olympic athletes, actors and dancers. Other musicians at the school became her support system, because they all led similar lives and had relatable experiences.
Want to see Kaylin Roberson perform?
Visit her upcoming shows Aug. 2 and 23 at the Tribeca Tavern in Cary or Aug. 24 at Jack's Waterfront in Morehead City, Atlantic Beach. Or visit her website
kaylinroberson.com
Much of Roberson's growth has blossomed amid her struggles to gain footing in the music world as she has pushed forward in the face of rejection. Roberson says she has become familiar with the word 'No.'
"It's part of the business," she said, "And you have to be confident in yourself and your sound, because when one door closes another door opens."
For Roberson when doors close after auditions like "The Voice," she sometimes questions if she's truly being judged on her music or if appearance is playing a role.
"Through all those auditions I've learned to not care about what people think in terms of the way I look and instead focus on the music, my sound and my brand."
Along with Roberson's classmates, her vocal coach Liz Labelle has also been a huge support in her vocal and personal journey of growth.
Labelle has confidence in Roberson and her music.
"I have no doubt that she's going to make it. Where? I don't know; that's kind of written in the stars," Labelle said, "But she definitely will succeed because this is what she dreams for, and this is what she's worked so hard for every single day."
A strong work ethic and resilient attitude are not Roberson's only strengths. Her incredible song-writing skills make her music relatable, Labelle says.
"I don't know how she does it," she said. "She has a natural gift for writing, for having the germ of a song and then just developing not only the words, but these wonderful melodies."
The biggest upcoming goal for Roberson is to expand her band's fan base in the Triangle and to perform more around North Carolina.
Roberson also intends to continue her education. She was accepted into N.C. State University for the spring semester of 2019. Until then, she will take courses at Wake Technical Community College.
"I think that's going to be great for me because I'm going to be able to explore hybrid learning — online learning and in-class learning."
Between college, her band, and her musical career; Roberson has many budding pursuits in her future.
"It's been a fun adventure, and I'm just going to keep going and keep writing."
Shania Khoo
Written by Amber Keister
Shania Khoo talks fast — her words tumbling out as if she is trying to squeeze twice as many ideas into one breath.
At 18, her resume reflects that energy, with enough accolades for two graduating seniors. Ranking third in her class at Green Hope High School in Cary, Khoo heads to Duke University this month, her expenses paid thanks to the prestigious Benjamin N. Duke Memorial Scholarship. She is also a Coca-Cola Scholar, winning $20,000 which will help pay for graduate school.
"She is so accomplished," said Justin McIntyre, Khoo's counselor at Green Hope. "Whenever she puts her mind to something, whenever she pursues something, she puts her entire heart into it. She does not halfway do things."
While acknowledging her academic achievements, McIntyre says Khoo's desire to build relationships and serve her community sets her apart.
"She is humble, yet she has this internal drive that is stronger than most adults I know," he said. "I don't know where she gets this strength from."
Foundation in family
"I have an amazing support system. That's why I think I've been so successful," Khoo said. "My parents are great. I'm also an immigrant, but my parents get the credit, because I didn't do anything. They moved here so me and my sister could be more successful and to have a chance at the American dream."
Khoo's parents are from Penang, Malaysia, and moved to the United States when she was 5. The family, which includes Khoo's 11-year-old sister, settled in Cary.
As an Asian-American in the South, Khoo was struck by the lack of public discourse around issues her community cared about and decided to do something about it.
"A lot of what we talk about when we talk about race is black and white," she said.
"I always thought that as an Asian, where does my voice lie in this? I still have a voice that can be used. How do I talk about my own perspectives and issues without taking away from the dominant narrative of the racial binary?"
In 2016, she founded the Asian and Pacific Islander Student Union to spark conversations with other high-schoolers in the Triangle. The teens meet at the North Carolina School of Science and Math in Durham to talk about their shared experiences and to discuss important issues — even uncomfortable ones.
One such topic is how rare advocacy is in the Asian community.
"We talk about this all the time," Khoo said. "This idea of apathy comes from 'My only concern is for myself.' Because so many of us are immigrants, we have this individual mindset of success. Our parents are immigrants, so getting them to see that their experience matters and their experience matters in the grander sense of society [is a challenge]."
She credits APISU and the connections she's made in other Asian-American leadership groups like the East Coast Asian Student Union with helping her win the Coca-Cola Scholarship, which rewards leadership and service.
In April, the 150 Coke scholars spent four days in Atlanta for workshops, team-building exercises and a memorable service project at a downtown school. The teens painted wall murals, planted vegetable and flower gardens, and painted hopscotch grids.
"We were like a swarm of wasps at the elementary school, doing service projects," she said.
Leadership at the Key Club
Her passion for service led Khoo to the Green Hope Key Club. At 300 members it is the school's largest service group.
As a "shy and mousy" freshman, as she calls herself, Khoo stepped into a leadership role as class representative, tracking service hours and meeting with the club's executive board. She introduced a system allowing members to more easily log their required 50 service hours a year.
Her organizational skills became even more vital when Khoo, as a junior, was chosen to lead the club. Juggling the workload was challenging, she says, but she managed it and returned as president for her senior year.
"Her ability to delegate was beyond her years," said Seth Hardison, Green Hope's Key Club adviser. "She was really like a CEO."
Since its inception four years ago, the annual Dragon Boat Festival has been the club's biggest service project and Khoo's favorite. The Green Hope students manage all the volunteers for the September event at Koka Booth Amphitheatre.
More than 100 volunteers do everything from translating for Chinese-speaking vendors to painting children's faces. And while the festival is a huge undertaking, requiring months of planning and countless hours of work, Khoo says it's gratifying to see the club's impact.
"Every year I've done photography for the event, which has been fun. I volunteer, but it allows me to see the connections people are making," she said. "To see people smiling and genuinely happy that we're there helping them has always been fun."
What's next?
Khoo will continue helping others while at Duke. A talented violinist, she plans to continue volunteering with Kidznotes while she studies Public Policy. The nonprofit teaches music to children regardless of their ability to pay for instruments or lessons.
Her exact career path is less certain. Perhaps it lies with interest groups advocating the causes she cares deeply about or with nonprofits serving the community?
"I really want to work with underprivileged groups and marginalized groups to close that gap between those who have and those who don't have," she said.