Cancer researcher Dr. Kris Wood was setting up his independent lab at Duke University when he was diagnosed with cancer, in the form of non-Hodgkin lymphoma.
Thanks to the treatments developed by the researchers who came before him, Wood is now cancer-free and wiser for the battle.
"I learned that it's important to do research not just on the cancers that affect millions, such as lung and breast cancer, but on the more rare cancers as well," said Wood, an assistant professor in the Department of Pharmacology and Cancer Biology at Duke, whose research focuses on anticancer drug resistance.
It was during his own chemotherapy treatments in 2013 that Wood learned he'd been awarded his first major grant for cancer research, through the Cary-based V Foundation.
Founded in 1993 by the late Jim Valvano in partnership with ESPN, the V Foundation has awarded more than $170 million to fund cancer research grants nationwide, more than $23 million of that in a record-breaking 2016 alone.
"Their work is catalytic," Wood said. "My grant has helped fund discoveries that have become the basis for clinical trials, and allowed us to do experiments in the lab that are propelling new areas of investigation. The return on investment is manifold."
Wood's status as a V Scholar has also helped him compete for other research funds, such as a $1 million grant he was awarded last May.
"The truth is, it's increasingly difficult to get funding for research in the U.S.," Wood said. "Of 10 ideas, one is funded. There's concern within the science community that we will lose these young, early stage scientists and their great ideas."
Finding funds
The challenge of the V Foundation's fundraising work lies in connecting the often-intangible hope of cancer research with the real dollars needed to conduct it.
"When we're raising money for the V Foundation, it takes a lot of doing to explain what the research is about and why it's critical to hope," said V Foundation Chief Executive Officer Susan Braun. "You're buying into something you believe can create change, to move the research forward and change the course of the disease."
The V Foundation's latest capital campaign, "Not a Moment to Lose," has an ambitious goal of raising $200 million by 2020, and strategic plans to fund research targeting immunotherapy, pediatrics and more. The campaign launched in December during ESPN coverage of "Monday Night Football."
George Bodenheimer, former president and executive chairman of ESPN Inc., heads the campaign's steering committee. In November, Bodenheimer also joined the faculty at Iona College in New York, where Valvano served as director of athletics. Joint fundraising initiatives between the college and the V Foundation are planned for 2017.
The urgency of Not a Moment to Lose, Braun says, is underscored by the availability of vast amounts of scientific data, new technologies and a deeper understanding of genetics that can help scientists develop therapies resulting in more cancer survivors.
"We want to fill that funding gap, and not lose momentum among the best and brightest who are engaged and interested in the possibilities of research," Braun said.
"Our first $100 million leveraged more than $1 billion (in additional research grants). A good investment? We think so."
One hundred percent of the funds raised through the Not a Moment to Lose campaign will help accelerate critical research at cancer centers nationwide. The V Foundation has an endowment to cover administrative expenses.
Although the foundation works nationally, its roots are here in the Triangle.
"We cherish that," Braun said, "and rely on our supporters and friends in this area to promote the Jimmy V legacy, one that we always want to serve.
"The average gift is less than $50; no amount is too small. These bricks build the building."
The research
The V Foundation funds research for all types of cancer through two-year, $200,000 V Scholar Grants; three-year, $600,000 V Foundation Grants in Translational Cancer Research; and Designated Grants for particular areas of scientific interest.
Grant applications are vetted by an all-volunteer Scientific Advisory Committee comprised of top doctors and research scientists from universities and cancer centers across the U.S.
Duke oncologist Dr. Joe Moore, who treated both Valvano and Wood, has been a member of the Scientific Advisory Committee since the V Foundation's inception.
The V Foundation follows the work of each funded researcher through project status reports reviewed by science advisors, and personal meetings. In 2016, the foundation hosted the inaugural V Scholars Summit, bringing together grant recipients like Wood to share their latest research developments and create new collaborations.
New hope
Research can sometimes lead in unexpected yet positive directions. For example, the Consortium for Canine Comparative Oncology, a collaboration between Duke Cancer Institute and the N.C. State College of Veterinary Medicine.
Following the discovery that canine tumors share multiple characteristics with human cancers, the consortium is exploring new therapies to benefit both.
"Dogs are now being treated in clinical trials with the same therapies as humans, and we're seeing signs that the FDA may accept this early phase data as registration for products that would shorten the timetable to treatment," Braun said. "We're really excited about this."
Pilot projects like these, she says, provide hope for a cancer-free future.
"Even when we come to the point of curing all cancers, there are 15 million people alive with cancer and its long-term effects," Braun said. "The work isn't done until we help each person to be healed in their life. But I still think we'll be able to stop at some point, and I would love that more than anything."
Until then, there's Not a Moment to Lose.
Researcher Wood recommends encouraging legislators to provide more funding for the National Institutes of Health and the National Science Foundation, and supporting the V Foundation and other private foundations raising funds to accelerate the efforts to eradicate cancer.
He works 12-hour days alongside a dozen other scientists in his lab, all trying to solve the puzzle that is cancer.
"People should be excited about what's happening in cancer research," said Wood, "but the work could go faster with more money.
"We do this work not just because it's interesting, but because it matters for people's lives."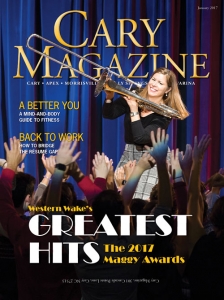 Not a Moment to Lose: The V Foundation