The Winners
Best public school
Green Hope High School
Cary High School
Panther Creek High School
Best private school
Cary Academy
Cardinal Gibbons High School
St. Michael the Archangel
Catholic School
Best active adult community
SearStone
Carolina Preserve at Amberly
Glenaire
Best nonprofit
Dorcas Ministries
The Carying Place
Brown Bag Ministry
Best coffeehouse
The Wake Zone Espresso
Crema Coffee Roaster & Bakery
La Farm Bakery
Best preschool
Primrose Schools
Kids R Kids Learning Academies
Greenwood Forest Children's Center
Best golf course
Prestonwood Country Club
MacGregor Downs Country Club
Knights Play Golf Center
Best interior design firm
Southern Studio Interior Design
Lauren Burns Interiors
Ivy Cottage Collections
Best music venue
Koka Booth Amphitheatre
Red Hat Amphitheater
Coastal Credit Union Music Park
at Walnut Creek
Best local event or festival
Lazy Daze Arts and Crafts Festival
Apex PeakFest
Beericana Craft Beer & Music Festival
Best kids' program
Cary Dance
Productions
Premier School of Dance
Starpath Dance Academy
Best fitness club
YMCA
Orangetheory Fitness
O2 Fitness
Best place for outdoor recreation
Fred G. Bond Metro Park
William B. Umstead State Park
Cary Greenway System
Best yoga/Pilates studio
StudioVIBE
Republic of Yoga
Pure Barre
Best elementary school principal
Rod Stanton, Cary Elementary School
Michael Regan, Mills Park Elementary School
Raleigh Bame, Laurel Park Elementary School
Best middle school principal
H. Trent Evans, Reedy Creek Magnet Middle School
Rick Williams, Davis Drive Middle School
A. Elaine Hofmann, Salem Middle School
Best high school principal
Matt Wight, Apex Friendship High School
Karen Summers, Green Hope High School
Nolan Bryant, Cary High School
Best high school coach
Roy Cooper, Apex High School
Alex Buckley, Cardinal Gibbons High School
Jeb Hall, Fuquay-Varina High School
Best TV station
CBS/WRAL
ABC 11/WTVD
PBS/WUNC/UNC-TV
Best TV personality
Greg Fishel, WRAL
Don Schwenneker, WTVD
TIE: Debra Morgan, WRAL;
Lynda Loveland, WRAL;
Steve Daniels, WTVD
Best radio station
WQDR, 94.7
WDCG, G105, 105.1
WUNC, 91.5
Best radio personality
Bob Dumas, G105
Mike Wheless, WQDR
Marty Young, WQDR
Best North Carolina travel destination
Asheville/Biltmore
Estate
Outer Banks
Wilmington/Wrightsville Beach
Best hotel or resort in North Carolina
The Umstead Hotel and Spa
The Omni Grove Park Inn
The Inn on Biltmore Estate

Best Public School
Green Hope High School
Bet you didn't know that the original Green Hope School was established in 1927, less than a mile down the road from its present-day site, with the same school colors of burgundy and green.
With a 2015-16 graduation rate of 94.8 percent and alumni who include PGA golfer Brendon Todd and two-time Olympian Hector Cotto, Principal Karen Summers said, "We are fortunate to have well-rounded students who excel in three key areas: academics, athletics, and fine and performing arts. 
"Our student body is comprised of many nationalities, religions and cultures. This diversity leads to enriching conversations in the classrooms, and encourages tolerance and acceptance throughout our school community." 
Summers also says Green Hope's 100-plus clubs are a testament to the student body and their passion for service in the school and community, and to the dedication of the teachers who serve as club advisors.
Go, Falcons!
➨ Green Hope High's Karen Summers earned an honorable mention this year as Best Principal.
Best Private School
Cary Academy
In a new Maggy category this year, readers were quick to click for Cary Academy as Best Private School.
Celebrating its 20th year in Cary, the co-ed, college-preparatory school is home to nearly 800 students in grades six through 12. The school recently launched its Discovery Studio, and held its first TEDxCary Academy.
Cary Academy alumni include researchers and policy setters in medicine and government, attorneys, software engineers, entrepreneurs and more, living and working around the world.
Best TV Personality
Greg Fishel, WRAL
Nobody gets quite as excited about the weather as Greg Fishel, longtime chief meteorologist at WRAL-TV. And that's a good thing for all of us.
Fishel's earned the top spot in this Maggy category every year since the awards began in 2006, for his reliable weather forecasts and his out-and-about approach.
"Over the years, I've really come to enjoy the direct interaction with folks that public appearances allow," Fishel said. "It's also an opportunity to find out more about our audience, and they in turn can find out more about us. I'm old fashioned, but face-to-face interactions mean way more to me than social media interactions."
His latest thrill on set? A new weather satellite launched in November that offers higher-res satellite imagery and more detailed measurements of atmospheric variables. That's weather-speak for Wow!
Fishel's also speaking out on climate change and the evolution of his professional views.
"The biggest thing everyone can do at this point is to stop the extreme polarization associated with this issue," he said. "Social media and 24-hour cable news channels promote extreme positions, with the truth lying somewhere in the middle. We all need to be willing to engage in civil discussions about this and other issues, and to be open to the possibility that we could be wrong about something. This is the only way to move forward."
➨ WRAL was named Best TV Station by Maggy voters.
Best Radio Personality
Bob Dumas, G105
Some people love him. Some, not so much. But one thing's for sure about Bob Dumas: He gets the votes year after year, dating back to the first Maggy Awards in 2006.
The host of G105's "Bob and the Showgram" for more than two decades, perhaps Dumas' least controversial work is the annual Bob's Buddies radiothon, held each November to benefit the Pediatric Brain Tumor Foundation.
Best Nonprofit
Dorcas Ministries
Of all the Maggy Award winners, only one can claim both Best Nonprofit and Best Resale Shopping: Dorcas. Its popular thrift store, locals know, helps fund the organization's food, housing and jobs outreach services.
So what's new at this community-minded hotspot? A full-time caseworker to manage Dorcas' emergency housing program.
"Of the 34 families she worked with, at the end of the year 32 of those families had remained stable for the entire year," said Executive Director Howard Manning. "Our role at Dorcas is one of encourager and motivator; all of the goal setting, planning and execution are being performed by the families. We're helping them to fulfill their calling of glorifying God by working and supporting themselves and their families with the fruits of their work."  
At Dorcas Plaza a new primary care clinic offers health care on a sliding fee scale, in partnership with Advance Community Health, the Town of Cary and Wake County.
And community donations enabled Dorcas to deliver two truckloads of materials and more than $2,000 in Lowe's gift cards to those impacted by Hurricane Matthew.
Keep it coming, Manning says: "We are always in need of volunteers and material donations. And we're looking for more exposure along the N.C. 55 corridor and the far west regions of Cary and Morrisville; we see that as an untapped geographical area."
Best Kids' Program
Cary Dance Productions
Tondalaya Pearson started dancing at age 3, and she has no plans to stop.
Founder of Cary Dance Productions, she helps students discover the benefits of dance both on and off the floor, earning CDP a second straight Maggy Award.
"Dance promotes balance development, enhanced agility, coordination and stronger bones," Pearson said. "Dance also improves and reduces depression and anxiety, while boosting self-esteem and confidence."
She points to studies that also link dancing to creativity and emotional intelligence.
"Research aside, dancing is fun!" Pearson said, from tap to ballet, jazz to hip-hop.
As the art of dance evolves, CDP constantly tweaks its offerings to better serve students by incorporating current music, activities and movement into lessons. And just like the pros, CDP dancers enjoy colorful studios equipped with floating hardwood floors that reduce stress on joints, permanently-installed barres, and floor-to-ceiling mirrors.
Best Hotel or Resort in North Carolina & Best Spa
The Umstead Hotel and Spa
Celebrities and high-profile VIPs are among the 55,500 guests welcomed by The Umstead Hotel and Spa each year, but who they are is anyone's guess.
That same level of privacy is afforded to less famous guests as well, at this five-star crown jewel of hospitality set in Cary's own wooded backyard.
Coming in 2017 are new artists in The Umstead gallery, hand-blended chocolate straight from Paris, and additions to the Herons menu from the hotel's own culinary One Oak Farm — last year the restaurant introduced its own grits milled in-house from heirloom corn grown at the farm. 
The Umstead Spa is also beloved by CM readers, topping the Maggy list since 2010.
Best Yoga/Pilates Studio
StudioVIBE
Patty Geiger, founder of StudioVIBE, has seen many trends come and go during her 33 years in the wellness industry. Knowing how to navigate them is part of what makes her so popular with the CM readers who vote for her studio year after year.
"Right now there is such an amazing movement toward mind-body exercise and functional movement. I hope this continues; it just plain makes sense," Geiger said. "When your body is flexible and strong, so is your mind."
Read more of her advice in A New & Improved You.
Best Fitness Club
YMCA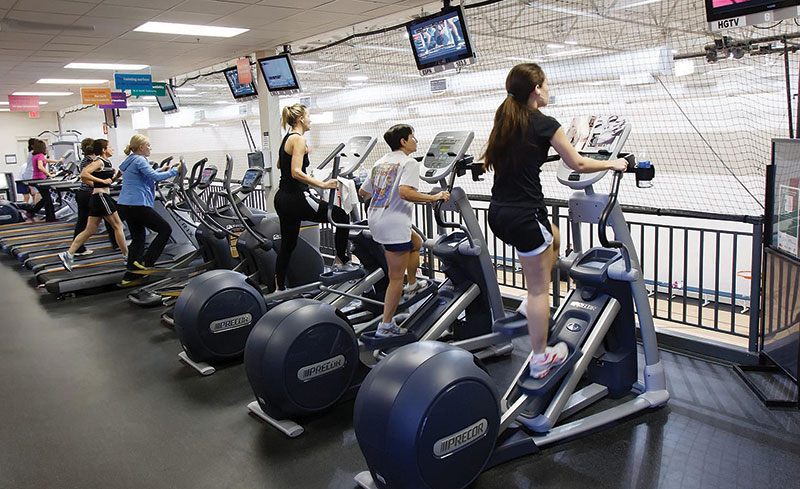 Our readers know that fitness can be fantastic! So does Beth Blount, group exercise director for the Cary Family YMCA.
"There are too many benefits to list, but here are a few: Relieve stress, sleep better, and move better," Blount said.
She and the pros at the Y have all the advice you need for setting and reaching your fitness goals. Read more in A New & Improved You!