Once or twice a year, about 25 lucky individuals in the Triangle get a chance to spend an evening immersed in another country's food and culture — without hopping on a plane.
They may start with a little sangria or mamajuana (a rum cocktail). Later, they could dine on Argentine beef or Dominican sancocho, a meaty stew with rice and avocado, and finish the night watching flamenco dancers or listening to traditional Argentine music. The cuisine, the music, the art and the conversation depend on which country Diamante Arts and Cultural Center features at Sabor y Cultura. What never changes about the "flavor and culture" event, says Roberto Perez, Diamante's board chair, is this: People leave with a greater knowledge and appreciation for Latino or Hispanic culture.
This has been the mission of Diamante — which means diamond in Spanish — since it started in 1998. "The concept came from taking the community from a carbon to a diamond," said Lizette Cruz Watko, the founder.
"Our vision is uniting communities through Latino culture and art, so Diamante's work is dedicated to preserving, developing and promoting the culture and heritage and the artistic expression of the diverse Latino/Hispanic community in our state," Watko said.
One way Diamante does that is by showing Latinos are not one large homogenous group.
"People assume that just because you're from Mexico you're the same as a Columbian, but the cultures and the food and sometimes even the language can be different," said Watko, whose mother was from the Dominican Republic and father from Puerto Rico.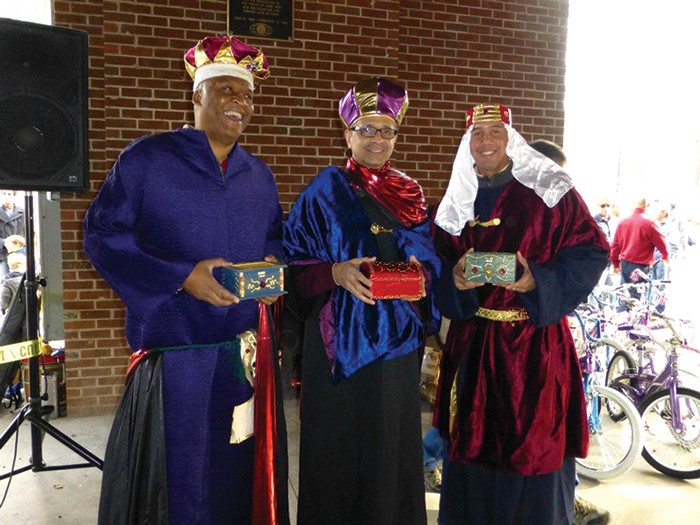 Diamante grew out of Watko's previous business, La Voz de Carolina, the state's first Spanish-language newspaper. The paper gave out annual Latino Diamante awards, and when Watko sold the paper, the awards became a standalone event. Diamante's other activities grew up around them.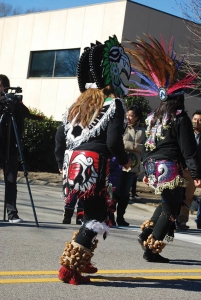 Now in their 24th year, the awards honor people and organizations that make significant contributions to the state's Latino and Hispanic communities. This year's event — think red carpet, fancy dress and performances that rival a TV awards show — are Nov. 16 at the Cary Arts Center.
The organization's other signature events — all in Cary — include the Ritmo Latino Festival each spring and the Estrella — or Star of Hope — Campaign in winter. Estrella starts the first week of December with a tree-lighting and Christmas carols from a volunteer band.
"We call it the 'The Once-A-Year Band,'" Perez said, "because we get a member from most of the bands that we have around here, and with no practice, no nothing, we start jamming."
Volunteers spend the month gathering and sorting food and toys donated by individuals and corporations and then give them out at the Three Kings Day Parade, which celebrates the 12th day of Christmas. All Diamante's events are put on by a small army of volunteers, and more are always needed, Watko and Perez stress.
Over the years, Diamante's events have grown in popularity. More than 12,000 people attended Ritmo Latino in May, more than double the crowds from just five years ago, Perez says. In January, 3,400 people bundled up to watch the Three Kings Day Parade.
Upcoming events
Latino Diamante Awards, 6-10 p.m., Saturday, Nov. 16, at the Cary Art Center, 101 Dry Ave. Tickets are $60. The event includes a tapas reception at 6 p.m., with awards and entertainment beginning at 7 p.m. diamanteinc.org/latino-diamante-awards/
Estrella (Star of Hope) Campaign begins the first week of December.
Three Kings Day Parade, Saturday, Jan. 4, in downtown Cary.
Sabor y Cultura on the Lawn, focusing on Venezuela, is May 1, 2020, at the Page-Walker.
For more information, visit diamanteinc.org.
There are also annual art exhibitions, documentary films and photo exhibits. The Sabor y Cultura events, which are also Diamante fundraisers, proved so popular, Sabor y Cultura on the Lawn, a free event, was added. The first, featuring the music, food and dance of Puerto Rico, drew 500 people to the garden plaza of the Page-Walker Arts & History Center.
New this year is DALI, the Diamante Arts Leadership Institute, a year-long leadership development program for artists. The seven inaugural DALI fellows recently met for the first time in Cary for workshops and collaboration.
Georges Le Chevallier, a member of the class, says the DALI fellows will be able to show how art helps communities and how Latino artists can make a difference.
A professor at the Living Arts College in Raleigh, Chevallier's work has been exhibited around the country and internationally. He says the beauty of Diamante is that the organization shows support for Latino and Hispanic artists at every level.
"I know very few organizations that are so committed to Latino arts and community," he said. "I believe they're doing really, really important work because — and I don't want to get too political — the stereotypes that a lot of people think of Latinos, Diamante is fighting against that. They're showing a positive, creative, artistic image of Latinos."