With a confident toss of his hand, Lionel Vatinet sends a cloud of flour descending toward his long wooden shaping table, and another loaf of bread takes form.
"You are going to be amazed," announces Vatinet, with his quick wit and gentle smirk, inside La Farm Bakery's new production facility in downtown Cary. He's right, in more ways than one.
Most people in Western Wake know the taste and aroma of La Farm's handcrafted breads and pastries. But stand back, because this second bakery site serves as a research and development lab of sorts, providing the creative Vatinet with space and equipment to explore new ideas.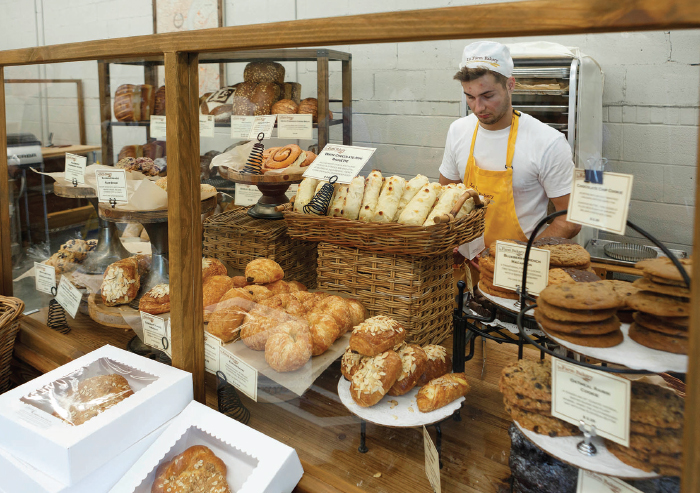 All of La Farm's customer favorites are available at the new downtown location, like the white chocolate baguette, top, and scones, below. The site is also home to a production facility for pastries, above, and breads.  
Working closely with North Carolina grain growers and millers, Vatinet in recent years has transitioned to using locally-grown, cold-stone milled, organic flours. His diverse line of breads offers an outstanding nutritional value for customers.
This sustainable agricultural movement includes whole wheat and rye flours, along with local honey, ham, cheeses and produce. La Farm even uses locally roasted coffee and cornmeal ground at Wake County's own Yates Mill.
Look at the color of the breads. Note the crumble, urges Vatinet, who in 2013 released the book "A Passion for Bread: Lessons From a Master Baker," and who teaches in his home kitchen, at La Farm, and nationwide.
"Squeeze the bread, and smell it, then taste it on your tongue," he said. "Each bread has a story, where the flour came from, who made it. We encourage our bakers to express themselves with new creations.
"We've found farmers willing to grow organic and now we must ask, 'Can we make bread with it?'"
Vatinet earned the title of Maitre Boulanger, or Master Baker, at France's prestigious artisans' guild, Les Compagnons du Devoir, and is a three-time James Beard Foundation Outstanding Baker semifinalist.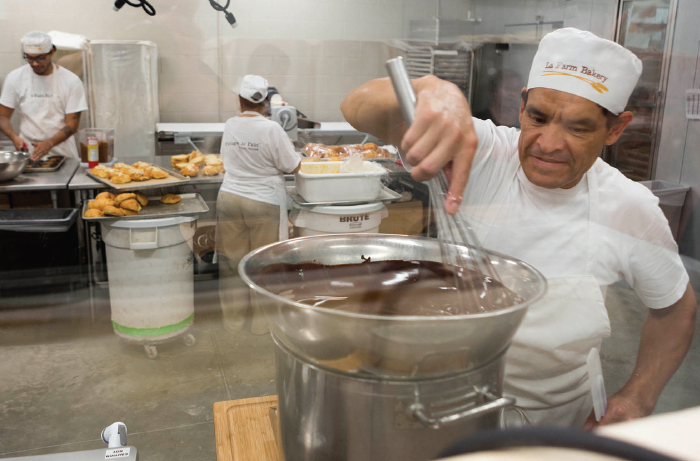 La Farm bakers at work, creating crème-filled challah bread.
Vatinet and his wife and partner, Missy, have grown La Farm's repertoire from nine European breads and cinnamon buns when they opened the original bakery on Cary Parkway in 1999, to more than 35 styles of artisanal breads, and counting.
Sourdough breads are baked daily with no preservatives or artificial ingredients, in a steam-injected European-style hearth oven for a crispy crust, following a three-day process to ensure maximum flavor and texture.
La Farm also feeds the community through local chefs and farmers' markets, and area Whole Foods stores.
As downtown Cary continues to celebrate its revitalization, La Farm's production facility on West Chatham Street contributes to the vibe in French bistro style, with bread linens drying on wooden racks and a map of Bordeaux behind the pastry counters.
Yet the state-of-the-art facility features a fabric duct system from Denmark that's earned international sustainable certifications, and a temperature-controlled pastry room.
New items are in the works, such as a rosemary sourdough available beginning this month, and the nutrient-rich spelt loaf, with its nutty, slightly-sweet flavor.
Goodies can also be found at the La Farm Bread Truck during breakfast and lunch hours, which offers lattes, cappuccinos and sandwiches.
Vatinet is grateful to customers old and new, who embrace his time-honored French baking traditions.
"They've made us a staple," he said. "Cary believes in what we do."
Honey Whole Wheat Bread
Recipe courtesy of La Farm
2¾     cups unbleached white bread flour
2/3     cup whole-wheat bread flour
1½      teaspoons fine sea salt
¾        teaspoon instant dry yeast
1¼      cups plus 2 tablespoons water, between 65-70 degrees F
1½      tablespoons honey
Place flours in a medium bowl. Add salt and yeast to the bowl, making sure they do not touch each other; set aside. Add the honey to the water, stirring to blend. Pour half of the water-honey mixture into the bowl of a stand mixer, such as KitchenAid. Add the flour mixture to the mixing bowl.
With the dough hook attached, begin mixing at low speed, and then immediately add the remainder of the water-honey mixture in a slow, steady stream. Mix for 5 minutes. Stop the mixer, and scrape down the sides of the bowl to make sure all ingredients are combined. Mix on medium-low speed for 2 more minutes, or until dough is soft and smooth with a moist, tacky surface.
Place dough in a lightly floured bowl. Cover with plastic and let rise in a warm place for 45 minutes. Uncover the dough and turn out onto a lightly floured surface. Gently pat the dough into a thick square. Fold the right side of the dough toward the center, the right side to the center, the top to the center and the bottom to the center. Lightly pat down the seams. Place in a floured bowl, seam side down, and let rise in a warm place for another 45 minutes.
Turn dough out onto a lightly floured surface, and gently shape the dough into a loaf. Place in a lightly buttered and floured 10-by-4-by-3-inch loaf pan. Cover with a linen towel. Let the dough proof for 45 to 60 minutes in a warm, draft-free place.
About 30 minutes before you are ready to bake, move one oven rack to the lowest rung and remove the other. Place a baking stone on the rack, and preheat the oven to 450 degrees F. When the loaf is ready to bake, score it several times with a single-edged razor blade, cutting only about ⅛ inch into the dough.
Carefully place the loaf pan onto the hot baking stone, and quickly cover the pan with a stainless steel bowl. Bake for 10 minutes, then lift the edge of the bowl with the tip of a small knife and use oven mitts to carefully remove the hot bowl. Continue to bake until the bread is a deep golden brown with a crisp crust and sounds hollow when tapped on the bottom, about 30 minutes more. The internal temperature of the loaf should be between 185 and 210 degrees F when fully cooked.