Meet the latest in fashion, with a smart twist.
Proving that clothing can be Earth-friendly and still fun, seven independent designer teams took their collections to the runway in the Redress Fashion Show in August, sharing their creative and sustainable designs at the Contemporary Art Museum in downtown Raleigh.
"Independent fashion designers are essential to the sustainable fashion movement — they are leading the way!" said Beth Stewart, executive director of Redress Raleigh. "They are continuously innovating and seeking to improve their materials and production processes, and will be catalysts for change as people become more and more aware of the impact the industry has."
The fashion industry is second only to Big Oil in its impact on the environment, and the nonprofit Redress works to help people make wiser decisions about what they buy and wear.
To date, Redress has also worked with more than 60 independent designers, through workshops and a new incubator program.
"Our goal is to empower designers to launch or grow their businesses and therefore grow the sustainable fashion movement as a whole," Stewart said.
"When we speak to people about sustainable fashion, we want to be able to list companies within the Triangle where you can purchase high quality, fashionable products that also happen to be sustainable — we hope the incubator helps designers create those companies."
While they're working on it, enjoy these scenes from our photo shoot with Redress designers, then read how you can join the sustainable fashion movement!
Mariangela C. Walker
Guarantee Happiness LLC
GuaranteeHappiness.com
What's the message behind your collection?
Above all, comfort. The tee skirt dress is sporty casual; we have utility and design patents on it. The dressier dresses have organic flowing lines at the bottom skirt portion, rather than the cylindrical shape of the tee skirts, and are designed to look great on all body shapes, especially curvy gals.
Why do you work in sustainable fashion?
Natural fabrics are what I'm most strongly drawn to. I like clothing that provides maximum comfort, and there is nothing that compares to cotton. Bamboo and hemp can be pleasing as well. The patented tee skirt dresses for this collection are made using cotton knit jersey T-shirts for the tops, many of them from local organic cotton, and the skirts are from blends of cotton or rayon made from bamboo, or other blends.
Some of the tee skirts include inspiration from poets; another includes quotes from Sampson Starkweather, a poet from Pittsboro who now resides in New York. Some are whimsical, with the footprints for waltz dance steps printed on them.
Our clothing is designed to be a staple of the wardrobe, something people can depend on for comfort and versatility. Fashion is fun, but my intent is to design clothing people can live in.
On Redress:
They apply their philosophy well. They are about integrity. They care about impact. The support of the Redress Raleigh incubator program has helped my ideas gain traction and put me in touch with professionals who understand the challenges a designer faces while bringing vision to reality.
Catherina Gomes and Divya Ramaswamy
700 Rivers, sevenhundredrivers.com
What's the message behind your collection?
We are blending modern Bangladeshi and American culture with Parisian influences, meant to invoke a sense of both the cosmopolitan and the exotic. We hope people begin to think about who made their clothes, and that by wearing our collection they are actively working to end the cycle of poverty endured by many women and children in Bangladesh.
Why do you work in sustainable fashion?
The fashion industry is clothing overconsumption, people working in sweatshops overseas to produce cheap and low-quality western apparel, and clothes piling up in landfills. The textile industry is the second largest polluter in the world. We plan to combat both issues of textile pollution and treatment of garment factory workers by creating a sustainable and ethical fashion company.
Our fashion line is created using upcycled saris, traditional Bangladeshi apparel, hand-woven with vibrant colors and intricate embellishments. We transform them into modern apparel, and save these garments from landfills. We also plan to branch into other eco-friendly textiles, such as 100 percent organic cotton fabrics colored with natural vegetable dyes.
On Redress:
Their passion and expertise has helped guide us in our common goal of making the fashion industry more eco-friendly. We learned the difference between marketing sketches and technical sketches, sizing methods, supply chain operations, and all the components of fashion lines. They've also helped us think bigger in terms of scaling up the business, and effective techniques in marketing our product.
Teresa and Giovanni Perna
MAYD in CHYNA
maydinchyna.com, why@maydinchyna.com
What's the message behind your collection?
It is not just a fashion statement, but a vehicle to put us on the road to quantifiable change to the way companies do business, and to change citizen involvement so there is a collective activism to make things better … for them, their loved ones and our planet.
What elements of your designs make them sustainable?
(We use) 100 percent USDA certified organic pima cotton, one of the strongest, long-lasting fibers, soft and supple with a natural sheen. It is third-party certified organic to ensure its growing and harvesting is environmentally friendly and sustainable. In addition, having USA grown and harvested fiber ensures we can verify the employment conditions of workers.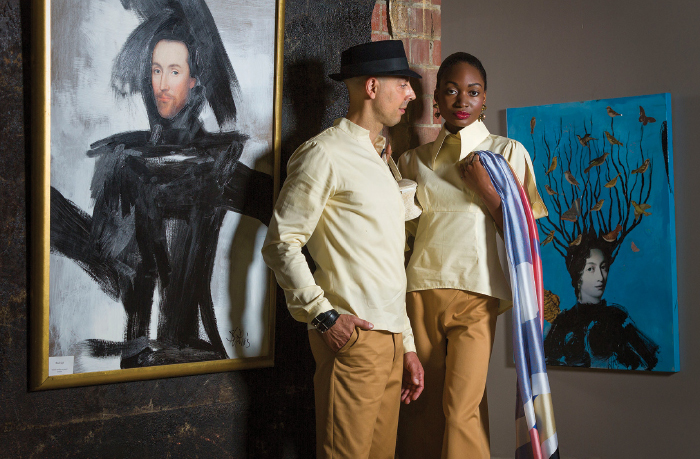 We use environmentally-manufactured notions and trims, and all of our fiber, spinning, weaving, knitting, dyeing and sewing is done in the USA. We have sought out suppliers that are Global Organic Textile Standard certified, Oeko-Tex certified, or who practice manufacturing methods that adhere to these standards. We have personally visited and can vouch for every one of our suppliers.
Our designs are intended to produce pieces that live on for a long time, so as not to add to the waste present in today's society.
On Redress:
Their core values of authenticity, being conscious of our impact, inclusive community, are exactly what we are all about. We chose to be part of this program to interact with likeminded people, and to assist with building the eco/sustainable fashion movement.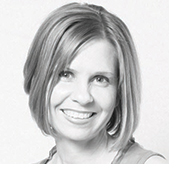 Shannon Tennyson
CALZICO, CALZICO.com
for girls sizes 6 to 14
What's the message behind your collection?
The collection is designed to inspire confidence in girls so they can choose well and wear often. It offers comfort and clever styles, adjustable and convertible features, unique illustrations by a South African artist, and pieces that easily adapt through the seasons.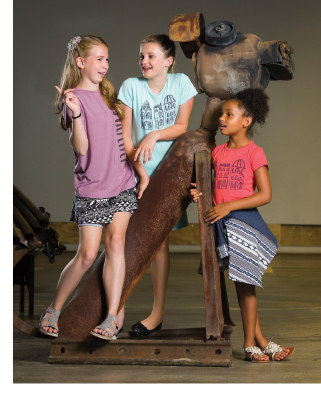 What is your background?
It was a need for my own tween-age daughter that prompted the creation of CALZICO. I spent six months absorbing information, working with pattern makers, suppliers and factories. I participated in online workshops offered by industry consultants to further my knowledge and help me move my idea forward. Since parents provided feedback, I knew there was a need and interest for higher quality, comfortable clothing options for this age range.
Why do you work in sustainable fashion?
The fashion industry is incredibly harsh on people and the planet, through pollution and exploitation, so it was important to me that our approach and partners worked to minimize this.
Pieces in the launch collection feature high quality cotton-spandex and rayon-bamboo-spandex blends and natural coconut buttons. Comfort is important and the 'just right' stretch offered by these textile blends is a customer favorite.
I focus on creating styles that offer greater function, such as a jacket that can be worn four ways. As well, I work with responsible partners, and some of the materials I use have sustainable properties.
Rock Kershaw
Rock Kershaw Jackets and Necklaces
rockkershaw.wordpress.com
etsy.com/people/RockKershawNecklaces
Debbie Davis
Snazzies by Artwear
Permanent indoor shop at Raleigh Flea Market, raleighfleamarket.net
What's the message behind your collection?
Kershaw: Our jackets and necklaces are playful, dramatic, colorful and tell stories.
Davis: I want people to think, 'This is fun. I hadn't thought of that. I want to wear this!'
What is your fashion background?
Kershaw, a former art history professor: I've been decorating denim jackets for almost 20 years. I've been creating one-of-a-kind necklaces since 2011.
Davis: I have a design degree, and started my company in 1988. I've worked in fashion merchandising for SouthPark Mall in Charlotte and for SteinMart, was a visual manager for JCPenney, made handbags, and evolved into the vintage lace jackets I sell. My clothes are also in stores in Monroe, Pinehurst and Michigan.
What is sustainable fashion, to you?
Kershaw: Sustainable fashion means recycled, repurposed, restored, refreshed and renewed accessories, garments and themes. (I use) denim, charms, embroidered patches, paint, buttons, brooches, bones and beads from around the world.
Davis: Sustainable fashion is exciting. I love the idea of taking something old and making it into something new. I use denim, vintage lace, men's shirts, women's tops, and T-shirts. I look at the fabric and see what direction I want to go.
On Redress:
Kershaw: Redress Raleigh is a collection of optimists, fashionistas and enthusiasts for color, texture, fabric and diverse materials. The world is our oyster. We recycle, reuse, restore, refresh, renew, redesign and reinvent.
Heather Nixon
heathernixon.weebly.com and by email, heather.nixondesigns@icloud.com
What's the message behind your collection?
I want my collection to reflect the beauty found in marine life, while producing a line that minimally impacts the environment. I also want people to be inspired to figure out what ways they can incorporate sustainability into their own wardrobes.
What is your fashion background?
I have been sewing since I was 8 years old and my parents got me a sewing machine for Christmas. I have a Bachelor of Science in Fashion Textile Design from North Carolina State University, and work as a designer for Stitch, a luxury golf company.
What elements of your designs make them sustainable?
My collection is 100 percent recycled materials. All of the swimwear is created from fabric by Cervico, made from regenerated fishnets and other nylon waste found polluting the ocean waters. The waste is converted into a fiber called ECONYL and then created into a durable swimwear fabric. All of the cover-ups are made from repurposed textiles. The shoes are made from recycled yoga mats and a variety of upcycled fabrics.
On Redress:
I was amazed at how my personal inspiration as a designer aligned with Redress Raleigh's mission. I decided to apply to help spread the word of sustainable practices and inspire others to do the same. Once the seed is planted, a simple message can reach thousands, and I believe that is what is making sustainability more prevalent in the textile community.
Susan Sharpe
Vintage Fashion Fairy Tale Collection
By email, sushe.susan@gmail.com
What's the message behind your collection?
That antique, vintage and secondhand clothing is beautiful, it endures, and can be highly relevant to anybody's wardrobe.
What is your fashion background?
I trained as a textile designer in the United Kingdom, and designed one-of-a-kind pieces for Ace on the King's Road, London, an iconic store frequented by the likes of the Rolling Stones and David Bowie. I worked at The Royal School of Needlework as a colorist.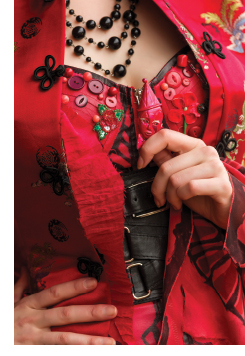 Why do you work in sustainable fashion?
I have bought and worn vintage and antique clothing since my teenage years. These clothes lend themselves to developing an individual and unique style that can be more personal than that dictated by the trends of fast fashion. An added bonus is that I am not harming the planet or hurting another human being.
Literally none of the outfits in my Vintage Fashion Fairy Tale collection uses newly purchased items from a commercial fashion store. My materials are silks, satin, velvet, chiffon, lace and brocades. Embellishments include embroidery, jewelry, beaded fabrics and feathers and sequins. Some of the loveliest pieces in this collection are embroideries from the 1920s and lace from the early 1900s.
On Redress:
I composed a story about eight sisters who are chosen to be ladies in waiting at Cinderella's wedding; the characters and color choices are loosely based around a personality inventory called the Enneagram. I felt the show was a good fit for my ideas.