The benefits of Cary's downtown revitalization continue to emerge, and there's no better time than now to savor its bevy of quality eating and drinking establishments.
Consider inviting friends along for a full-fledged progressive dinner, all downtown, where you can try new places and enjoy mainstays, while appreciating their distinct flavors, and strolling between courses.
We've crafted this experience as a sampler of all that's available downtown, guaranteed to entice and enthuse. Enjoy!
Pre-Dinner Coffee: BREW Coffee Bar
Noteworthy: Iced Nitro Cold Brew coffee
Start your adventure at BREW, a stylish coffeehouse that adjoins The Cary Theater.
"We saw a tremendous opportunity to help build what downtown Cary is becoming, and that's a place of community," said co-proprietor A.J. Viola, who runs BREW locations in downtown Raleigh and Cary along with business partner Mike Sholar.
The coffee bar has become a haven for many regulars. An outdoor patio provides additional seating.
BREW partners with local roasters, breweries and artisan bakers to offer quality java, beer, pastries and sandwiches. Knowledgeable, friendly baristas will guide your selection of espresso drinks.
Choose from macchiato, cappuccino, Americano and more. Standout drink Iced Nitro Cold Brew is smooth and flavorful with low acidity.
"It represents the fusion of everything that we are, because it's coffee that pours like beer," Viola explained.
Open daily, BREW extends its operating hours during theater events.
122 E. Chatham St., Cary
(919) 400-5473
brewcary.com
Soup Course: Crosstown Pub & Grill
Noteworthy: Baked French onion soup
Just a few steps away from BREW Coffee Bar, Crosstown Pub & Grill offers an approachable, come-as-you-are atmosphere. Since it opened back in 2015, the pub has steadily built a loyal following.
Sheila Ryan oversees Crosstown with her son, Sean Ryan, who serves as general manager.
"It's a family run business in the truest sense," Sheila said.
A straightforward menu covers all the bases, from hand-pattied burgers and grilled Reuben sandwiches to pan-seared salmon and beer-battered fish and chips.
Crosstown's kitchen churns out daily soup offerings like roasted red pepper, chicken and black bean, and New England clam chowder. But the baked French onion soup gets top billing.
"It's a big seller for us," Sean said. "It's topped with a generous amount of provolone cheese with bread planks underneath."
Bonus tip: Order a side of house-made pub chips alongside a local pilsner, porter, lager or IPA on draft.
140 E. Chatham St., Cary
(919) 650-2853
crosstowndowntown.com
Appetizer: Academy Street Bistro
Noteworthy: Grilled brie
Since changing proprietorship late last year, Academy Street Bistro has hit its stride. Much of the credit goes to Tom Havrish, executive chef and also the owner of Cary's Lugano Ristorante, for adding the downtown eatery to his portfolio.
"I retained almost all the staff from the previous ownership, so that provided stability during the transition," said Havrish, who wants his guests to feel comfortable whether they're wearing a coat and tie or shorts and a T-shirt.
A focused, seasonal menu features fresh seafood along with locally sourced beef and pork.
"I like that I have freedom to try new things and not feel boxed in," Havrish said.
Tempting appetizers include duck confit bruschetta, jumbo lump mini crab cakes and grilled brie, which weds a port wine raspberry reduction, toasted pistachio nuts and grilled toast points for spreading.
Academy Street Bistro is closed on Mondays, but it is now open Saturdays for lunch.
200 S. Academy St., Cary
(919) 377-0509
academystreetbistro.com
Entrée: Verandah at the Mayton Inn
Noteworthy: Pork osso buco
Casual elegance awaits at Verandah, the black-and-platinum-hued restaurant situated inside the Mayton Inn. Co-proprietors Colin and Deanna Crossman teamed up with the Town of Cary to make the boutique hotel a reality.
Executive chef Jeff Gompers finesses Southern-inspired dishes like cornmeal fried oysters, smoked grilled ribeye with apple poblano compote, and mushroom-infused shrimp and grits.
"All our dressings, sauces and toppings are made in house, and virtually everything is gluten-free," said Deanna.
A fork-tender heritage pork osso bucco comes with locally sourced hominy, great northern beans, crumbled goat cheese and wilted spinach.
"The smallest portion you'll see is 12 ounces," said Gompers.
Verandah accepts reservations. A spacious patio is perfect for al fresco dining.
301 S. Academy St., Cary
(919) 307-7070
verandahcary.com
Dessert: Serendipity Gourmet Deli
Noteworthy: Peanut butter pie
A popular full-service spot for soups, salads and sandwiches since 1975, Serendipity's quaint and cozy dining room seats about 40 people. That should work just fine for enjoying some classic desserts.
You'll find house-made pies such as pecan chocolate chip, lemon meringue, and peanut butter, which is crowned with whipped cream and then drizzled with chocolate syrup.
"I'm a longtime Cary resident and loyal customer," said Grace Sisson, who works as the deli's part-time hostess. "People really enjoy the pie here, and it's a great place to come and spend time with the locals."
Serendipity is open seven days a week but is closed after lunch on weekends. The restaurant serves dessert until 8:30 each weeknight.
118 S. Academy St., Cary
(919) 469-1655
serendipitygourmetdelinc.com
Ride in a Rickshaw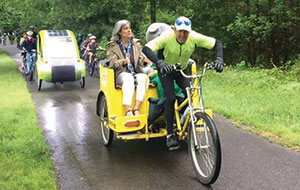 Want to add a fun twist to your downtown experience? Consider a three-wheeled ride courtesy of Rick Kelley, owner of Ricky's Rickshaws.
He typically can be found pedaling his yellow rickshaw bike in and around downtown Cary on Thursday through Saturday nights, by appointment.
"I enjoy meeting people and helping them have a good time," Kelley said.
The rickshaw includes room for two adults and two small children. It's also pet-friendly.
Call or text for rates and to make an appointment. For more details, search "Ricky's Rickshaws" on Facebook.
Ricky's Rickshaws
(919) 257-8122

Nightcap: Pharmacy Bottle + Beverage
Noteworthy: Saisons
Wrap up your evening at one of downtown's newest hangouts, an industrial bar/bottle shop positioned in the former Mitchell's Pharmacy building.
Pharmacy Bottle + Beverage offers 15 mostly local craft beers and one cider on tap. The choices are all displayed on a large chalkboard.
"We are always rotating and don't have any devoted handles," said owner Tyler Watt, who entered his venture with backing from The Town of Cary. "At any given moment, whatever is hot and seasonal is what we bring in."
When it comes to bottles and cans, new inventory arrives daily, including ciders, sours, and wine.
According to Watt, March and April will be "heavy on saisons, IPAs, and lighter options in anticipation of the warmer weather."
Choose to linger inside or venture outside and plant yourself at one of several large picnic tables.
120 E. Chatham St., Cary
(919) 234-1098
pharmacybottlebeverage.com