Vacation planning season is upon us!
Whether your goal is Bermuda on a budget or a cousins' caravan to the newest roller coaster, you'll need high tech help in planning.
Here's a short guide to online travel tools, including two that can take you far but were created close to home.
For the family
Traveling with the family has its own rewards and challenges. Amy Rowland of Spring Lake is using her experiences as a military mom to help others, by creating a national online playground finder called Play Across America.
"The idea came about when we were moving from Kansas to Washington State. We were so tired of stopping at rundown rest stops with no safe place for my kids to play," Rowland said.
An Army wife and mother of four, who holds a master's degree in educational psychology and is a "Today Show" Parenting Team contributor, Rowland knows the power of play.
"Research has shown over and over that play is the catalyst for learning and helping to develop crucial skills such as communication, coordination and problem-solving strategies," she said. "The very thing that comes so naturally to kids is the exact prescription they need to help ensure lifelong success."
While the Rowland family has visited many of the playgrounds posted to the site, including Cary's new Jack Smith Park, Play Across America is crowdsourced to allow others to add photos and reviews too.
The site also provides a "Near Me Now" feature and driving directions.
"The key to our submissions is that they should be authentic and informative," Rowland said. "Many parents want to know if there are infant swings and restrooms. Is the playground safe? Is the equipment in good shape? These are good things to add in the details of a submission."
The site and iPhone app are offered free of charge thanks to business relationships Rowland is developing with playground equipment manufacturers to help promote their work. She's also working to increase the Play Across America database.
"We want to be the go-to resource for families looking to find a playground nationally, and eventually internationally," she said. "Our passion is truly to connect kids to play."
Play Across America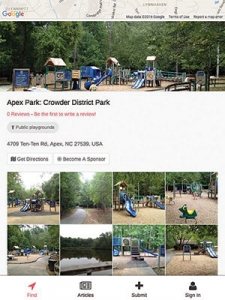 playacrossamerica.com
facebook.com/Playacrossamerica
A sample review from the Play Across America site, about North Cary Park:
It's "a beautiful park with, what I like to call, a Secret Garden playground. Surrounded by hedges and trees with elements built into the hillside, the playground here is unique in its setup compared to other playgrounds we've visited.
"Geared more toward younger children, with just one smaller play structure, this playground will certainly delight little ones. There is a large sand play area with digger toys; a padded, rubberized play surface in sections; infant swings; and regular swings further back in the playground.
"At first I didn't realize there were more swings, and another slide built into the hillside, until we walked through the archway. I thought that the archway was the end of the playground but I was wrong. When you walk through it, there is a circular, grassy space with picnic tables and another slide."

For bargain hunters
Sal and Nicole Zarate have always enjoyed travel, and wished they could afford more of it. Then they found RewardStock, a Cary-based start-up that taught them how to leverage credit card points to buy round-trip flights to Chicago for $12 each.
"I had heard of people using rewards points for travel, but thought it was too complicated and time-consuming for the average person to do," Nicole said. "But I learned that we could earn free travel by making the same purchases we already make, and by staying within our current budget."
RewardStock founder and CEO Jonathan Hayes, a former investment banker who holds an economics degree from Princeton University, notes that you don't have to be a seasoned traveler or a financial expert to use this platform.
"Many people don't realize that every dollar you spend is an opportunity to earn valuable points," Hayes said. "We help you get nearly free flights and hotels all over the world by maximizing your ability to earn, track and use frequent flyer miles, hotel and credit card reward points."
By recommending the best credit cards to meet users' point goals, RewardStock earns referral fees from card issuers, so it can offer the service free for users.
"When you need to earn more points, we might know of a good credit card offer that has a bonus of 50,000 or 100,000 of the points you need to get to your destination as quickly and cheaply as possible, so it's a natural recommendation for us to make," Hayes said of his company, which is based at the Cary Cofounders Lab and has received capital from the lab's manager, entrepreneur David Gardner.
Users have traveled all over the U.S., and as far as Australia and Hong Kong.
RewardStock's algorithms guided the Zarates in replacing their debit cards with strategically-chosen credit cards they use for regular household expenses and bill paying. In less than six months, the couple earned enough points to purchase the $12 flights.
"I wanted to make sure I got the best return for my points, which is where RewardStock was the most helpful," Nicole said. "Their system automatically calculated my points and gave me several different scenarios based on my trip, showing me which choice gave me the best value for my points. From there I was directed on how many points to convert from my credit card to the airline, and then I booked our flights. It was just as easy as booking any other flight online."
The couple used the money they saved on flights to celebrate Nicole's birthday in Chicago style.
"I couldn't believe how simple it was, earning free travel without ever having to pay interest on any of the credit cards," she said. "Sal and I immediately made a travel bucket list. We're planning a two-week trip to Japan this fall!"
RewardStock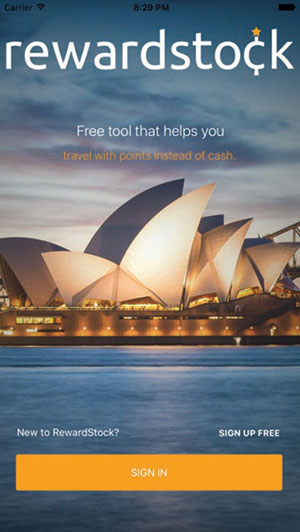 Rewardstock.com
Facebook.com/RewardStock
"Airlines, hotels and credit card companies have been rewarding customers for decades with points (among other things). The tricky part is that they are not transparent with the best ways to use these points, often resulting in misuse of points or even no use of the points that customers have received. RewardStock is free software that breaks down all of the unique rules and policies to show the world how to travel on points, not cash."
— Rewardstock.com

Want More?
Here are recommendations from some of CM's most-traveled staffers:
"I've found Lonely Planet to be a great resource to learn more about the country or place you're about to visit. And check out the official website of the country or city you're going to visit."
— Mor Aframian, events and marketing
Lonely Planet offers first-hand reviews of attractions, hotels, travel companies and gear.
lonelyplanet.com
"My go-to is google.com/flights. You can set a starting point and date and it'll show you a world map with possible destinations, and the cost of the cheapest flight to that destination."
— Dylan Gilroy, webmaster
The tool is available for computer, Android, iPhone and iPad.