A plastic milk bottle hangs in a shadow box in Sarah Gray's office. It once held 7 ounces of mother's milk, just enough to feed her newborn daughter in a time of need.
The source of that milk? Four Cary-area women who cared enough to donate.
"I was struggling to breastfeed Joselyn," Gray said from her Washington, D.C. home. "She was crying and I asked the nurses for formula. Instead they told me the hospital could offer donated breast milk, and I jumped at it. Babies need breast milk; it's healthiest for them."
Stories like this happen every day thanks to the WakeMed Mothers' Milk Bank in Cary, one of just 24 nonprofit milk banks in the U.S., and a founding member of the Human Milk Banking Association of North America.
The milk bank serves hospitals along the East Coast, with priority given to ill and premature babies in neonatal intensive care units, or NICUs, whose mothers often have trouble establishing their own milk supplies.
A mother's milk supply can also be impacted by her own health issues or treatments, even by a previous breast reduction procedure.
"We want babies to get mother's milk," said Montana Wagner-Gillespie, coordinator of the WakeMed milk bank. "It's the most natural thing to do, but a lot can go wrong. I like to see our milk used as a bridge to mom's own supply, in NICUs or with well babies."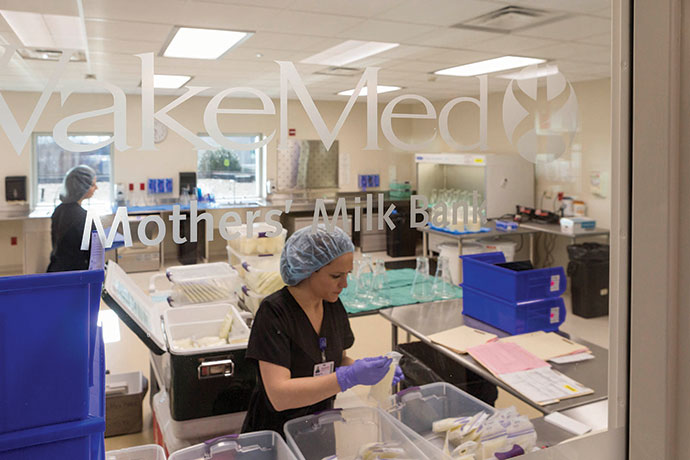 As an International Board Certified Lactation Consultant, currently pursuing a master's degree in nutrition, Wagner-Gillespie cites research on the benefits of "species-specific" milk, as staff works to educate both moms and medical providers.
These range from antibodies that protect babies' immunity to decreased risks of acute ear infections, asthma, type 2 diabetes and necrotizing enterocolitis, a life-threatening intestinal condition common in infants born prematurely. The health benefits, as compared to formula-fed children, are detailed in the 2011 Surgeon General's Call to Action to Support Breastfeeding.
"And for moms, breastfeeding offers reduced risks of breast and ovarian cancers," Wagner-Gillespie said.
"I don't want to demonize formula, but breast milk is the baseline. It's also important not to give a formula solution to a breastfeeding problem. If a mom is having trouble, she should seek out a lactation consultant or support group and get help."
Donors needed
The WakeMed milk bank follows strict HMBANA guidelines to ensure the purity and safety of the donated milk, including in-depth donor questionnaires and bloodwork testing for HIV, hepatitis, the HTLV virus and syphilis.
WakeMed assumes all costs for blood testing and for milk storage supplies.
In the lab, donated milk is pooled from multiple donors, homogenized to prevent fat separation, bottled and labeled for tracking, then pasteurized to kill viruses and bacteria. After more testing, the milk is frozen until it's dispensed to hospitals.
"Pasteurization is crucial to what we do, a fail-safe," said Wagner-Gillespie. "We use extra levels of safety. It takes a lot of time, effort and love."
Orders come into the milk bank via phone, fax or email from hospitals as far as Pennsylvania and Florida seeking to keep their freezers supplied. The milk is shipped on dry ice, usually same-day to local hospitals and in two days for those more distant.
Staffed by four women including Wagner-Gillespie, the milk bank dispenses approximately 16,000 ounces of donor milk each month.
However, donations have dipped so far this year, forcing the milk bank to restrict dispensation to NICU use only. When supplies permit, the milk bank dispenses to outpatients as well, such as mothers working on boosting their own milk supply or in cases of adoption.
"Pay it forward"
Cary mom Amy Hambright has been an active milk donor for the past year, following the birth of her second son, Cole.
"When my first son, Max, was born in 2013 I found the breastfeeding support group at WakeMed, and received tremendous support from their lactation consultants and my peers. I wouldn't have been able to breastfeed without them," she said.
"When I learned about the milk bank, I decided that when I had my second child I would pump to donate, to pay it forward."
Hambright says the donation process is simple: A 10-minute phone interview, paperwork filled out by her OB/GYN and her son's pediatrician, and the blood testing for communicable diseases.
Women interested in donating milk should also keep a log, with dates, of any medications they're taking, including over the counter, and any alcohol consumption, Wagner-Gillespie adds.
To Learn More
For more information about the nonprofit WakeMed Mothers' Milk Bank, including how to donate milk or make a financial contribution,
wakemed.org/mothers-milk-bank
.
After being approved to donate, Hambright spent 15 minutes each day on one extra pump session, then placed the milk into her freezer and delivered it to the milk bank once a month.
For those who can't drop off milk in person, the milk bank supplies shipping coolers.
"It's been such a rewarding experience," Hambright said, "and such a gift to be able to give to another mom who's struggling. I have friends who have donated and who have been recipients; this is really beneficial. Being a donor fills me with great pride. It's meant so much to me."
While most donors have an oversupply of milk, allowing them to pump extra milk and still feed their own babies, others are bereaved and donate as a meaningful tribute to their lost child.
The results of all these donations are visible in photos of healthy babies sent by recipient families, displayed on what Wagner-Gillespie calls the milk bank's "wall of love notes."
"I can say for my family that we're really grateful for the gift," said Gray in Washington, D.C. "It's touching, that people I don't even know would do this."
Editor's note: The Surgeon General's report can be viewed at surgeongeneral.gov.