For cozying up to the fire, trimming the tree or hosting holiday parties, red is your go-to color to make an impact this season.
Thoughtful layers
Pare down the heavy layering seen on designer runways (think puffy overcoat, turtlenecks and maxi skirts) to sleek and chic options that work for North Carolina temps. Moto leggings under a swingy wool vest (left) provide all the cover and none of the bulk.
Left:
Coated moto legging, $198, Marta's
Shirt, $88, Marta's
Necklace, $395, Marta's
Vest, $318, Marta's
Camo crossbody, $428, Marta's
Slides, $39.99, DSW
Right:
High-rise jean, $178, Marta's
Sweater, $225, Marta's
Ribbed-sleeve coat, $918, Marta's
Necklace, $262, Marta's
Metallic tote, $415, Marta's
Sunglasses, $12, Swoon
Over-the-knee boots, $70, Vestique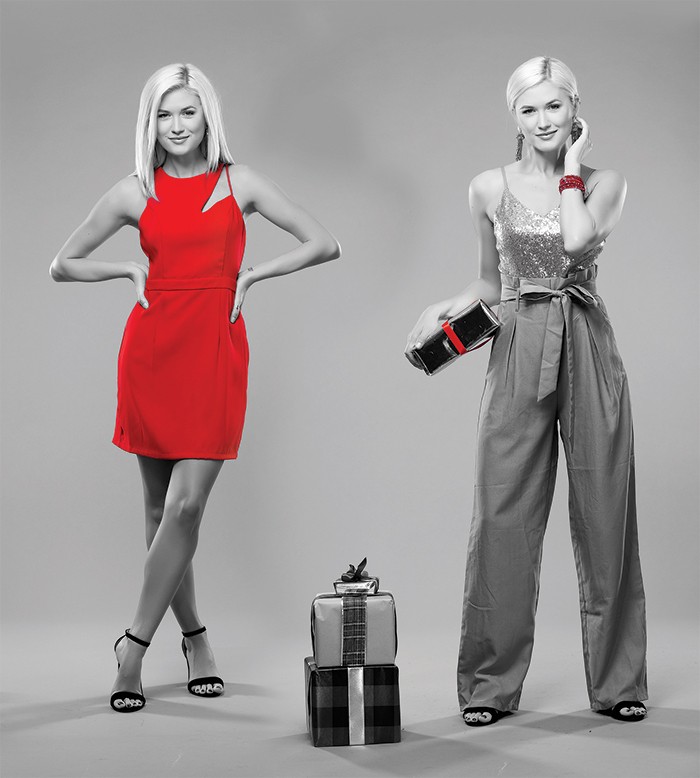 Cocktail attire
The hostess with the mostest should stand out. Go bold in a little red dress, or add pops of color with red accessories.
Left:
Mixed-metal chain earrings, $32, Autumn and Avery
Red dress, $62, Autumn and Avery
Block heels, $37, Swoon
Glitz and gloss
It wouldn't be the holidays without sequins, sparkle and shine. Chose a romper over a cocktail dress for a fashion-forward silhouette.
Right:
Beaded earrings, $10, Vestique
Paperbag-waist jumpsuit, $52, Swoon
Block heels, $37, Swoon
Beaded red bracelets, $5 each, Autumn and Avery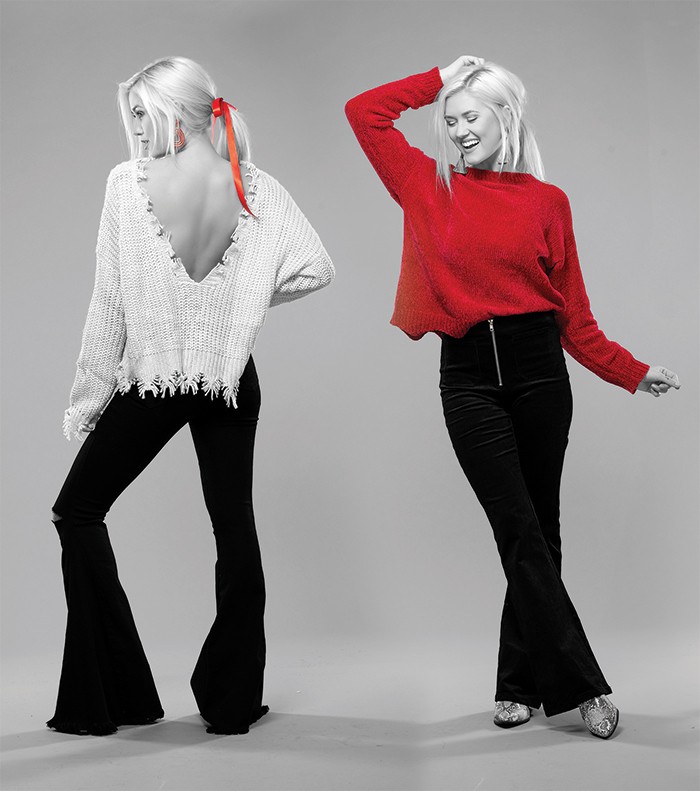 Reverse it!
Back side details, like V necks, cut outs and draping are a big hit for the holidays. This sweater can also be worn with the V in the front.
Left:
V-back sweater, $46
Bell bottoms, $136
Teardrop earrings, $20
From Vestique
Ring that bell
Statement sleeves aren't the only ones out to have fun this season. Bell bottoms want to join the party and are doing it with flare.
Right:
Tassel earrings, $38, Autumn and Avery
Chenille sweater, $30, Vestique
Cordouroy pants, $48, Vestique
Snakeskin booties, $38, Vestique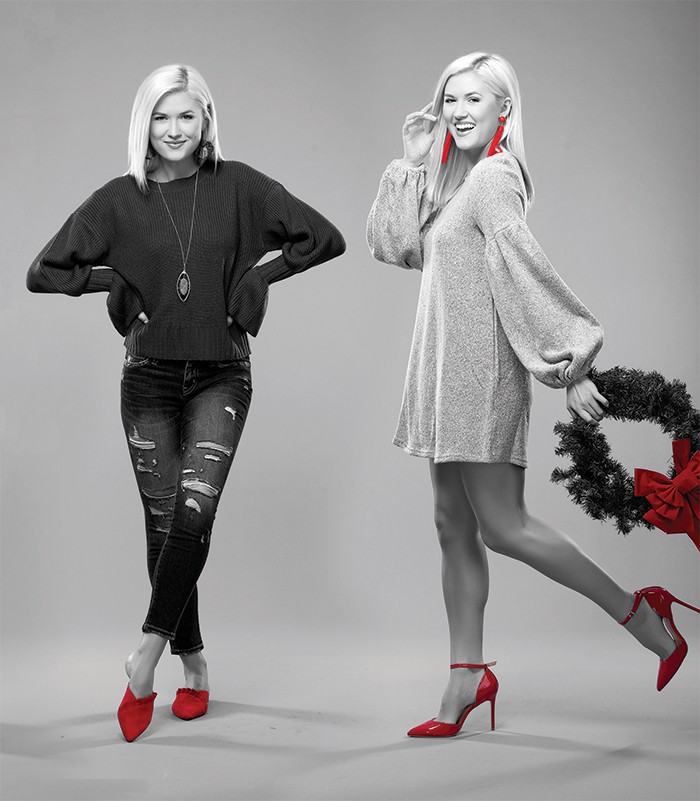 Fancy Feet
A statement shoe finishes the look with a little fun and flair — like an exclamation point for your outfit.
Left:
Fan earrings, $18, Vestique
Geode necklace, $22, Vestique
Distressed jeans, $86, Autumn and Avery
Bell sleeve sweater, $69, Autumn and Avery
Slides, $39.99, DSW
Right:
Red tassel earrings, $14, Vestique
Gray sweater dress, $68, Autumn and Avery
Patent leather heels, $39.99, DSW
Shop the look
Autumn and Avery
Parkside Town Commons
1157 Parkside Main St., Cary
(919) 694-5410
autumnandavery.com
Marta's
4120-100 Main at
North Hills St., Raleigh
(919) 788-4200
martasofraleigh.com
Swoon Boutique
2112 Werrington Drive,
Holly Springs
(919) 586-7003
heartswoon.com
Vestique
Park West Village
2004 Market Center Drive, Morrisville
(919) 377-2917
vestique.com