When Deneen Winters Bloom sits down for her holiday meal, she's trying to please a group of people with different dietary restrictions. Bloom is dairy and gluten free, and her adult daughters are vegetarians. Her husband, on the other hand, can eat anything.
But Bloom, the director of client services for S&A Communications in Cary, also has other guests at the dining room table who are eager for a traditional holiday meal of ham, turkey, sweet potato casserole and decadent desserts. And some are simply picky eaters.
One of her biggest challenges is creating dishes that satisfy everyone.
"A lot of the day is spent cooking. Everyone has a lot of favorites. You want people to have several choices," she said.
"Some like roasted potatoes, others like mashed potatoes. Some like green bean casserole, and some like steamed green beans with almonds."
Rethinking the holiday meal
According to Karen Molnar, a registered dietician nutritionist for UNC Physicians Network in Cary, the holiday meal has been changing over the last decade. She attributes the shift in part to food allergies and intolerance.
There are many more families dealing with some of the same dietary restrictions as the Blooms.
While we can always make some of the classic dishes from family recipes, Molnar encourages browsing through online recipes and reviews from magazines like Cooking Light and EatingWell.
"You can try some healthier versions of our favorite meals," she said.
Cooking with more herbs and spices is one way to boost flavor without adding fats, salt and dairy. She recommends cinnamon, vanilla, allspice, nutmeg and cloves for sweet dishes and thyme, sage, onion, garlic, shallots, cumin and ginger for savory options.
Molnar also advises adding sides or salads containing beans, legumes, nuts, seeds, quinoa or tofu to the holiday table. Vegans and vegetarians will appreciate these protein-rich dishes, and they can help all your guests eat a little healthier.
"All of these plant-based foods offer a lot of fiber, which increases your feeling of fullness," she said.
"The key tip for being inclusive and not having to cook a lot of extra dishes is making sure that the ingredients you use are fresh, and the flavors are exciting," said Dan Saklad, co-owner of Whisk Carolina in Cary. "When you do that, everyone is happy."
He also suggests buying a ready-made ham for your centerpiece and spending valuable cooking time on distinctive side dishes. He makes three different dressings, including a cranberry and butternut squash stuffing for vegetarians.
"Thanksgiving is all about the sides," he said.
Breaking up the meal by including several appetizers is another tip. Saklad prepares a cheese tray and separate meat tray with salami and pepperoni to accommodate different palates, preferences and allergies.
But he also likes offering dishes so flavorful that everyone will want a bite. A big hit is his hot white bean and garlic kale crostini, which is served drizzled with olive oil.
For Christmas, he serves a risotto made with vegetable stock, a variety of vegetables and shitake mushrooms. "It makes everyone's mouth water. It's not lacking anything."
Add a greens and dessert bar
The holidays often conjures memories of how grandma used to make dishes, but it may be time for a variation on the theme.
Jamie DeMent, co-owner of Coon Rock Farm in Hillsborough and the author of "The Farmhouse Chef: Recipes and Stories from my Carolina Farm," likes to keep preparing the holiday meal simple.
She's made some tweaks to her holiday fare so everyone can eat a lot of the same dishes. Instead of candied yams, she cuts sweet potatoes into big chunks, adds Vidalia onions, seasons them with ginger and cinnamon, and roasts them with a little olive oil.
Quick cooking foods are another boon for busy cooks. DeMent sautés a mix of greens — usually collards, curly kale and rainbow chard — and seasons them simply, with garlic, salt and pepper. Guests can customize their greens by adding ham crackling, bacon bits, red pepper flakes or vinegar.
DeMent favors items that guests can tailor to their own dietary needs. For dessert, she recommends baked apples, seasoned with brown sugar and cinnamon. She finishes the dish with balsamic vinegar glaze, which she buys from the grocery store.
"I leave the peeling on mine. I think it helps the presentation, and the skin is the best part," said DeMent, who recommends using heirloom apples with different flavors and textures.
"It tastes like fall," she said. "You can serve them plain, or with candied nuts, ice cream or mascarpone cheese."
The apples can also top another dessert, such as a simple pound cake that can be made ahead of time.
White Bean Crostini with Garlic Kale
From Whisk Carolina
Yield: 6 to 8 servings
12 small Tuscan kale leaves (about ¼ pound total)
2 tablespoons peppery extra-virgin olive oil, plus
more for drizzling
1 garlic clove, thinly sliced
½ cup low-sodium vegetable broth
1 baguette
1½ cups canned cannellini beans, drained and rinsed
Red pepper flakes, to taste
Sea salt, to taste
Optional: Shaved Parmesan cheese
Preheat oven to 400 degrees F.
Cut away and discard the central rib from each kale leaf, and chop the leaves coarsely. In a large frying pan over high heat, warm the olive oil. Add the kale leaves and cook, stirring often, until they wilt and sizzle in the hot oil, about 2 minutes. Reduce the heat to medium-low, add the garlic and broth, cover and cook until the leaves are tender but still hold their shape, about 10 minutes.
Meanwhile, cut the baguette on the diagonal into 14 slices, each ½ inch thick. (Reserve the remainder for another use.) Arrange the slices on a rimmed baking sheet, and toast in the oven until crisp, turning them once, about 5 minutes total. Remove from the oven and set aside.
When the kale leaves are tender, push them to one side of the pan, and add the beans to the other side. Season with red pepper flakes and salt, and simmer until the broth is mostly absorbed, about 5 minutes. Using a fork, stir together the beans and greens, and roughly mash them until the mixture just holds together. Season with salt and red pepper flakes.
Spoon 1 heaping tablespoon of the beans and greens mixture on top of each toast, and drizzle with olive oil. Arrange on a platter or individual plates, garnish with shaved Parmesan and serve immediately.
Baked Fall Apples with a Balsamic Vinegar Glaze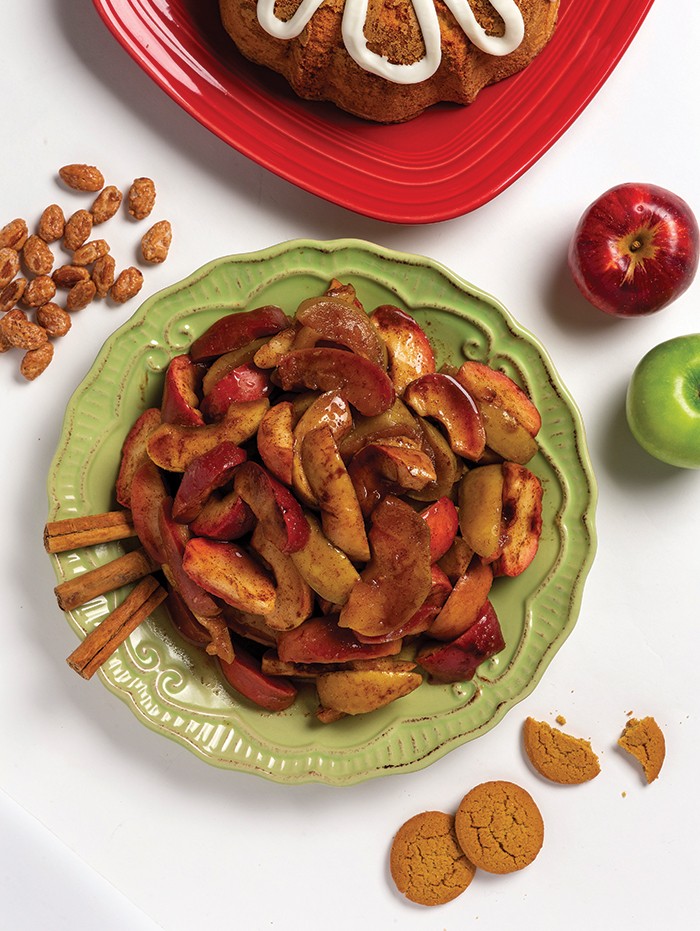 Use a mix of crisp tart apples. Jamie DeMent, co-owner of Coon Rock Farm in Hillsborough and the author of "The Farmhouse Chef: Recipes and Stories from my Carolina Farm," likes to use red and green varieties, because she leaves the skin on. This recipe can be scaled up or down, depending on how many people you are feeding. Serving size is usually one apple per person.
From Jamie DeMent
Yield: 8 servings
8 apples
Juice of one lemon
¼ cup brown sugar
1½ teaspoons cinnamon
2 tablespoons balsamic vinegar glaze
(Look for it in the vinegar aisle.)
Preheat oven to 375 degrees F.
Core and slice your apples, and place them in a bowl. Add fresh-squeezed lemon juice and generous sprinkles of brown sugar and cinnamon. Toss everything to make sure apples are well coated with cinnamon-sugar.
Spread the apples in a large greased baking dish. Cover the dish with foil, and bake for 20 minutes. Remove the foil, drizzle with balsamic vinegar glaze, and bake for 10 to 15 more minutes, until the apples are soft and golden.
Serve with a mix of fixings, such as candied nuts, gluten-free cookies, whipped cream, ice cream or pound cake.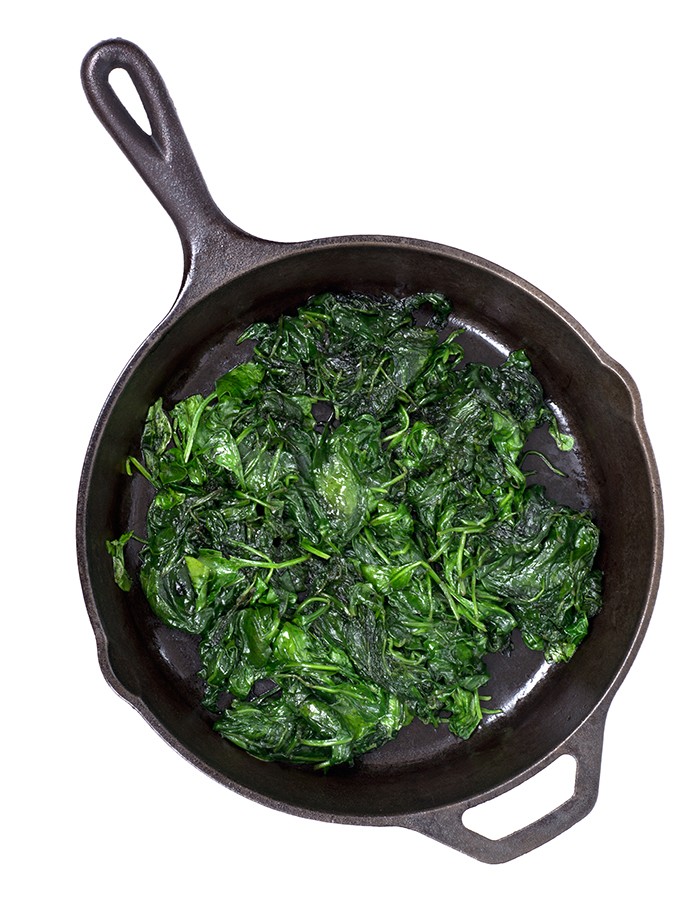 Sautéed Greens
From Jamie DeMent
Yield: 8 servings
2 pounds of mixed braising greens (young collards, chard, kale, etc.)
Fresh oregano, thyme or other herbs, finely chopped
4 tablespoons olive oil
Salt and pepper
Rinse greens and drain well. Cut greens into ¼- to ½-inch strips. Heat oil over medium-high heat in a well-seasoned cast iron skillet or wok.
Add greens and fresh herbs to skillet. Cook, stirring often, for about 5 to 10 minutes — or until the greens are tender.
Season to taste with salt and pepper.
Serve with a variety of condiments such as hot peppers, flavored vinegars, bacon bits, soy sauce, sesame seeds or crumbled feta. Guests can top their greens to suit themselves.