Choosing native plants is the best way to provide your garden with natural beauty as well as keep you from spending all of your free time tending to your flowers. There are plenty of native plants that will not only thrive in the North Carolina climate but also provide your home with plenty of gorgeous colors. Additionally, native birds and other wildlife have adapted to using these plants for food and shelter. The N.C. State Extension Service suggests adding these and other low-maintenance plants to your landscape.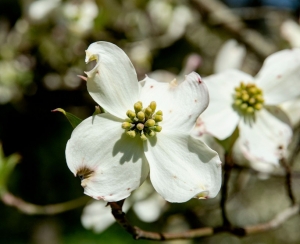 Dogwood
Dogwoods are the official state tree due to their bounty in North Carolina, so they are readily available. They will flower in late spring and prefer a partially shaded part of the garden. This native tree is an easy addition to Western Wake yards as it grows quite easily. Plan for quick growth as dogwood trees can grow up to a foot each year and will mature to be 10 to 25 feet tall.
Black-eyed Susan
These cheerful blooms in the sunflower family are quite easy to grow. Plant them in an area where they can blanket a large sunny spot for the most impact. Black-eyed Susan will grow to about 1 to 3 feet tall and should be planted away from other flowers due to their aggressive tendency. Enjoy the blooms from early June through October as well as the bees, butterflies and other pollinators that they attract.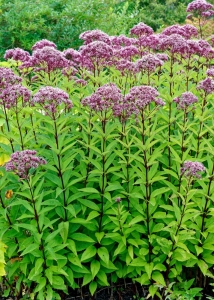 Joe-Pye weed
Choose a partly sunny spot in the back of the garden for Joe-Pye weed as it will grow to 5 to 7 feet tall and 2 to 4 feet wide. The perennial does best in lightly damp soil, so it will need watering if the weather turns dry for extended periods. Large pink blooms, which attract hummingbirds and butterflies, arrive in the summer to early fall. And as an added benefit, the leaves and flowers of some varieties give off a vanilla-like scent.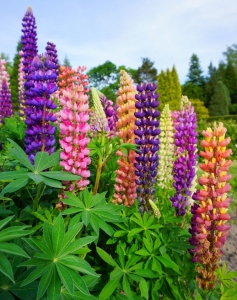 Lupine
Another North Carolina staple is the lupine which adds tall stalks of color to any garden. Lupine is native to the area and provides luscious purple-blue blooms that appear in late spring and early summer. Choose a sunny to partly shady spot in the garden for them to grow and consider staking the stems in order to support their tall growth habit.
Hydrangea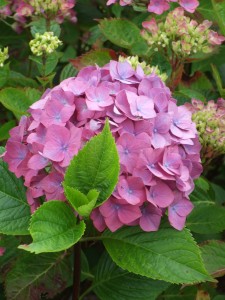 Adding a few hydrangea plants can be a great way to add interest and even more color to your garden. Hydrangeas love the shade and prefer to be left alone, making them an ultra-low maintenance plant. There are more than 100 different varieties with bloom colors ranging from hot pink and purple to white and blue. Most popular is the big-leaf hydrangea which has blooms that change color depending on the pH of the soil. Hydrangea can handle any soil condition and are great to plant in a border garden as well.
David Wheeler is a landscape design writer who writes for Lawnstarter.com, a lawn care company based in Texas that uses local contractors in Cary, Raleigh and Durham.