Building a brand-new home is a dream for many, but filling that home in style can turn extra square footage into a nightmare. Doug and Beth Neumann called on interior designer Susan Tollefsen of Susan Tollefsen Interiors to help them conquer their problems with "matching" and "symmetry" and create a colorful, collected home in West Cary's Hortons Creek neighborhood. Gathering inspiration from a variety of sources, like the Neumanns' daughters, Hannah, 6, and Paige, 3; inherited furniture; flea market finds; and vibrant fabrics; Tollefsen crafted welcoming living spaces full of energy and color.
Emily Uhland: With a brand-new home, how did you know where to start?

Beth Neumann: We had already started building, and we needed help. Susan came over and looked at what we had. We needed to use as much as we could, but the houses were pretty different as far as layout. This is much more open.
Susan Tollefsen: I also helped them with mixing patterns and colors. It's fine to throw orange, for example, into the mix and it not be anywhere else. If you stay in the same tones, you're good to go.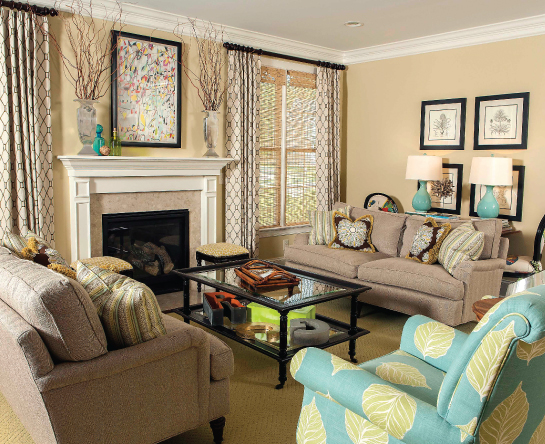 Mixing already owned pieces with lively accents creates a comfortable family room that feels fresh.

How would you describe the style of the home?
Susan: Definitely eclectic, young, urban. We were laughing because we're not really in an urban situation. We're suburban eclectic.
Beth: We shy away from everything brand new, and I do love color. We now have a new comfort zone.
Were there any challenges along the way?
Beth: Budget is always a challenge. We usually have the "love" option and the "good enough." And it's definitely a challenge when you have a brand-new empty house with more square footage to fill up space. It just takes time.
Susan: I found some flea market finds. We had them painted and lacquered, and they were affordable. Nothing that would blow the budget, but they are also super cute.
How do you add character to a newly built house?
Susan: You want some personal things. You don't want everything to look like you just got it. Some of the cool things, like art, that the Neumanns do have are from places that they've traveled or lived.
Beth: Susan has helped us use our hand–me-downs. We freshened some of the stuff we got from family. I'd rather have something that means something to me than all brand-new.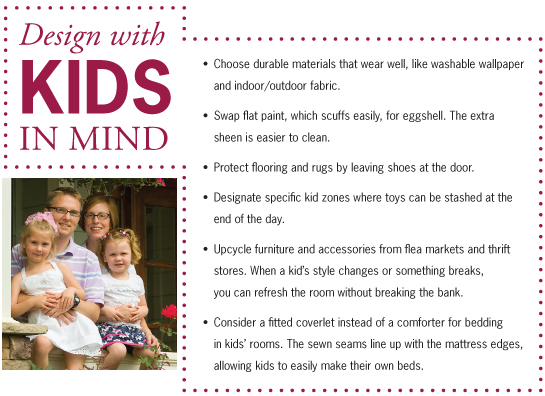 Homeowners Doug and Beth Neumann with daughters Hannah and Paige.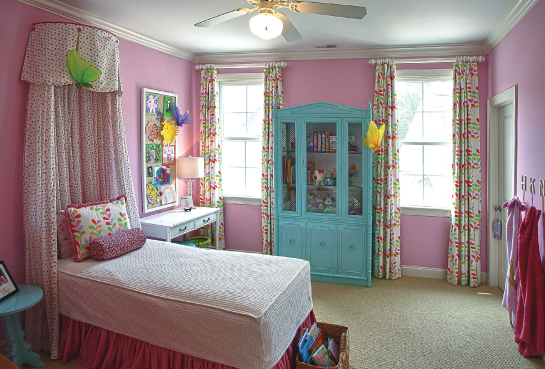 Hannah, age 6, picked her pink wall color from a selection of adult-approved options.
Did you involve your children in the design process?
Beth: Hannah really wanted bunk beds, but because of the size of the room, it was really tough to lay out. Susan asked if Hannah would like a princess bed and came up with the idea of the fun canopy.
Susan: My thought is, when they're this young, let them pick out one or two things that they really like — maybe it's the funky princess canopy. We showed Hannah paint choices and fabric choices that we liked and let her pick from those.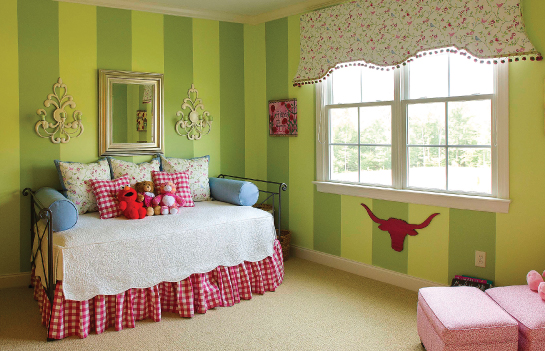 Custom bedding updates a hand-me-down daybed for Paige, age 3.
What are the benefits of working with a designer?
Beth: I don't have time to do it alone. I have two little kids. So Susan whittled down the overwhelming number of choices into a manageable amount. She makes it more enjoyable because you don't immediately get overwhelmed. I feel like I make a lot more progress when she keeps me on task.
Susan: We both bounce ideas off each other. Beth will bring me something, like a picture in a magazine, and say, "What do you think about this?"

A calm color palette creates a relaxing master bedroom retreat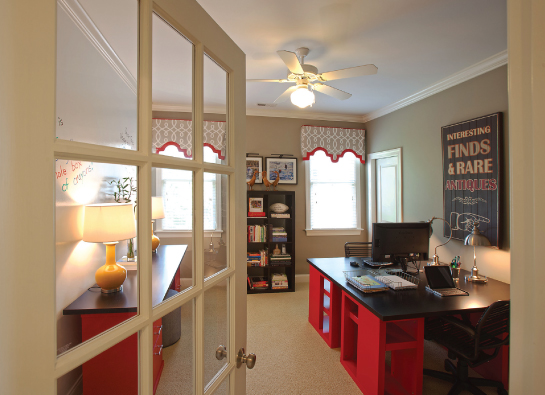 A home office provides extra organization and storage. One wall (behind the lamps) is treated with dry erase paint and keeps track of lists, reminders and encouraging notes.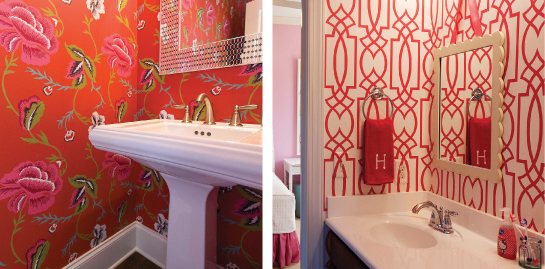 Working with Susan helped the Neumanns expand their color comfort zone. Now bright colors and patterns deck the walls of the home's bathrooms. "I do try to push the envelope. It's fun for me. I do this all the time, so the edgier it is, the better it is for me," said Susan Tollefsen.