Serve up something new this holiday season! While we all love the classic rich flavors that make our mouths water when we think of french toast on Christmas morning or sipping hot chocolate by the fire, it's always fun to explore other recipes. Spoiler alert – your guests will love these.
Turkey Roulade with a Bacon & Mushroom Filling and Marsala Gravy
Recipe courtesy of Whisk
Serves 8
Bacon and Mushroom Filling
6 slices bacon
8 ounces cremini mushrooms, minced
1/4 cup shallots, minced
2 garlic cloves, minced
1½ teaspoons fresh rosemary, minced
1½ teaspoons fresh sage, minced
1/2 teaspoon salt
1/4 teaspoon freshly ground black pepper
1/4 cup dry Marsala wine
1/2 cup plain bread crumbs
Turkey Roulade
3 pounds boneless turkey breasts, skin on (either one 3-pound breast or two 1½-pound breasts)
2 tablespoons unsalted butter, softened
2 cups chicken broth
Kosher salt
Freshly ground black pepper
Marsala Gravy
2 tablespoons butter
1 shallot, minced
2 tablespoons flour
1½ teaspoons fresh rosemary, minced
1½ teaspoons fresh sage, minced
1/4 cup dry Marsala wine
1-2 cups chicken broth (if needed)
Prepare the filling
Fry the bacon in a large skillet until crispy. Cool on a paper towel-lined plate, then crumble.
While bacon cools, remove any excess bacon grease from the skillet, then add the finely chopped mushrooms, shallot and garlic; sauté until softened. Add the rosemary, sage, salt and pepper. Add the Marsala and cook until reduced by half. Mix in the bread crumbs. Set aside and allow to cool. Stir in the crumbled bacon.
Prepare the turkey
Butterfly each breast, taking care to leave the skin on.
Place plastic wrap over the breast with the skin side down. Using a meat mallet or rolling pin pound the meat until it becomes rectangular in shape and an even thickness.
Spread the cooled filling evenly over the butterflied breast. Roll the turkey and filling, leaving the skin on the outside of the roll. Tie the roll with baking twine about every 2 inches to keep the roll intact during roasting.
Preheat the oven to 350 degrees F.
Rub 2 tablespoons of softened butter over the rolled-up breast, and sprinkle with kosher salt and pepper. Place the roulade in a roasting pan (no rack required), and add 2 cups chicken broth to the bottom of the pan. Bake until the center of the breast reaches 165 degrees F, about 40-50 minutes, depending on the size of the turkey breast roll. Remove the turkey roll from the pan, and reserve the roasting juices. Allow the turkey to rest for 10 minutes while you make the gravy.
Before serving, remove the baking string, slice and top with the Marsala gravy.
Prepare the gravy
Pour the juices from the roasting pan into a gravy separator or large bowl. Skim away most of the fat, leaving the meat juices. Add additional chicken broth, if needed, to yield 2 cups of liquid. Set aside.
Melt 2 tablespoons butter in a large skillet. Add the shallot, and sauté until translucent. Add the 2 tablespoons flour, and whisk and cook until the mixture, or roux, begins to turn a light brown. Add the rosemary, sage and Marsala wine, and simmer until the liquid reduces by half.
Add one cup of the roasting juices, whisk and simmer until the sauce starts to thicken. Continue to add a quarter cup of liquid at a time (up to an additional one cup) while continually whisking until the desired consistency is reached. Season with salt and pepper.
Sweet Potato Latkes with Cranberry Apple Sauce
Recipe courtesy of Chef Beth LittleJohn at The Players' Retreat
Serves 8
For the potatoes
6-8 medium sweet potatoes
2 russet potatoes
1 onion
3 eggs, beaten
Salt to taste
2-3 tablespoons vegetable oil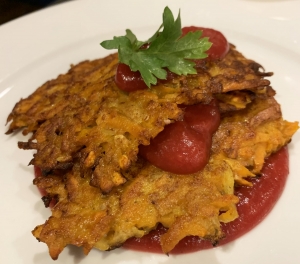 Shred potatoes and onion into a bowl; squeeze shredded vegetables to remove any excess liquid.
Add beaten eggs and salt to potato mixture.
In a large sauté pan, add enough vegetable oil to thinly cover the bottom. Heat oil until a drop of water sizzles when added to the hot pan.
Take a few tablespoons of the potato mixture and press into a circle-ish shape in the hot pan, flatten somewhat with a spatula, and cook until nicely brown on one side. Flip over to finish cooking.
Transfer latkes to a paper-towel covered plate. Serve warm with applesauce as an appetizer or a side.
For the cranberry apple sauce:
6 large tart apples, such as Mutsu, Fuji or Stayman-winesap
2 tablespoons butter
1 cup sugar
1 tablespoon cinnamon
1 12-ounce bag of fresh cranberries
1 orange, zested and juiced
½ cup water or additional orange juice
Zest of one lemon
Salt to taste
Peel and dice apples.
Melt butter in a medium to large saucepan. Add apples to hot pan, tossing briefly in the hot butter. Sprinkle on the sugar and the cinnamon, and toss to combine. Add cranberries, orange juice or water, and orange and lemon zest. Stir to combine
Turn heat to low and simmer, stirring frequently, until cranberries have popped and apples are soft.
Puree cranberry apple sauce in a blender until smooth.  Add a pinch of salt to bring out the flavors.