It should come as no surprise that Ruckus Pizza, Pasta & Spirits, which opened its Morrisville location in Park West Shopping Center last April, would win the Maggy Award for Best New Restaurant.
After all, the eatery has already developed a loyal customer base at its popular Cary outpost in Tryon Woods. Even before that, the original store in Raleigh's Mission Valley was quite the haunt for those seeking quality pizza and beer.
The brainchild of longtime N.C. State friends Robert and Ashley Royster and Ryan and Amy Pilz, Ruckus has evolved from a lone college hangout pizza joint to several full-service, family-friendly neighborhood restaurants.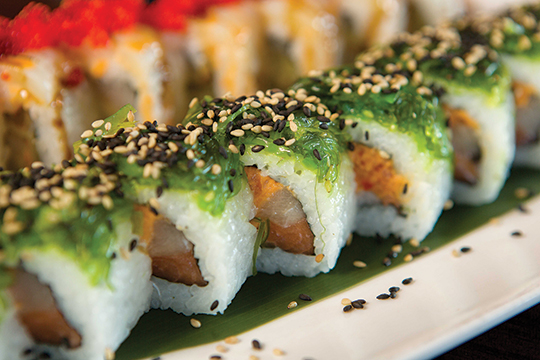 Sushi rolls like these are prepared with precision and flair by bona fide sushi chef Hoang Nguyen.
The 4,700-square-foot Morrisville store marks the largest and most innovative Ruckus to date, replete with sprawling bar area and comfortable indoor dining room. What's more, a
spacious covered patio provides patrons the chance to dine outside and enjoy live music, wine tastings, beer dinners and numerous other activities.
The newest Ruckus showcases flavorsome menu items like the signature Spicy Chicken Alfredo, Mama's Cannelloni, Ruckus Sashimi Chopped Salad and a distinctive 24-inch pizza that will feed a whole family.
Among the most significant new menu offerings is fresh sushi, which is made to order by sushi chef Hoang Nguyen, a native of Vietnam. Inventive rolls like the seaweed-topped Oscar the Grouch and seared scallop Wolfpack are served up with artful flair.
"Sushi is such a great dining option, so we want our customers to enjoy it in the Ruckus context," Ryan Pilz explained.
Virtually all food is scratch-made and delivered by eager-to-please servers who make you feel welcome and appreciated.
"We care about every dish that comes out of our kitchen," Robert Royster said. "Whether it's the mac and cheese for the kids or the pasta dishes for the parents, we are dedicated to exceeding the expectations of each customer. We also take pride in knowing many of our
customers by name, so they get a real sense of community when they come in."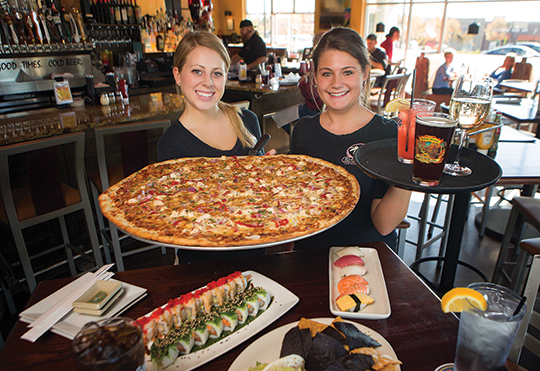 Service with a smile is what you'll find at Ruckus, as evidenced here by servers Ashley Nichols (left) and Lauren Moore.
Even more impressive than the food and service at Ruckus is the staff's commitment to altruistic, community- oriented ventures. Events like the annual St. Baldrick's fundraiser to fight childhood cancer and the "Raising a Ruckus" initiative to provide gifts to needy
local families at Christmastime have raised more than $150,000 in charitable contributions in recent years.
Weekly "Give Back" nights provide a portion of an evening's proceeds to benefit local charities, school bands or other nonprofit ventures.
"We have a tremendous opportunity to help the community that supports us, and our staff and guests totally support the efforts," said Pilz. "It is great to see the passion and rewards that come from helping others."
Royster explained that Ruckus is also committed to environmental responsibility, and the new restaurant installed energy-efficient lighting manufactured by Cree, a local LED lighting manufacturer.
"It's important for us to maintain a small carbon footprint all while providing our customers the best possible dining experience," Pilz said. "It's about ensuring good times, great food and cold beer."