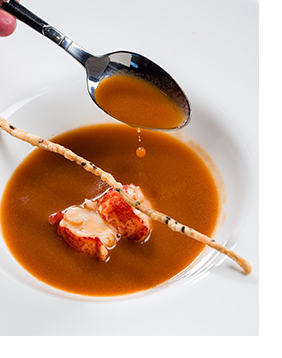 Expect anything but the ordinary when you visit Maru, a modern Asian bistro in Cary that provides a distinctive dining experience. Exquisite in atmosphere and offerings, the restaurant's owners are committed to providing a superb gastronomic adventure to its patrons.
"We only serve the food that we would want to be served ourselves," said Dokim Elphick, a gracious Korean native who helps run Maru with her brother, veteran restaurateur Don Yoo. The eatery opened in June 2012, and as positive buzz has increased, business has followed suit.
Maru's eclectic, ever-evolving menu is ambitious and intriguing, mixing tapas and sushi along with conventional Korean fare.
"We plan to change the menu each quarter to keep things interesting," said an ebullient Yoo, who is passionate about making Maru a dining destination like no other. "I am convinced we have the best variety of Asian food found anywhere in the state."
Bibimbap, a traditional Korean dish served in a stone bowl, popular at lunch and dinner.
At the cozy sushi bar, master sushi chef Sung Song conjures impeccably crafted specialty rolls as well as classic nigiri and sashimi. No matter what you try, each creation will tantalize your taste buds. That said, the sweet-tinged Heavenly Sashimi is an absolute game changer.
Among the impressive array of more than 40 specialty rolls, choices abound like the incendiary Iron Man (deep-fried tuna, yellowtail and eel); Supa Cool (shrimp tempura topped with salmon); and the spicy tuna-infused Maru roll. Then there's Kiss the Dragon, a jaw-dropping roll that's flambéed right in front of you. Extraordinary.
"Chef Song's father was a sushi chef, and he also has more than 40 years of experience," Yoo explained. "His precision with the knife and high standards for quality are really impressive."
When it comes to entrees and other food prepared in the kitchen, it's all well-executed by French-trained chef Sang Deok Seo, who also hails from Korea.
"The word 'Maru' means 'best' in Korean, and we definitely feel like we have the best chef," Elphick said, smiling.
Creative flair and artistic presentations are commonplace at Maru.
The chef's creative talents are evidenced by the inventive tapas and main dishes he churns out. The Fire Fighter, for instance, features a deep-fried jalapeño pepper stuffed with cream cheese, shrimp and cilantro. Beef Kala-age encompasses tempura-style beef blended with sunflower seeds, green and red onions and homemade noodles with a special sauce.
Sublime entrées like the portobello mushroom-imbued Eiffel Tower salmon and the spicy barbecue pork rib with seasoned cabbage are artfully presented. Standing out from all the selections, though, is Korean galbi jjim. This ginseng-enhanced beef short rib is slow-cooked for five to six hours, and is as succulent as anything else on the menu.
Another worthwhile main course item is the popular bibimbap, a traditional Korean dish featuring rice, beef, chicken, pork or seafood, sautéed vegetables, gochujang (chili pepper paste) and a whole egg that's served in a stone bowl to keep it piping hot.
"Everything is mixed together and has layers of flavor. It's also very healthy," said Elphick.
Speaking of healthiness, Eplhick stressed that Maru's cuisine is among the most robust you'll find at any restaurant.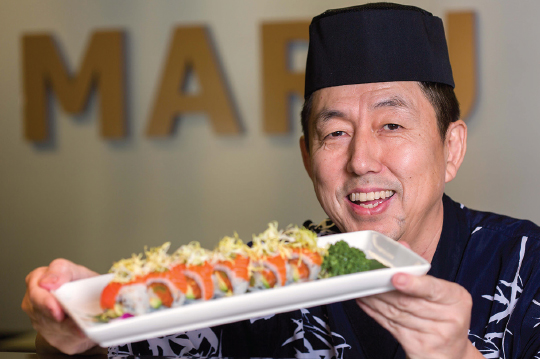 Master sushi chef Sung Song serves up one of his impeccably crafted creations.
"We are focused on serving healthy food, so people can come here often and not feel guilty about what they eat," she said. "In general, Korean food is prepared without using the saturated fats and oils found in other restaurant kitchens."
It's fitting that such imaginative cuisine would be served in posh surroundings. Black, silver and natural wood tones coalesce for a decidedly sophisticated yet not-too-swanky vibe. Original oil paintings created by Elphick hang on the dining room walls.
Thankfully, the tariff for Maru's food is accessible even for budget-conscious guests. Most dinner entrees cost less than $20. Weekly lunch specials are attractively priced between $6 and $10. Standout midday attractions include bento boxes with bulgogi (thinly sliced marinated ribeye steak); stir-fried chicken, shrimp, beef and vegetable yakisoba (Japanese noodles); and an Ahi tuna tataki salad, which is priced at $12.
Sibling proprietors Don Yoo (standing) and Dokim Elphick take pride in their distinctive modern Asian bistro.
Service is friendly and accommodating. Courteous wait staff not only deliver beverages and food with ease, but they take the time to enlighten patrons about Maru's varied bill of fare.
During warmer months, a private patio surrounded by bamboo provides a serene milieu for more informal dining.
"Soon we plan to offer people the opportunity to have outdoor grilling at their table," Yoo said.
Maru is open seven nights a week for dinner and serves lunch Monday through Saturday.
Additional weekly drink and food specials are listed at facebook.com/MaruCary. Reservations are accepted.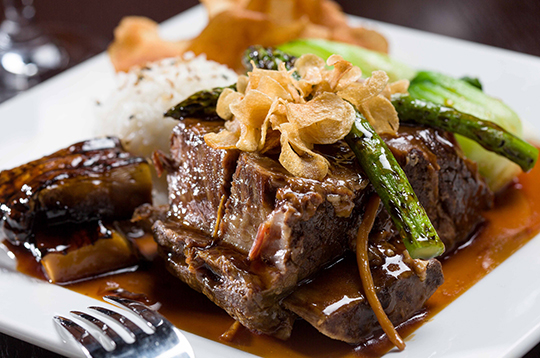 Maru
Wellington Park
6404 Tryon Road, Cary
(919) 803-4608
marucary.com