As chef and owner of Peppers Market & Sandwich Shop in Morrisville, Rebekah Rhodes starts her workdays early, planning for breakfast and lunch.
"I come in on any given day between 3 and 5 a.m.," said Rhodes, a soft-spoken Georgia native who lives in Holly Springs with her husband, Kyle Hanna, and their children, Cassidy, 3, and Brandon, 8 months.
The early-morning prep includes roasting meats, creating soups and sauces, and making salads — potato, pasta and cucumber. Then there's churning out several types of cookie dough. Virtually everything in the restaurant is made from scratch.
By the time customers start arriving at 7 a.m., Rhodes is ready to greet them with an endearing smile. A steady stream of activity continues through lunch service, which can get hectic whenever catering orders are added into the mix.
Despite what some may consider a daily grind, Rhodes takes it all in stride.
"This has been my second home for seven years, and now I'm responsible for keeping it afloat," she said recently near closing time, as staffers swept the floor and wiped tables.
Rhodes, 34, assumed ownership of Peppers this summer following the retirement of original proprietors Jess and Missy Fowler.
Rhodes had been a loyal customer at Peppers since it opened nearly a decade ago, and her frequent visits developed into a close friendship with the Fowlers.
Following a layoff from a quality assurance editor position, Rhodes took a short-term job at the sandwich shop, which ultimately led to a manager's role. "Jess and Missy encouraged me every step of the way," she said.
"Rebekah is very special, and we are so excited to watch her future success," Jess Fowler said in a Facebook message.
The new ownership venture has been what Rhodes calls "exciting and scary." But she credits her close-knit staff for helping to keep things running smoothly.
"We all respect one another and get along well, and we have a really positive work environment. We consider each other like extended family," she said.
That special kinship spills over to the way she and her supporting cast treat their patrons. Spend 15 minutes during any portion of the day at the shop, and you're likely to witness employees calling regulars by name upon entering the restaurant.
"We have about 80-percent retention of loyal customers. Many of them are people we know by name. Some come almost every day for lunch," Rhodes said. "One couple comes in every Monday afternoon and orders breakfast."
Since Peppers has been open, growth and change have been constants in the area. Numerous restaurants have come and gone in Grace Park, a dynamic mixed-use urban village.
"We are fortunate to have established ourselves as a very customer-oriented place," said Rhodes, about the restaurant's longevity. "We treat everyone warmly and have a welcoming environment. A lot of families come in together, and it's great to see their kids grow up over the years."
Peppers also sets itself apart by serving fresh, house-roasted meats, artisan bread sourced from La Farm Bakery and an all-day breakfast menu. Popular items include the grilled Reuben with corned beef, sauerkraut and Swiss cheese on marbled rye; a slow-roasted rosemary-braised pork sub with sautéed peppers, onions and horseradish aioli; and the distinctive Trippin' Chicken sandwich incorporating marinated portobello mushrooms, roasted red peppers, sundried tomatoes, goat cheese, avocado, spinach, Swiss cheese, garlic aioli and basil pesto.
Vegetarians will delight in choices such as the black bean burger served on a baguette, roasted tomato pesto Caprese tossed in a balsamic glaze, and a strawberry walnut salad featuring baby spinach, dried cranberries and herbed goat cheese.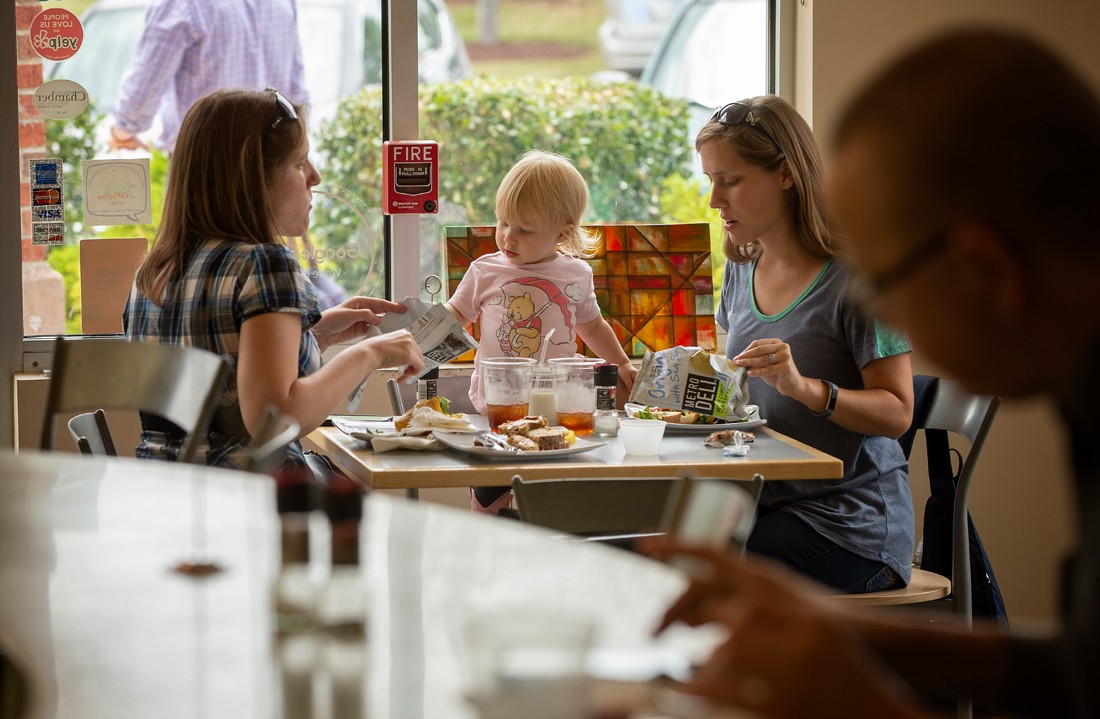 In the mood for breakfast food? Consider a spinach-laden bacon jam omelet, a loaded mixed-berry Belgian waffle or tantalizing sautéed seasonal greens served over cheddar onion grits and crowned with a pair of truffle oil fried eggs.
Although she is now the owner, Rhodes isn't planning any big changes. She and Jess Fowler came up with the current menu in the spring, and the fall menu will also reflect Rhodes' taste.
"It will be vegan and keto friendly," she said of the new bill of fare.
Besides offering quality food paired with excellent customer service, Peppers also gives local artisans the opportunity to sell paintings, handcrafted jewelry and specially made tote bags.
"One hundred percent of the proceeds go to the artists," Rhodes said, adding that the tote bags are made available by Zach's Toy Chest, a local charity benefitting childhood cancer research.
While Rhodes loves her job, she confesses that her biggest challenge is finding an appropriate work-life balance. "I have a husband and two small children, so trying to balance working 70 to 80 hours a week and spending quality time with my family is not easy," she said.
What is easy for Rhodes is treating everyone like someone special. "The people I encounter are definitely what make each day great."
2107 Grace Park Drive, Morrisville
(919) 380-7002
peppersmrkt.com