This article is intended for men who love to eat. That means the following pages will not feature anything remotely similar to kale, quinoa salad or bee-pollen smoothies.
That's right. This is about the best in man food. We're talking burgers, ribs, chicken wings, steak and more — all kicked up a notch above typical pub fare.
These five local restaurants serve hearty portions of manly provisions with abundant flavor and no apologies. And with a bevy of beers on tap and maximum high-def sports, here are some new go-to spots for a guys' night out or whenever you need high-octane sustenance. So lace up your steel-toed boots and bring your appetite. It's time to devour some grub!
Brewster's Pub
1885 Lake Pine Drive, Cary
(919) 650-1270
brewsterspubcary.com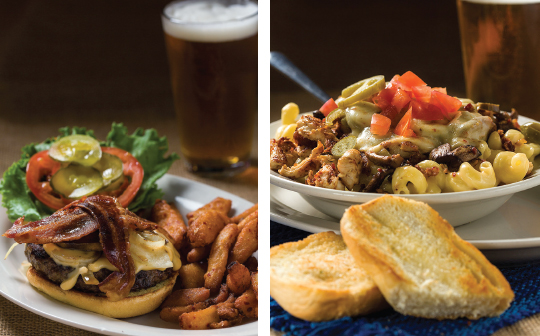 Brewster Bomb burger and build-your-own mac and cheese, Brewster's Pub
The first thing you notice upon entering Brewster's Pub is the inviting horseshoe-shaped bar. It practically beckons each patron to pull up a stool and chill.
"We're a neighborhood pub with a full menu available from 11 a.m. to 2 a.m., seven days a week," said former musician Seven Morello, who shares proprietorship with Jim Cassese.
While you're hanging out, chow down on a fried bologna and cheese sandwich or some loaded nachos. Even better, build your own creamy mac and cheese (think blackened chicken, bacon and jalapeños).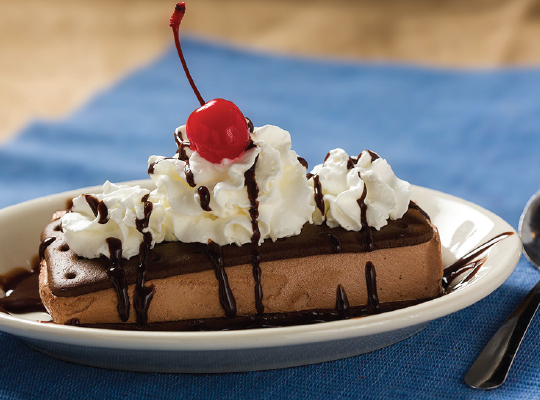 Mississippi Mudwich, Brewster's Pub
A messier but no-less-filling proposition, the Brewster Bomb burger arrives crowned with bacon, mushrooms, grilled onions and Monterey Jack cheese. It's accompanied by waffle fries or house-made chips.
More than a dozen draft beers are available, plus domestic and premium bottles. Daily drink specials give you even more reasons to linger.
Whether it's the weekly indoor cornhole tourney on Mondays, team trivia on Wednesdays or a competitive game of darts anytime, there's plenty of fun to enjoy. Circle Thursday on your calendar, as that's steak night. Starting at 6 p.m., you can score a 10-ounce Omaha ribeye with baked potato, steamed veggies and a Samuel Adams seasonal draft for just $15.99.
Craft Public House
1040 Tryon Village Drive, Suite 601, Cary
(919) 851-9173
craftpublichouse.com

Yuengling beer-battered fish and chips, Craft Public House
Craft Public House may be Cary's first farm-fresh sports bar.
"Our freezer is empty," said co-owner Brian Cordileone. "We make everything from scratch using high-quality ingredients like grass-fed beef and cage-free chicken."
Robust offerings like slow-roasted baby-back ribs, cast-iron steak and artisan pizzas keep patrons happy.
"Our chicken Parmesan and baked lasagna are made from my grandmother's recipe," Cordileone revealed.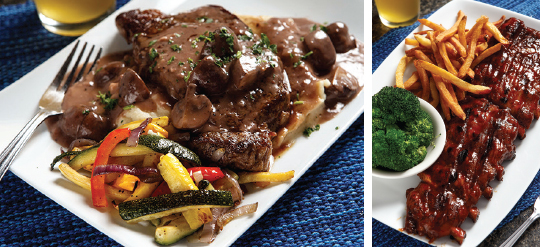 Cast-iron steak, left, and baby back ribs, Craft Public House
Don't miss the Yuengling beer-battered fish served with hand-cut fries and Creole tartar sauce. Or feast on a succulent Southwest burger, a hefty 8 ounces of ground chuck topped with Monterey Jack cheese, jalapeño peppers, avocado, onion straws and ranch dressing.
"We enjoy giving people good service and treating them like family," said Cordileone, who formerly worked in management with Rudino's.
When it comes to libations, an ample selection of craft brews is available along with domestic and premium bottles. White and red wines are offered by the glass or bottle, and various specialty cocktails give you plenty of alternatives.
Live music happens most weekends. A spacious dining room with two dozen high-definition televisions provides plenty of opportunities to view a big game.
RallyPoint Sport Grill
1837 N. Harrison Ave., Cary
(919) 678-1088
rallypointsportgrill.com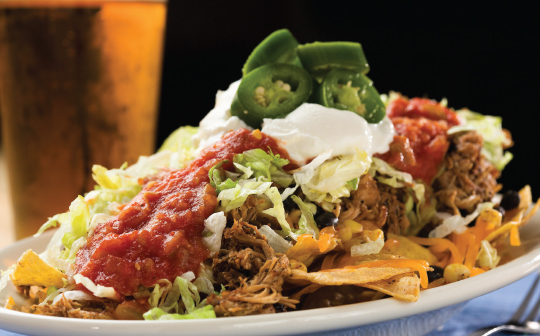 Pork nachos, RallyPoint Sport Grill
As owner of RallyPoint Sport Grill, Drew Schenck makes no bones about calling his eatery a gastropub. Consider the meticulous labor involved just in making the grilled jalapeños appetizer: Schenck slices fresh jalapeño peppers, cleans out the seeds, blanches the shells, fills them with homemade cheese sauce and tops them with apple-wood bacon.
"We have fresh-cut fries, oak-smoked barbecue and hand-pattied burgers," he said. Speaking of the burgers, RallyPoint nabbed "Best Burger" honors during a recent WB22-TV contest in which the restaurant beat out seven other local challengers.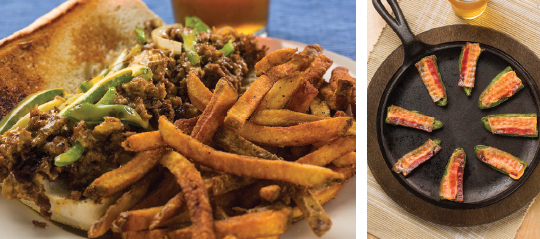 Philly steak sandwich, left, and grilled jalapenos, RallyPoint Sport Grill
Burgers consist of a half-pound of 100 percent ground chuck that's served on a bun sourced from nearby Neomonde Bakery. You can't go wrong with a Guinness Burger with scratch-made Guinness beer sauce and glazed onions, or the Old Westy with Vidalia onion and two slices of smoked bacon.
RallyPoint offers an expansive beer garden and has a generous supply of drafts, imports and cans. Special release 22-ounce bombers are also accessible.
The outdoor patio is always bustling, whether it's featuring a live band, a cornhole tournament or coach disc golf tournament.
"The only way to learn about coach disc golf is to show up on the patio on Thursday evening," Schenck advised.
West Park Tavern
2734 N.C. 55, Cary
(919) 303-9300
westparktavern.com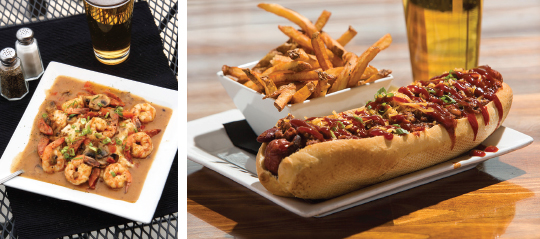 Shrimp and grits, left, and half-pound Angus hot dog, West Park Tavern
With menu items like shrimp and grits, short-rib flatbread and blackened wahoo tostadas, it doesn't take long to figure out that West Park Tavern is not your typical pub.
"We consider it more of a restaurant than a sports bar," said Mario Russo, who owns the eatery with his nephew, Anthony Masino, and his brother-in-law, Nick Masino.
Located just off busy highway 55, but hidden from passersby, the tavern is definitely a destination spot.
"We do a lot on social media and then rely on word of mouth from regular patrons," Russo said.
Start your dining experience with a plate of Frickles. These cornmeal-encrusted fried Mount Olive dill pickle chips come with scratch-made roasted garlic ranch for dipping.
The half-pound Angus hot dog called "Homewrecker" is plenty big to share. Consider using a fork and knife to eat it, and keep the napkins handy. Conquer an order of Satan's Breath hot wings and you'll get your food free, plus a glass of milk and your name on the "Wall of Fame."
West Park boasts 14 beers on tap plus an appealing selection of scotch, whiskey and bourbon served from a custom-crafted bar. Poker hands are dealt every Tuesday night, and Wednesday trivia night is hosted by Russo. Open-mic night draws a big crowd every Thursday.
Wingin' It Bar and Grille
1625 N. Main St., Suite 109, Fuquay-Varina
(919) 762-0962
facebook.com/winginitbarandgrille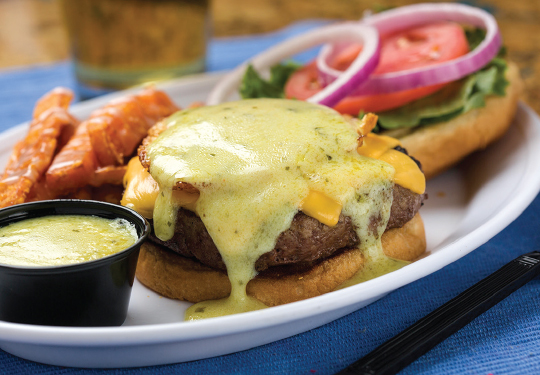 Burgers star at Wingin' It Bar and Grille.
When Tom McGrath and Cory Ellsworth joined forces earlier this year, they brought food service experience and stability to a location that lacked solid direction. The restaurant that previously occupied the space on Main Street in Fuquay-Varina closed its doors after operating for more than five years.
"We're committed to having a regular presence out on the floor," said McGrath, who also owns and runs Assaggio's Pizzeria & Ristorante in the same town. "We get the food out as fast as possible so customers don't have to wait."
Menu starters like nachos, bacon-infused potato skins and fried jalapeños kick things off nicely. Burgers and chicken wings are crowd-pleasing favorites. Be sure to order the sugar-glazed sweet potato fries as your side.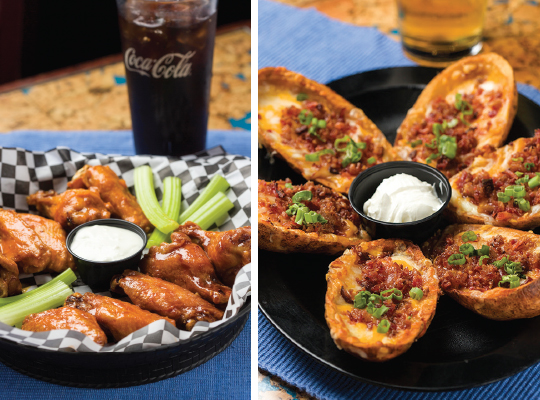 Chicken wings, left, and bacon-infused potato skins, Wingin' It Bar and Grille
With 18 varieties of traditional and boneless wings, sauces range from garlic Parmesan and backwards ranch to Thai peanut and Jamaican jerk.
"Gold rush (flavor) has a seasoned honey-mustard base and is really popular," said McGrath.
If you're in the mood for red meat, try the satisfying fried egg bearnaise burger. "Bearnaise sauce was a big thing in my household when I was growing up," Ellsworth said. "When you combine it with the fried egg, it's pretty special."
Watch the large-scale toy train run overhead as you enjoy an IPA or an old standby like Budweiser or Miller Lite. You can also test your trivia skills on Thursday nights.