Book Signing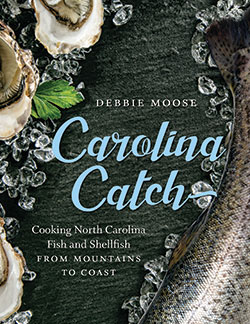 Author Debbie Moose will sign "Carolina Catch: Cooking North Carolina Fish and Shellfish from Mountains to Coast" at Quail Ridge Books, 4209-100 Lassiter Mill Road in Raleigh, at 7 p.m. on Thursday, April 12.

When it comes to healthy dinner options, fish is a great catch.
"Fish has so much variety — in textures, in flavors. Then if you add shellfish in there — oysters, shrimp and clams. There's just so much there, and so many things you can do with it," said Debbie Moose, a Raleigh cookbook author.
It's also really good for you. The lean protein is low in saturated fats and cholesterol, and fish high in omega-3 fatty acids — such as N.C. trout — may actually reduce the risk of heart disease. The American Heart Association recommends eating at least two 3.5-ounce servings of fish each week.
Given its versatility and health benefits, seafood should be a popular choice for dinner, but Moose says that isn't so.
"People still have a fear of fish," she said. "People are afraid of overcooking it or undercooking it. They might overcook it and say, 'Oh, this is terrible. I don't like fish.' It's not that you don't like fish, it's that you didn't cook it right."
In her new book, "Carolina Catch: Cooking North Carolina Fish and Shellfish from Mountains to Coast," Moose describes several ways to cook fish properly. Much depends on the thickness of the fish and its texture, but most cook up quickly — another advantage for busy consumers.
Coastal bounty
And she says, buying local seafood can solve two common concerns about eating more fish — sustainability and cost.
Overfishing has depleted some species, making them more expensive. And cheap imported seafood comes with hidden costs, says Moose. Environmental damage from shrimp farming in Asia has been well-documented, and the overseas industry in general is poorly regulated.
But by eating lesser-known fish like monkfish, amberjack and black drum, consumers can get a quality product, help the environment and support N.C. fishermen.
"With a little bit of effort, you can get something that's much better for your family, much higher quality, and you're benefiting people who live in the state," she said.
Changing Markets
Until recently, it has been difficult to find local seafood in the Triangle. Much of the state's fish and shellfish is shipped north to large fish markets in Boston and New York, where fishermen can get better prices for their catch.
Seeing the rise of the locavore movement, Ryan Speckman and Lin Peterson started Locals Seafood in 2010 with a cooler of Stumpy Point, N.C., shrimp and a pickup truck. Now the company makes four trips to the coast each week, bringing seafood to Raleigh for processing and distribution.
"We saw a void in the marketplace," said Peterson. "We're only two or three hours from the coastline, so you'd think this product would just be making it here. It isn't, because the supply chains move everything to the north.
"We go directly to the source; we focus on North Carolina fish. Just like the movement for local produce connects consumers to farms and farmers markets, we're connecting consumers to the coast."
Locals Seafood can be found at area farmers markets including the Western Wake Farmers Market and the State Farmers Market in Raleigh. The company also operates a CSF, a community supported fishery, which provides subscribers with two pounds of fresh catch every week.
Different, yet tasty
Like local produce, coastal seafood has seasons, too. On its website, Locals posts what is available at the weekend's markets, and there is also a chart showing when different species will be most plentiful.
"That's what we give our customers at the farmers market," said Peterson, "a glimpse of the seasons and what's happening off our coast."
Consumers can save money by buying fish when it's in season, and the more unfamiliar fish can be more economical.
"We try to get people to take a chance on different species," he said. "If you're looking for salmon, we don't have salmon off our coast. So amberjack is another large fish — it's got a good fat content, and it's firm and flaky like salmon."
As part of these education efforts, Locals also works with area chefs, getting them to branch out beyond tuna, mahi and flounder. Roughly 75 percent of Locals Seafood is sold to restaurants and retailers like Whole Foods and Weaver Street Market, says Peterson. Eateries with local seafood on the menu include The Provincial in Apex and Maximillian's Grill and Pizzeria Faulisi in Cary.
"When someone tries something that's expertly prepared by a chef," he said, "they're more willing to try it at home."
And both Peterson and Moose agree, eating more North Carolina seafood is a good thing.
Frozen Assets
Local seafood can become more affordable if you buy in season and freeze it, but use within six months for the best flavor.
Fillets: Pat the flesh dry, and wrap each fillet in heavy plastic wrap. Place the wrapped fillets in a freezer bag, press out the air and label.
Shrimp: Remove the heads, but don't remove the shells. For short-term freezing, place in a freezer bag, and squeeze out all the air. For longer-term freezing, place the shrimp in a freezer container and add cold water to cover. The water protects the shrimp from freezer burn.
Oysters and clams: These can be frozen in their shells. Before placing in a freezer bag, rinse and scrub the shells under cold water to remove any dirt.
Source: Debbie Moose
Recipe
Chargrilled Blackened Cape Shark Fillet over Pineapple Salsa
From "Carolina Catch: Cooking North Carolina Fish and Shellfish from Mountains to Coast," by Debbie Moose.
As part of a N.C. Sea Grant program to encourage the consumption of underused fish, chef Tim Coyne of Bistro-By-The-Sea in Morehead City developed this recipe using cape shark, also known as dogfish. If you cannot get cape shark, substitute with a white-fleshed fish.
Makes 4 servings
2 cups diced fresh pineapple
1 tablespoon diced red bell pepper
2 slices pickled jalapeño
1/4 cup chopped fresh cilantro, plus sprigs for garnish
Juice from 1 lime
1/2 teaspoon black pepper
2 tablespoons chopped fresh chives
4 cape shark fillets (about 3 ounces each)
Blackened seasoning (such as Zatarain's or Emeril's)
Prepare the salsa by combining the pineapple, bell pepper, jalapeno peppers, chopped cilantro, lime juice, pepper and chives in a small bowl. Set aside.
Lightly dust the fish with blackened seasoning on both sides. Preheat the oven broiler, and place the fish on a nonstick baking pan or a pan sprayed with nonstick cooking spray. Broil until the fish is cooked through, about 5 to 8 minutes depending on the thickness of the fillets.
To serve, spoon the salsa over the cooked fish and garnish with cilantro sprigs.
Note: Instead of broiling, you can cook the fish on top of the stove in a sauté pan lightly coated with canola oil.