It's not something you'd expect to find in a Cary shopping center. Or anywhere else, for that matter.
A stylish new Korean-French restaurant in Cary's Maynard Crossing offers innovative cuisine in a tranquil setting. Never mind that neither lunch nor dinner will break the bank.
KoMo KoMo, which derives its name from the words "Korean mosaic," opened last November and has steadily built a loyal following ever since. Chef-owner Jae Lee is a graduate of the Culinary Institute of America and honed his skills at several fine-dining establishments in New York and the Triangle area (the Washington Duke Inn and Fins, to name a few). While Lee directs the kitchen, his wife, El Ryoo, capably oversees the front-of-house operations. "Managing a kitchen is easier than managing a restaurant, so I am grateful to have such a great partner," said Lee, a native of Korea.
Charmingly appointed with framed quilts, vintage pottery and understated florae, KoMo KoMo's cozy dining room beckons patrons to relax and enjoy a serene dining experience. The soothing music wafting overhead only enhances an already delightful ambiance.
KoMo KoMo represents the antithesis of the typical strip-mall-situated Asian eatery. No doubt Lee and Ryoo, who have been married since 1998 and reside in Apex, bring a keen sense of attention to detail. "Everything from the teacups to the plates and chopsticks are from Korea," Ryoo pointed out. Impressively, she handled all interior decorating herself, including an eye-catching stenciled tree on one of the dining room walls.
Décor notwithstanding, nowhere is fine-tuned precision more evident than with the food. Need proof? Look no further than artfully presented appetizers like pan-seared scallops with wild mushroom and chive potato puree or chicken dumplings with soy sesame sauce.

KoMo KoMo's dining room is charmingly decorated with framed quilts, vintage pottery and a striking stenciled tree.
When it comes to appetizers, you can't go wrong with the succulent pan-seared scallops with wild mushroom and chive potato puree.
Several starters, including sweet potato soup with caramelized apple and vegetable spring rolls with sweet lime chili sauce, are vegetarian friendly. "I don't even use chicken stock in the sweet potato soup," Lee said with a smile.
He went on to carefully explain that his overall gastronomic philosophy involves layering flavor by using complex cooking techniques. "It's not fusion; it's a mosaic," he said. "I want to be sure that I am doing things differently than anyone else. That keeps it interesting."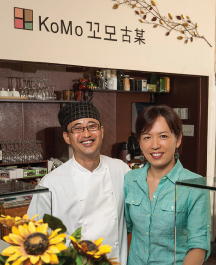 Indeed the menu offerings are interesting — if not ambitious. Dinner entrees, which start at $12, represent French- and Korean-infused selections alike. Aficionados of bouillabaisse (a traditional Provençal seafood stew) will find much to like about KoMo KoMo's rendition. The same goes for Korean specialty bulgogi ssam, which essentially comprises lettuce leaf wraps with marinated beef.
Chef/owner Jae Lee and his wife, El Ryoo, love serving first-rate cuisine in a comfortable setting.
Another signature main course is bibimbap, a bowl-style meal featuring multigrain rice mixed with various vegetables and, if desired, pork, beef or tofu. "We source the vegetables locally, and I even grow some of the herbs myself," said Ryoo. On the day the Cary Magazine crew visited, we enjoyed sautéed carrots, alfalfa sprouts, green onions, pickled red cabbage and sherry-infused Korean beef accompanied by a gochujang (spicy red bean paste) sauce. "There are always plenty of vegetables for people to consider," Ryoo said.
Other solid dishes at dinnertime include skewered grilled chicken and mushrooms with mint-enhanced couscous and yogurt sauce, and Atlantic salmon with fava beans, radish and lemon fennel citronette.
Signature Korean dish bibimbap features multigrain rice with fresh vegetables and beef, pork or tofu.
Wine is available by the glass or bottle and includes a modest yet distinctive assortment of whites and reds. Whether you choose Simi or Meiomi pinot noir or Helfrich pinot gris, you'll be equally rewarded. "We serve wine you won't find at most other restaurants," Lee said.
At lunchtime, tempting specials such as the Meyer lemon organic chicken roll with artisan salad or combo meal including half a sandwich, soup and a salad come in under $10. The rich lobster ravioli with ginger and fennel also merits consideration.
A reservation-only tea service is available on Wednesdays from 2:30-3:30 p.m., featuring a platter of mini-sandwiches, tarts and desserts with coffee or tea. Free Wi-Fi Internet access is an added bonus.
When it comes to desserts, you can't go wrong with the house-favorite ginger lemongrass creme brulee, coconut rum raisin bread pudding or the KoMo red velvet cake. "The cake's frosting contains lemon zest and lemon juice, so it contains a nice acidity," Lee said. "There's also Belgian cocoa powder in the cake for a bit of chocolate flavor."
Open six days a week for lunch and dinner, KoMo KoMo is closed on Sunday. Reservations are strongly recommended for groups larger than four people.
KoMo KoMo
Maynard Crossing
1305 NW Maynard Road, Cary
(919) 462-3555
komokomonc.com