To those born and bred in the Tar Heel state, it's no secret that pork barbecue is a North Carolina staple like no other. Whether Eastern or Western North Carolina style reigns supreme remains open for debate, but either way, there's plenty of good 'cue to be found right here in the Triangle.
Below are four tried-and-true barbecue joints worth their salt and then some. These eateries also serve well-regarded offerings like ribs, chicken and beef brisket. No matter what you decide to eat, you're guaranteed to enjoy some lip-smackin'-good food.

Bullock's Bar-B-Cue (Top picture to the right)
3330 Quebec Drive, Durham
(919) 383-3211
www.bullocksbbq.com
Iconic in Durham's culinary culture since the 1950s, Bullock's is a family-owned and -operated restaurant known for its bountiful family-style meals. It also draws in celebrities.
"People from all over the world have eaten here," said Tommy Bullock, who oversees operations along with his wife, son, daughter and other family members. "We've fed everyone from Dolly Parton and Kenny Rogers to Robert Duvall and Faye Dunaway. Framed photographs covering the front entrance walls provide ample evidence.
The famous and locals alike come in for Bullock's legendary vinegar-based Eastern-style barbecue as well as the copious Southern-style vegetables. "Our selection of vegetables is wonderful," said Bullock. Whether you want butter or green beans, candied yams or creamed corn, fried okra or coleslaw, it's all covered.
If you have a group of four our more, family style is the only way to go. Heaping full bowls of crispy fried chicken, seasoned green beans and, of course, chopped pork barbecue will fill your table until you cry "uncle."
Boiled, grilled and fried seafood is also available on the restaurant's extensive menu. "We like to give people plenty of options to consider," Bullock said. Be advised: Leave your credit card in your wallet, as Bullock's only accepts cash and local checks.

Danny's Bar-B-Que
311 Ashville Ave., Cary (919) 851-5541
9561 Chapel Hill Road, Morrisville (919) 468-3995
2945 South Miami Bvd., RTP (919) 806-1965
www.dannysbarbque.com
Since leaving corporate America back in 1992, Florida native Danny Thompson has made a living on serving everything from chopped pork and beef brisket to tender chicken and St. Louis-style ribs. It's all slow-cooked over hickory wood, the aroma of which wafts throughout the airy dining rooms of all three restaurants.
As you might expect, the top seller by far at Danny's is chopped pork. "We use a Hormel Boston butt pork product, and we go through 15,000 pounds a month," Danny said. "The pork cooks about 14 hours overnight."
Another customer favorite is the lean, smoked turkey breast. "Surprisingly, the turkey is the number two seller behind the pork," Danny revealed.
When it comes to sides, can't-go-wrong selections are baked beans, Brunswick stew, coleslaw and Texas toast. The underrated potato salad is also a solid choice.
A "Piglets" menu for children 10 and under features hot dogs, grilled cheese and chicken tenders, along with smaller portions of the traditional Danny's fare. Prices start at just $2.50, and all kid's menu options come with a side and beverage.
Danny is quick to mention that loyal clientele and a seasoned wait staff contribute to his enduring success. "We have employees who have been with us for more than 15 years," he said.

The Pit
328 West Davie St., Raleigh
(919) 890-4500
www.thepit-raleigh.com
Renowned pit master Ed Mitchell has made a name for himself by serving up authentic slow-cooked pork barbecue for longer than many of us have been alive. He's also been featured in the likes of Southern Living, Bon Apetit, The New York Times and The Food Network.
Customers come early and often to the renovated 1930s meatpacking warehouse (most recently the former Nana's Chophouse) where Mitchell and accomplished executive chef Lauren Smaxwell pair barbecue, ribs and beef brisket with collard greens, mashed potatoes and various seasonal vegetables.
"Barbecue can be upscale, since it's like the caviar of Eastern North Carolina," opined Mitchell's business partner and developer Greg Hatem. "We basically take the backyard pig pickin' and bring it inside a stylish setting."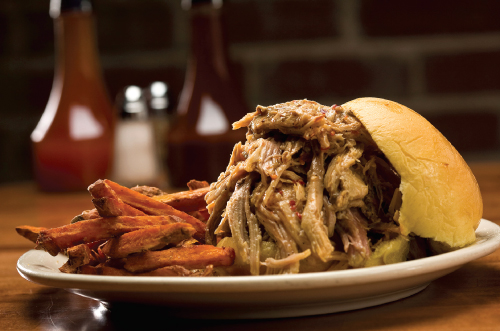 Interestingly, all pigs cooked at The Pit are free-range farmed and North Carolina raised. "These pigs are AWA-certified (Animal Welfare Approved), which means they are free of antibiotics and hormones, and they were all raised in pastures, not cages," Smaxwell explained.
She also emphasized the restaurant's dedication to sourcing the freshest local products available. "Our food purveyors do a great job of getting us quality vegetables, and we try to buy as many North Carolina products as possible."
The Pit is open for lunch and dinner seven days a week. Reservations are strongly encouraged and are available by calling or using OpenTable.com.

Smokey's BBQ Shack
10800 Chapel Hill Road, Morrisville
(919) 469-1724
www.smokeysshack.com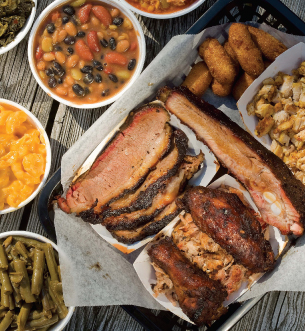 About the only thing serious at Smokey's BBQ Shack is the food.
Consider, for instance, the zany sign at the entrance that reads: "No trespassing. Violators will be shot. Survivors will be shot again." A sarcastic notice near the cash register indicates: "Complaints will be heard on the second Tuesday of next week." Then there's the clock on a wall inside that's set to 5 p.m. The time never changes.
"Most of our customers are people who work in high-pressure tech-sector environments, so this place gives them some much-needed levity," said proprietor Kevin Mote, a Raleigh native. "I worked in the corporate world for a long time, and I decided that life is too short not to enjoy it while working."
Customers seem to appreciate Mote's fun-natured antics and good-ol'-boy charm. They also have developed a loyal esteem for the shack's slow-cooked, Memphis-style pulled pork as well as beef brisket and chicken.
"The pork and beef is dry-rubbed and cooks anywhere from 10 to 15 hours each day," Mote said. "We use a hybrid cooker that's half propane and half hickory wood."
Reliable sides include creamy coleslaw, fried okra, macaroni and cheese, and potato salad. Furthermore, the hush puppies exude pure golden goodness.
With space for less than 50 people inside, be sure to go early at lunchtime. Make no mistake: This is a destination restaurant. Smokey's provides dinner service Thursday through Saturday. Outdoor seating is available out back.